Microbrasserie Cardinal
Brews Live Music and Beer

Cheers!
Enjoy good times and great beer at Hudson's Cardinal Brewing.
Hudson is home to a surprising number of bars and restaurants for a small town. We've got fine dining and casse-croûtes, vegan fare and surf-and-turf, pubs and cocktail bars, great breakfast spots and fancy coffee — and if you don't mind stepping just a little outside the official borders, there are even more delicious discoveries to be found. We've even got our own microbrewery, Cardinal Brewing, sending locally crafted beer out to restaurants, pubs, grocery stores, and dépanneurs throughout Quebec.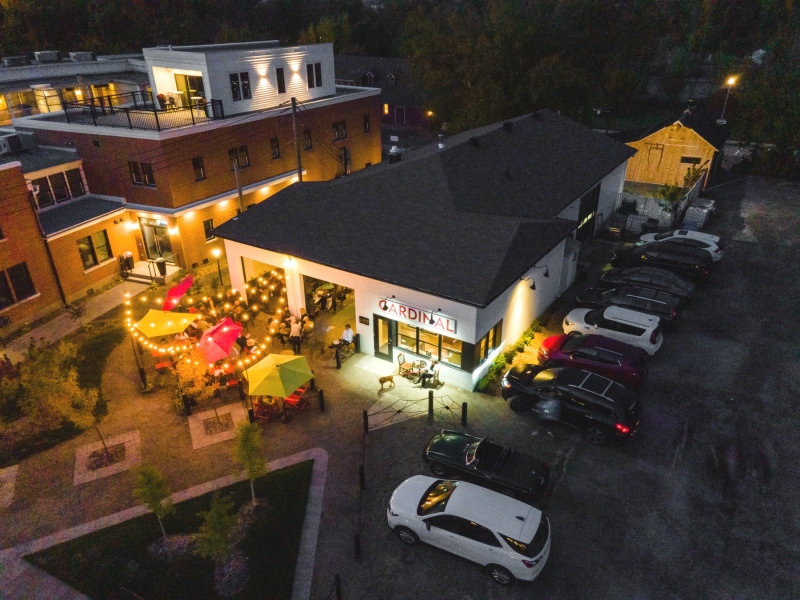 But beer isn't all that's brewing at Microbrasserie Cardinal. With a busy calendar of live music, trivia, comedy, art shows, and even literary events and more, Cardinal Brewing has become the go-to spot for many arts-lovers (as well as local beer aficionados). There's something happening in the taproom almost every night of the week.
In December, the venue offers everything from instrumental jazz (Apéro Trio, Dec. 1), to popular acoustic rock covers (Peter Grimm, Dec. 9) and favourite tunes from local folk-pop players (Kindred, Dec. 2; Martin Gibson, Dec. 10), as well as original music (Laura Newman, Dec. 17; The Better Half Duo, Dec. 23).
On Thursday nights, amateur musicians are invited to bring their guitars, mandolins, harmonicas, or djembes and experience the joy of jam night. On the last Thursday of the month, it's an open mic night. The incomparable Josée Brault and partner John Shane host this event showcasing living room players and talented semi-professionals (plus the occasional brave singer fueled by liquid courage).
On December 31, Cardinal will make room for a dance floor. Banish winter worries and boogie the night away at the New Year's Eve Winter Beach Party featuring the irresistible Caribbean rhythms of Jab Djab.
Music aside, on December 11, members of the Off-Island Girls Club will also meet at Cardinal to launch a new book club (and exchange previously loved tomes). The popular biweekly Trivia Night returns on Dec. 14 and 28. And on December 30, it's comedy night.
Cardinal is closed on Christmas Day, and for the first two weeks of January, but they've already started announcing some of the events planned after the reopening on Friday, January 13. For full details on all upcoming events, visit Cardinal Events.