Hudson Chamber Music Series
February Recital by Lara Deutsch and Adam Cicchillitti
by Steve Ambler
The diocese for St, Thomas Church are opening up their churches for Masses, but not for other events. The Hudson Chamber Music Series is therefore obliged to cancel the concert. The next scheduled event is on March 27. We hope to have some positive news between now and then from the diocese.
The Hudson Chamber Music Series is pleased to announce a recital on February 13 by flutist Lara Deutsch and guitarist Adam Cicchillitti at Saint Thomas Church in Hudson. (Please note that the concert will only be able to take place if the Quebec government relaxes its restrictions on indoor gatherings.) The duo will play works inspired by traditional and folk music by Bartók, Piazzolla, Takemitsu, Ortiz and Noble.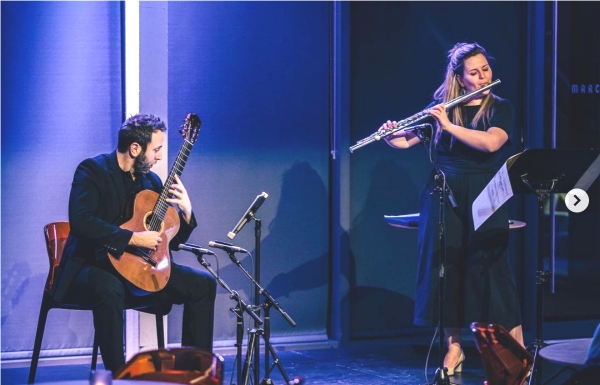 Photo credit: Images of Lara and Adam are provided with permission from Curtis Perry (www.curtisperry.ca)
Flutist Lara Deutsch was named one of 2020's "Rising Stars" by BBC Music Magazine. She is a soloist, chamber musician, and orchestral player known for her engaging warmth and ability to connect with audiences. Recipient of the $125,000 Prix Goyer for 2019-2020, Lara was also a first prize winner of the OSM's 2014 Manulife Competition, at which she won a total of seven prizes. Additionally, she was the Grand Prize Winner of both the National Arts Centre Orchestra Bursary Competition (2014) and the Canadian Music Competition (2010), as well as a laureate of the Concours Prix d'Europe (2016). She founded Duo Kalysta with harpist Emily Belvedere: their debut album Origins in 2019 was named one of the Favourite 20 Canadian Classical Albums of 2019 by CBC Music. Lara performs on a 14k gold Haynes flute, generously donated by Canimex Inc. of Drummondville. Canimex is also one of the sponsors of the Hudson Chamber Music Series.
Montreal-born guitarist Adam Cicchillitti has received numerous accolades over the past few years. The renowned American magazine Classical Guitar called him "a superb Canadian guitarist" and CBC Music included him on its list of Canada's top thirty most promising young musicians in classical music, describing him as an "ardent ambassador for classical guitar." Adam has recorded three albums with the Analekta record label. Adam and fellow guitarist and McGill graduate Steve Cowan have won the Classical Recording of the Year from the East Coast Music Awards.
The concert program consists of shorter works of classical composers inspired by the folk music of their respective countries as well as selections from collections of folk music.
Béla Bartók (1881-1945) was one of the first classical composers to take a serious interest in his country's folk music, and can be considered to be one of the world's first ethnomusicologists. He and Zoltán Kodály toured the Carpathian basin countryside in the early twentieth century with an Edison cylinder, where they recorded Hungarian, Romanian, Slovak and Bulgarian folk music. His Romanian Folk Dances was published in 1915. Five individual pieces from this collection are featured on the program.
Toru Takemitsu (1930-1996) is probably Japan's best known classical composer. He was influenced by Messiaen and Debussy as well as traditional Japanese music, and composed over 200 musical works as well as film scores. He was also a prolific author. His piece Toward the Sea was written in 1981 as part of the Save the Whales campaign by Greenpeace. It evokes the sea in the form of a musical Haiku. Lara and Adam will peform it in its original scoring for flute and guitar.
Astor Piazzolla (1921-1992) was an Argentine composer, arranger, and bandoneon player. He is known as the creator and master of the nuevo tango, which incorporated elements of jazz and classical music into the traditional Argentine tango form. The program features the first three movements from his four-movement 1986 Histoire du Tango for guitar and violin.
Gabriela Ortiz (born 1964) is a Mexican music educator and composer. Her music reflects influences from contemporary, rock, African, and Afro-Cuban influences. She has won numerous awards including a John Simon Guggenheim Memorial Foundation Fellowship and a Fulbright Fellowship. The program features her 5 pa' 2, composed in 1995, another work for flute and guitar, a piece full of Latin rhythms and melodies.
Newfoundland native John Noble is a doctoral candidate in composition at McGill University. He has composed works for many of Canada's finest ensembles including Pro Coro Canada (Edmonton), Esprit Orchestra (Toronto), Vancouver Chamber Choir, Amabile Choirs (London), Christ Church Cathedral Choir (Montreal), and the Newfoundland Symphony Orchestra. His compositions have been featured on CBC national television and radio, and in concerts across Canada and in the United States, Argentina, France, Belgium, and Italy. Lara and Adam will be perform his Folk Suite (2019), originally scored for marimba and cello. It draws on the folk music of the composer's native province.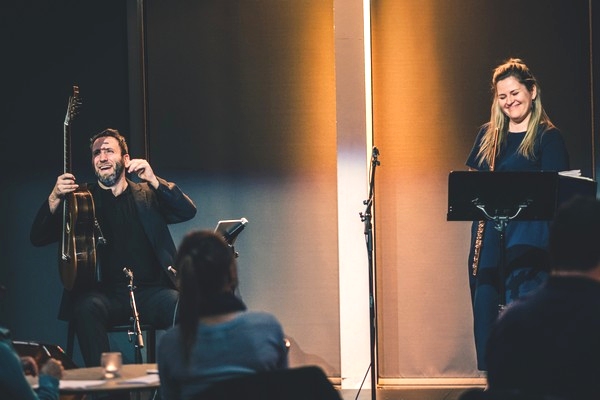 The concert will take place at 4pm in Saint Thomas Aquinas Parish, 413 Main Street in Hudson. This is a change of venue from our usual location at Saint James Church Hall. Saint Thomas has excellent acoustics and will accommodate an audience of over one hundred while allowing for physical distancing. Because of the unusual circumstances related to the pandemic, we will not be selling fixed-price tickets. Instead we are asking for voluntary contributions at the door. Also because of the pandemic, the usual post-concert get together with the musicians will not take place, and there will be no intermission. We will have to check vaccine passports at the door and masking will be required for attendees.