Bloodshot
by Douglas Post
reviewed by Kathryn Lamb
It is London 1957, and we are over the Thames, on Blackfriars Bridge facing east, as our protagonist contemplates an agonizing decision.
He is an aging ex-cop, who had a talent for taking grisly crime scene snapshots. Now fighting depression and alcoholism, he is trying to get work as a photographer.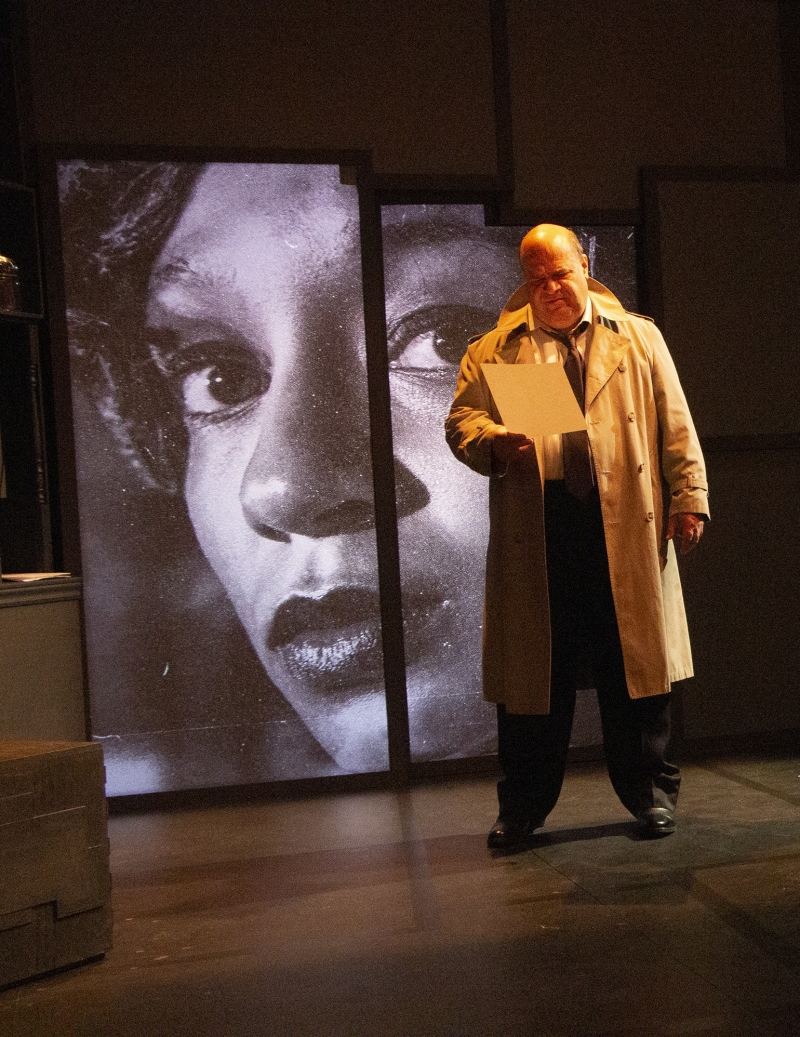 Harry Standjofski plays an aging ex-cop trying to find the killer of Cassandra, but is she dead?
Photo Karen Burgan
A manila envelope drops through his mail slot containing a letter (typed) ending with a large and showy signature. It is an offer of work - someone wants him to follow and photograph a lady, without being observed.
Her name is Cassandra and she is lovely and black. Also included in the envelope is a healthy retainer- and our photographer is down on his luck and behind in his rent.
He is smart enough to know there is something fishy about this job, but needy enough to go ahead with it. All he has to do is lose his scruples, take the photos and leave them at a specified drop point. He does the job, makes the drop, and a few days later, plop! Another envelope arrives through the mail slot, with even more money.
The client, it seems, is satisfied and wants more.
But then, we learn of a crime, and then a murder, and, of course, the plot thickens….
This is a one-man show, starring veteran Montreal actor Harry Standjofski. There are other characters, but he plays them all. All the men, anyway. He is a large man with vast gestures and a wide grimacing face which he twists and contorts as if it is made out of plasticene. His performance is a tour de force. He owns the stage, becomes his characters, and commands our total attention. The suspense ratchets up.
Harry is backed by a set that is very 50's and appropriately "noir". Moody images of blitz-torn London, fragments of letters and fuzzy sepia photographs slide across the back panels, which are bracketed by an intricate grid of black cubbyholes.
As Harry plays different characters, the accessories he requires materialize out of a cubbyhole. A flat cap and a ukulele transform him into a vaudeville comedian. An electric guitar and a battered fedora turn him into an American jazz musician. A top hat, a clever sleight-of hand trick, and abracadabra, he is a Russian magician.
There is no shortage of bad guys here, but which one (or ones) did it????
Bloodshot is not only a whodunnit, but also a whydunnit and a howdunnit. Our photographer, in spite of himself, has become unofficially involved in the case. As he works his investigation through the clues and possibilities, he uses all his police training in deduction and puzzles.
The story keeps morphing and dissolving, until, at the very last moment, helped by the ineptness of the real cops, and despite his own initial disbelief, the truth reveals itself.
Bloodshot was written by Douglas Post, ably directed by Dean Patrick Fleming, and supported by a skillful backstage crew of set, light, video and costume designers. It was at the Hudson Village theatre from October 19 to November 6, and was definitrly worth seeing.