Strawberries in January
Shows are Back at Village Theatre
by Kathryn Lamb
The doors of the Hudson Village Theatre have opened at last with Strawberries in January, a clever, fast-moving play written by Evelyne de la Chenelière, translated by Morwyn Brebner and brought to our stage by Hudson Village Theatre artistic director Dean Patrick Fleming. It is a play full of life, love and laughter- just, I think, what the doctor ordered!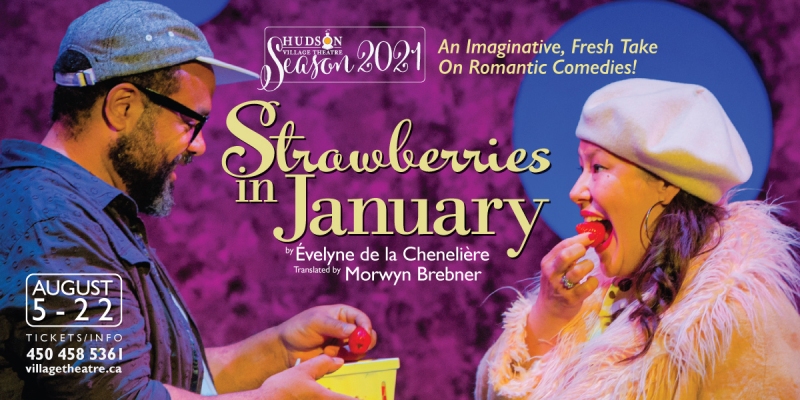 Evelyne de la Chenelière is a Quebec writer and actor best known for her Governor General's award-winning play Desordre public and Bashir Lazhar, the screenplay basis for the 2011 film Monsieur Lazhar. Morwyn Brebner is a writer, translator and co-creator of the TV series The Coroner, Saving Hope and Rookie Blue. And Dean Patrick Fleming, has directed over sixty productions in his career, and is VERY excited (as we all are) to be welcoming spectators once again into our beloved theatre.
This play begins with a girl proposing to a guy. But it doesn't go over quite as she would have liked. And she can't even make a dignified exit because the door she is desperately pulling on is a door that needs to be pushed. It feels like an apt metaphor for the often messy struggle of finding the right relationship.
François (Matthew Kabwe), Robert (Quincy Armorer), Sophie (Julie Tomiko Manning), and Léa (Anne Marie Saheb) are four young adults trying to keep their balance and find love in a confusing world, one where we all need friends as well as people we can trust and communicate with honestly. But having said that, we don't always need the same things, at the same moment and to the same degree, and we are not all moving at the same speed. Sometimes, despite the best of intentions and a great amount of effort, we just don't connect.
The dialogue is clever, fast paced, intricately woven and alternately hilarious and touching. Keeping the words flowing as skillfully and seamlessly as this cast has done is amazing to me. The action continues non-stop (there is no intermission). But, crisis by crisis, misunderstanding by misunderstanding, they finally sort themselves out. Using the power of fast dialogue, effective body language, cool costumes and funky Motown music, the two couples eventually work out what kind of life they each want to live, and who they want to live it with. And after all the frenetic activity, the final scene is presented as a kind of a tableau, a resolution, and we all get to (thankfully) take a breath.
The very cool set, designed by Peter Vatsis, starts off glittery royal blue with hot pink polka dots, and changes colour with the plot. The polka dots morph, as needed, into portholes or dryer windows with laundry spinning around inside. The costumes (Sophie el Assaad) work well to flesh out the personalities of the characters, and the music (Steve Marsh) artfully sets the mood.
But most importantly for me, The Village Theatre is back. The audience was spaced out, and it seemed that every effort had been made to safeguard the audience. Strawberries in January will run until August 22. To obtain tickets, you must contact the box office directly at 450-458-5361 or hvtbox@villagetheatre.ca