The Room Below
Nineteen Years of Panto Fun
A panto retrospective on the Village Theatre website
by Kathryn Lamb
As a small child, one of my favorite Christmas fantasies was the "forgotten" gift - the present that didn't make it under the tree on Dec. 25 - (whether because it was lost, misplaced or delayed) but would turn up, magically, a day or two later.
Well in keeping with the unpredictable nature of this holiday period, that has actually happened! Although COVID deprived us of our annual Christmas pantomime, someone rooting around in the basement of the theatre, has located some archived film from pantos past and created "The Room Below - 19 years of Panto Fun", currently available on the Hudson Village Theatre website (www.villagetheatre.ca). This presentation is MC'ed by Steve Walters - in the guise of his better known alter-ego, Patty Cake, with input and help, I suspect, from videographer Michael Reid and a few other Hudson Players.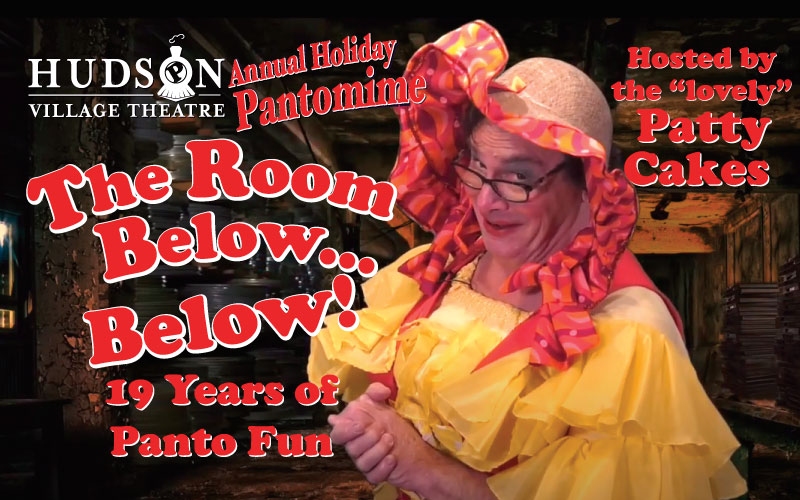 We have been blessed with nineteen editions of this unique form of fun, craziness, hilarity and work. The plots have evolved, the cast enlarged, costumes and sets have become more elaborate and technology has advanced. But what is always clear is the skill, creativity and commitment of so many individuals that have gone into these productions….actors of every age, directors, technical and music people, set painters, costume designers, volunteers, parents, sponsors and yes, you - the audience!
We get to enjoy excerpts from Panto versions of Aladdin, Cinderella, Treasure Island, Sleeping Beauty, Camelot, Puss-in Boots. Snow White, and more; directed by Heather Markgraf, Mary Vuorela, Glen Robinson, Steve Walters, Melanie Doerr, John Sheridan and others. It is a trip down memory lane for anyone who has ever been involved in one of these productions, or indeed anyone who has sat in the audience amongst excited, sugar-crazed children, dodging the flying candies, and hissing at the dastardly villains! I truly missed the panto this year, but I am grateful for this offering, and I thank all those involved in its production.
Once again The Room Below is offered free of charge at www.villagetheatre.ca, however viewers who can afford to are encouraged to make a donation to "Le Pont-Bridging" foodbank, which can be accessed directly from the website.
During the COVID 19 pandemic, Arts Hudson has transitioned to an online-only arts blog, publishing articles about the arts throughout the year.
Past issues are still available under the Archives section.
Below are links to Hudson-related cultural sites:
Artist Rita Shellard