Local Artist Continues 5,000 Year-Old Tradition
of Creating Exquisite Wind Chimes
Carmen Marie Fabio, former editor of The Journal, is pursuing an artistic hobby she loves
by James Parry
To parryphrase Bob Dylan, and for the past 5,000 years or so, they have been 'Blowin' in the Wind.' Of every description and on every continent on Earth. Depending on your outlook on life and spiritual beliefs, they can either be pleasant sounding background music or a tool to bring good luck and positive energy while warding off negativity. According to some, when hung facing west, they attract good luck in the lives of children and help them to bring honour to their family. Similarly, when hung in a northern direction, they open up career opportunities. And when hung in the north-west zone, they bring the luck of mentors into your lives.
I'm speaking of wind chimes. Which, historians would have it, first appeared in Southeast Asia around the year 3,000 BC and were originally created from bone, wood, bamboo, shells, and other organic materials. To be subsequently supplemented, as bells and metal construction became more common, with crafted objects around the year 1,100 BC. All considered religious objects which could attract kind spirits and drive away evil ones.
Fast forward to the present day and permit me to introduce you to a local wind chime artist extraordinaire whose name will be familiar to many readers of Arts Hudson magazine. Namely, Carmen Marie Fabio, award-winning editor for the past 10 years of The Journal (formerly Your Local Journal) community newspaper which ceased publication after 18 years just weeks ago and whose first real job, I was gobsmacked to learn, was in the high tech sector specializing in nuclear power plant simulation!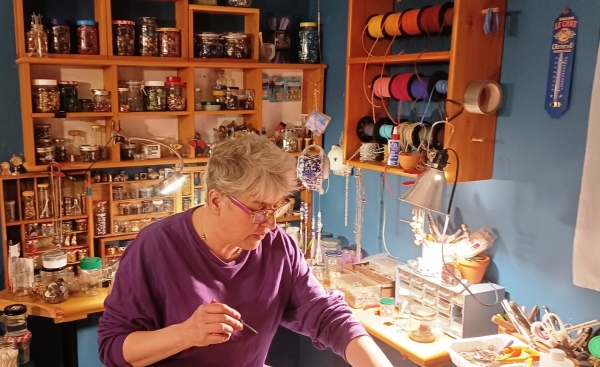 A large collection of beads, silverware, and miscellaneous findings take up the shelves in Carmen's studio.
Caught up with Carmen recently to learn more about this multi-faceted lady who began creating wind chimes some 15 years ago and all because of one that her mom had received as a wedding gift but, in her opinion, was very plain and boring.
Says Carmen, "I thought to myself, I could do that... and I could do it better. For sure, there was a lot of trial and error, and a lot of injuries as I learned, but I'm still enjoying it while planning on continuing my journalism career."
Using only upcycled, repurposed materials as much as possible, that enjoyment is evident in the stunning and truly unique pieces she has created over the years and which are often bought as gifts for locales as far away as Croatia, San Francisco, London, New Mexico, Toronto, and many in New York.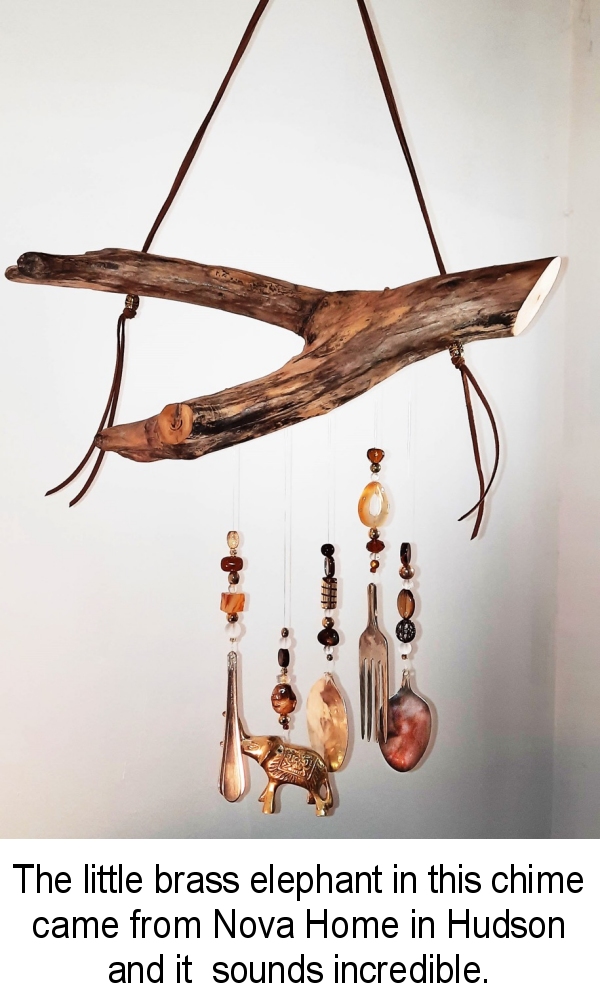 Explains Carmen, "All the driftwood comes from either the Ottawa River or Lac St-Louis. The teapots, beads and broken jewellery are purchased at thrift stores, church basements, NOVA, The Bunker, and the like so that money I spend there stays in the community. The silver-plated cutlery also comes from charity shops but I have some awesome spies, like Hudsonite Frank Hicks, who always keeps his eye open for me for new sources. Some of the hardware, and the resin, I do buy commercially but it's a small percentage of the finished product."
As to what inspires her when it comes to creating a specific piece, she adds, "I've amassed so many little watch parts, cutlery, beads, and found objects that I kind of play with compositions until I see something that works. I try not to overthink it. But I have to say, I'm obsessed with circles. There are a lot of round watch faces, metal rings, circular gears, and eyeballs in the resin spoons. Don't know what it is, I just like the shape.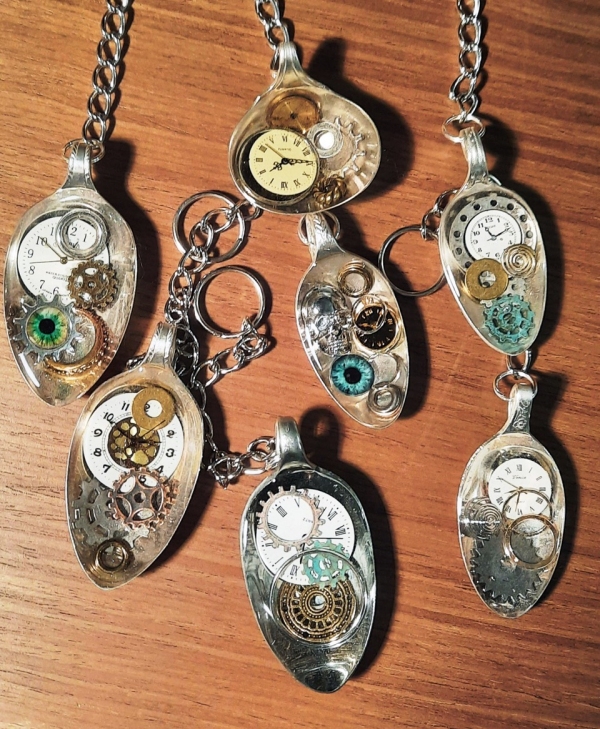 Close up of components preserved inside a resin spoon including broken watches, gears, and found objects.
"And if I do get a new idea, I'll try it out but usually I have to tinker with the idea for a while. At a previous show, for example, a woman asked me, 'Are you the one who makes birdhouses out of teapots?' I wasn't but I figured I'd give it a shot. I do love them but birds are very particular. The opening has to be the perfect size, only water-based stains or finishes can be used as birds don't like chemical smells and even the little perch has to be a specific distance from the opening. Also, the house needs to be a certain height off the ground or the birds won't even consider it. And so I've taken a break from teapot birdhouses until I can figure out what makes the little critters happy."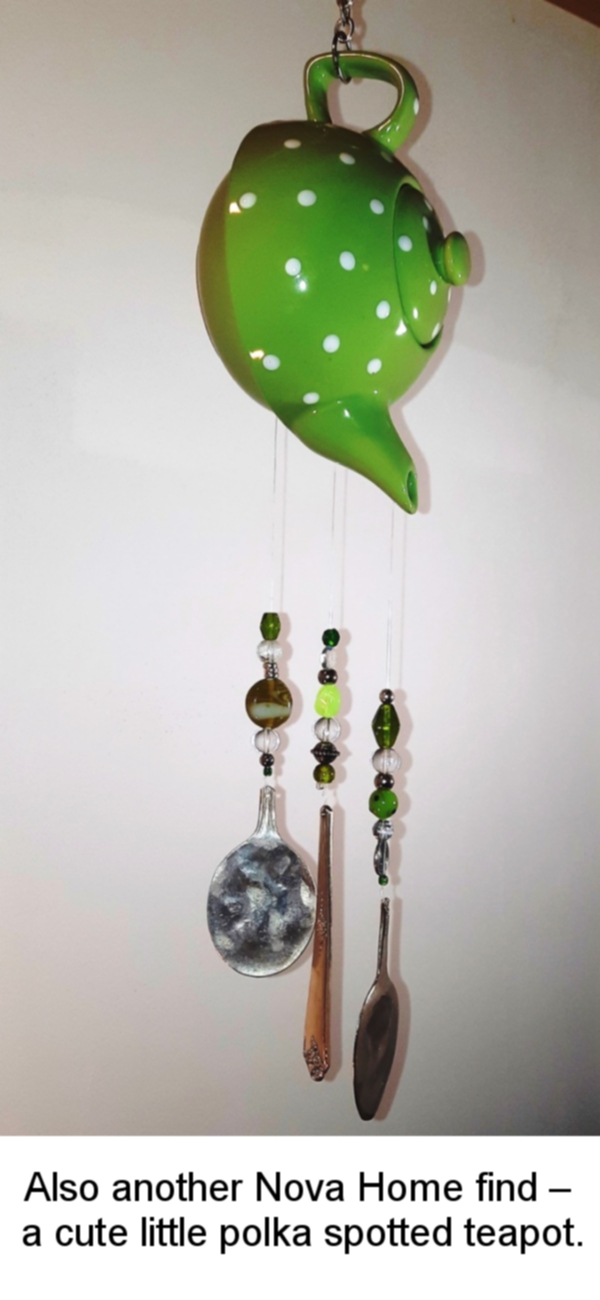 So move over birds and hello bugs. Says Carmen, "One latest addition to my collection is the insect series made out of antique silver forks. So far, they're being marketed as fridge magnets but I may make some as lapel pins. I've also begun making silver rain chains for downspouts but need to test them in the warmer weather to work out the design kinks before offering them for sale."
I was also intrigued by her extremely intricate and whimsical resin spoon collection destined to be used either as keychains or to clip onto a purse or backpack although some clients do wear them as a pendant on a long silver chain. Says Carmen, "The composition is probably the longest part as the interior pieces are tiny and the process, like many things in life, doesn't always go as planned. I also tend to work in batches, so a dozen or so spoons at a time. I buy broken watches at charity shops, take them apart and work on the composition with whatever else I have lying around. Hard to say how long. Probably between 60 and 90 minutes per spoon if things work out right."
Which certainly couldn't be said of the huge wind chimes she used to create using motorcycle gears. Laughed Carmen, "Unfortunately, they didn't sell very well. Too big and too loud!"
Having only once exhibited at a show in Hudson, her creations are exhibited annually in Westmount, Pointe-Claire, and Dollard des Ormeaux. A few years ago, she took part in an environmental show in the West Island in the summer and she has a few pieces for sale at her 'favourite' restaurant, Patate et Persil in Vaudreuil-Dorion, and the 'awesome' Que de Bonnes Choses in Hudson where owners, Gwen Giberson and Heidi Niderost, repurposed their bistro during Covid lock-down to support local artists and artisans by displaying their work.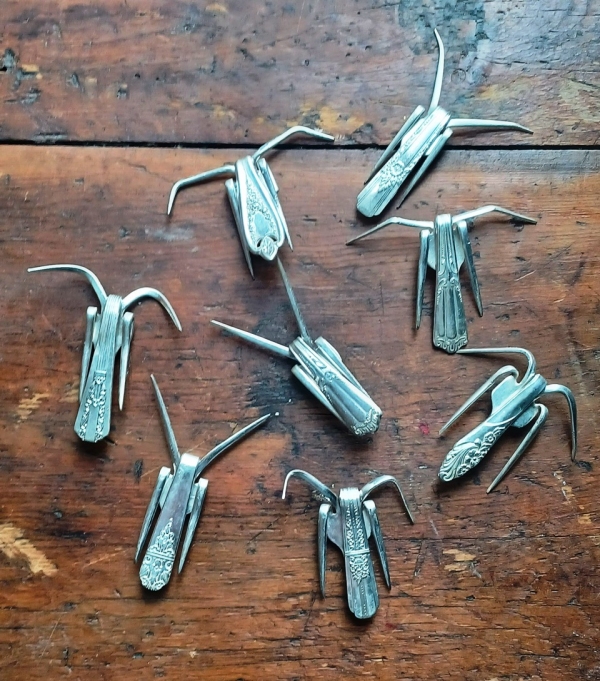 Antique silver forks, some up to 100 years old, are reshaped into a collection of beetles and bugs – fridge magnets or lapel pins.
As for upcoming shows, she is already planning ahead even further afield. Says Carmen, "I'm definitely committed to the Pointe-Claire show this year in beautiful Stewart Hall, later in November, and possibly in Westmount again. I'll also be taking part, for the first time, at a spring exhibition in Saint-Lambert and I'm also looking into larger shows in Toronto and Ottawa."
All this with the full support of her hubby, who bought her a blowtorch of all things for her birthday this year, and her three sons who are happy to accompany her shopping on her 'thrifting' days. As for the price of her creations, these start from about $16 for a two-piece driftwood wind chime up to about $60 for a larger piece while the teapots are in the $35-$50 range, depending on the number of pieces of cutlery used
And finally, a question I simply had to ask Carmen, "Now that The Journal no longer exists, do you intend to devote more time to wind chimes?"
Her answer? "No. It's always been a pastime for me and I prefer to keep it that way. It's a hobby that I really have fun with in my spare time. Ten years at The Journal has gone by so quickly. I like a fast-paced environment, learning new things, and producing something tangible. Journalism has always been a perfect fit for me and who knows what the next chapter will be."
Meanwhile, and as Carmen continues creating her one-of-a-kind wind chimes, insects, and resin spoons, she can be contacted through Facebook at facebook.com/WindchimesAndStuff, on Instagram at instagram.com/windchimesandstuff/ or by email at windchimesandstuff@gmail.com.
So with Spring outdoors fast approaching, hopefully at least, perhaps you might like to consider hanging a new addition in your garden, patio, or balcony and listen to the sound of tintinnabulation. Which, I was also fascinated to learn, is the tinkling sound of a wind chime!