The Challenges of Doing Theatre
Online During Covid-19
Hudson Village Theatre and the Hudson Players Club
by Kathryn Lamb
HUDSON VILLAGE THEATRE
'Twas the night before Christmas
And all through the house,
Not a creature was stirring….
Except……there seems to be a light over there at the Hudson Village Theatre!
The theatre has this year gifted the town, with a collection of virtual holiday stories presented from their own stage, called the 12 15 Days of Christmas. They have been released one per day from the 10th to the 24th of December (after which they will be archived) and they are available from the theatre's website www@villagetheatre.ca, or through their Facebook page. The readings are offered free of charge, although donations are being accepted for Le Pont- Bridging foodbank from anyone who feels able to do so, and all donations will be matched by Your Local Journal.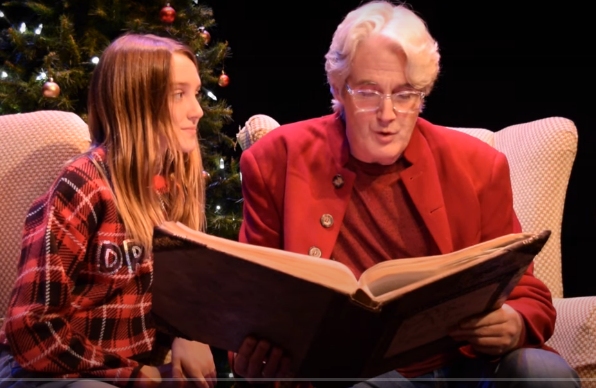 "A Child's Christmas in Wales" read by Bruce Dinsmore and Tallula Savage-Dinsmore
These readings are delivered to us courtesy of many of our favorite local thespians, and include old stories, new stories, stories from other lands and, of course, imaginary places. Angela Galuppo takes us to Italy (Strega Nona), Inga Lawson to Trinidad (Last Seen in Trinidad) and Bruce Dinsmore and Tallulah Savage-Dinsmore to Wales (A Child's Christmas in Wales). Diane Roseman brings us "Simon and the Bear, a Hanukkah Tale," and Don Anderson, "The Selfish Giant." Mark Drake presents a tongue-in-cheek critique from the Economist, of Santa's branding and marketing practices, as well as an analysis of his hiring policy and working conditions at the North Pole! And from the fantasy world, Heather Markgraf offers the beloved "Polar Express," and Amanda Kellock, my eternal favorite "The Grinch That Stole Christmas." Our mayor, Jamie Nichols reads "The Gift of the Magi," and theatre artistic director Dean Patrick Fleming finishes off with "Twas the Night Before Christmas" on December 24.
There are more stories than these, and all help us to expand our thinking beyond the tight confines into which we are restricted right now. As we cocoon in our lairs, some of us alone and some with only our nearest and dearest, connecting is vital, and this effort on the part of our theatre is so very welcome.
THE HUDSON PLAYERS CLUB
The Hudson Players Club in its 72-year history, has probably never had to contend with a year like this one. Deprived of the chance to stage their long anticipated "The Full Monty" in the spring, Shakespeare in the summer, and the pantomime at Christmas, the club nevertheless has been working hard to stay creative and keep their skills in top shape. And still, amazingly, they manage to have a great time. Case in point, their recent on-line Christmas gathering.
In the words of their M.C., the indefatigable Steve Walters, "in the spirit of uniqueness and the holiday, the Players Club is going ALL OUT to bring you, via Zoom, in one evening, on-line readings, a quiz, a sing-along and (Get this!) a Bake-Off competition".
The readings and the quiz were (pardon the pun!) a piece of cake for this group. The baking competition, however, was a bit more complicated. It involved five teams, and the goal was to create a gingerbread replica of Wyman church. The competition was stiff, and there was much artistic licence taken in the process. But the audience voted, and the winner was the Richardson family, by a single vote. (Although the Sheridan team, in the spirit of these times, is asking for a recount!). So, another unique and successful effort, as promised.
The last event, the sing-along, involved a four-line song, meant to be sung as a round by four groups. It was too ambitious, or maybe it was too late, or maybe…... But by that time, everyone was laughing so hard that it really didn't matter. Something to work on for next year?
Thank you to the Hudson Village Theatre and the Hudson Players Club for your efforts, your creativity, and your generosity. Here's hoping that 2021 will allow live theatre to flourish once again in our town.