"Macbeth" by the Hudson Players Club
Theatre at Jack Layton Park
by Kathryn Lamb
Shakespeare's Macbeth, known also as "The Scottish Play" opens at Jack Layton Park on July 30. It is a Hudson Players Club production, and Aaron George is directing. He is known for his highly successful fringe festival productions, and for Shakespeare Canada, an organisation that takes Shakespeare to school audiences across the country. Macbeth is played by Simon Côté, well known to Hudson audiences for his past performances in Balconville and One Flew Over the Cuckoo's Nest.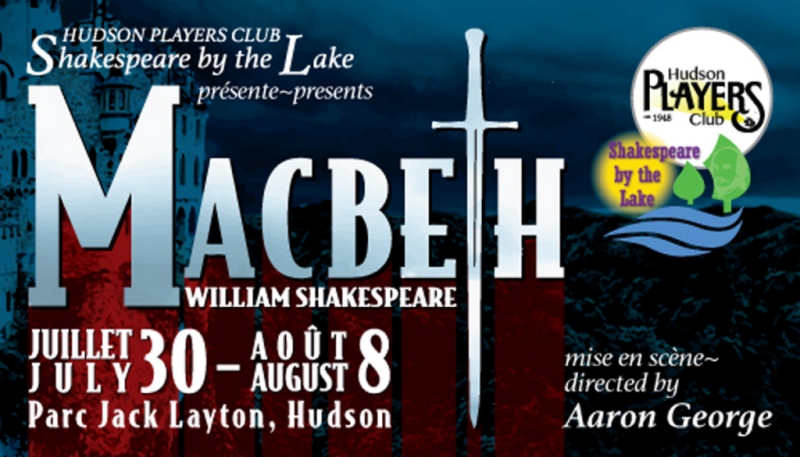 As I arrive at a rehearsal, I almost trip over a huge pile of weapons - swords, maces, daggers- and I am reminded of the brutal and bloody character of this play. "Are the stakes trivial?" the director demands of his cast at the outset. "No" they reply, loudly and in unison. This is a play that requires passion. The stone amphitheatre in the park has become twelfth century Scotland. Once again, the clans are battling and civil war is threatening the country.
And then I hear those iconic words "Double double, toil and trouble, fire burn and cauldron bubble" I hadn't realized how much I have desired to hear lines like these, after eighteen months of pandemic drought.
Performing this play requires huge amounts of energy- to voice the words, create the actions, and fight the battles. High stakes emotions make the heart pound and breath quicken. Scenes develop as momentum and tension build. I watch the director coach his actors, and he fully connects with them. The fighting scenes are amazingly choreographed- intense and deadly, like some form of lethal ballet.
Fear is the great motivating force, according to the director. No individual starts off as truly evil, not even Lord and Lady Macbeth. But once they become enmeshed in their plot of deceit- whether it is self-deceit or deceit of others, they are trapped. Macbeth has no defenses against his vaulting ambition and his jealousy.
There is strong chemistry between Lord and Lady Macbeth (Mary Vuorela)- whether tender or fighting, and their exchanges are electric. This makes the eventual disintegration of their love a true tragedy. The various actors have contrasting looks and personalities- Banquo (James Milvane) is Celtic and princpled, Macduff (Nick Fontaine) is dark, enigmatic and intense. They balance Macbeth's rage and delusion. But the evil has begun and the fear and resulting corruption eventually destroy trust, marriage, family and sanity.
In this version of Macbeth, the weird sisters create the action. They prophecy, they murder and they misinform, all of which move the plot along on its inevitable path to doom. They are a multigenerational sisterhood, from youth to crone. And although dressed in white, their incantations are bone-chilling and obscure.
I am looking forward to the supernatural, hallucinatory interlude of Banquo's ghost, and an apparently single comic interlude courtesy of a castle porter. But most of all, I think I am looking forward to listening to those iconic lines again… Blood will have blood", "What's done cannot be undone" "By the pricking of my thumbs, something evil this way comes". These are words whose exact context I confess, I may have forgotten, but I anticipate encountering them again, like long-lost friends!
The Hudson Players Club never disappoints, always bringing something to the stage that is solid, distinct and inspired. This year Macbeth will be performed at Jack Layton Park on July 30, July 31, August 1, August 6, August 7, and August 8 at 7PM. No admission fees but donations are gratefully accepted. For more information go to hudsonplayersclub.com or tel. 514-945-3271.