Remembering and Honouring
Our First Nations Sisters and Brothers
Local artist Barbara Farren exhibits in Toronto
through December under the theme of Canadian Unity
by James Parry
With Covid-19 still raging across Canada and indeed the world, calls for unity and understanding becoming more vociferous every day, so many artists as well as those in the performing arts on hiatus, and theatres and concert venues closed, it is becoming increasingly difficult to find some positive news on the arts scene these days.
But here's one that kind of encapsulates them all.
As of this week and continuing through December 18, a painting by local artist Barbara Farren titled Our Sisters and Brothers, Our Burden of Shame is on display at the N3XT Canada Exhibition staged by the Arts and Letters Club in Toronto, a very prestigious club founded in 1908 by members of the Group of Seven to support the Arts.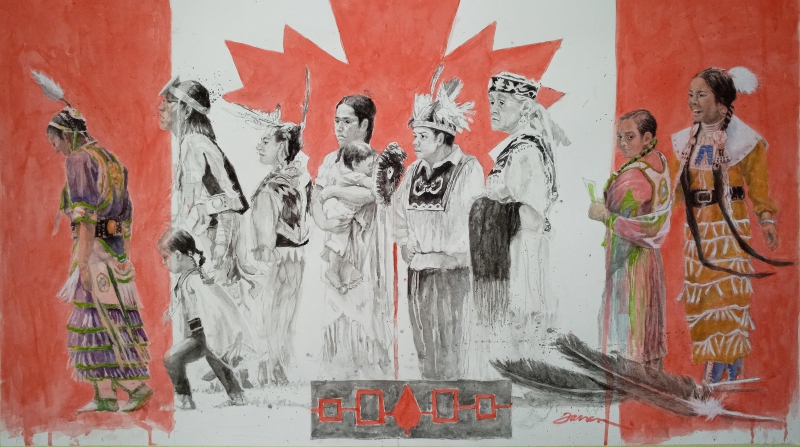 Our Sisters and Brothers, Our Burden of Shame
Their theme this year is Canadian Unity. And as Barbara told me, "James, I'm sure you are not surprised by the subject matter I chose considering my long standing commitment to portray our First Nations and Indigenous Peoples."
Added Barbara, "The state of affairs of the First Nations is extremely discouraging, and the first and oldest problem we have regarding unification. Treatment of our first peoples sends a global message about our values. We have no right to interfere with any other nation until we address our own and correct the centuries old abuse that is still occurring in our Canadian culture. My heart breaks that I cannot do more for these people.
"Their tireless struggle has now spanned hundreds of years and yet they still remain positive, welcoming and hopeful. Their smiling faces convey that they do not carry bitterness. They seem to be able to forgive and have great love in their hearts and that is what I aimed to illustrate in my painting."
As for the symbolism of the painting itself, there has obviously been a lot of thought that has gone into it. Explained Barbara, "By using a monochrome painting on the figures, I wanted to create a more serious mood and use the red only in the depiction of the Canadian Flag. Also the red is synonymous with blood as there is always loss of life still."
Arts and Letters Club is located at 14 Elm Street, Toronto, and for more info, go to https://www.n3xt.ca/the-arts- letters-club. Should you wish to contact Barbara directly, she can be reached at (514) 574-7114 or by e-mail at barbara@barbarafarren.com.
Some of her other paintings and portrait work, incidentally, are also now on display at the Marden Art Gallery, 290 Lakeshore Drive, Suite 107-108, Pointe Claire Village, which is open Tuesday to Friday 10-6 p.m. and Saturday 10-5 p.m.
Truly a talented artist, with a vision for the future and the past who just refuses - on an artistic level - to let this pernicious pandemic get her down!