Finnegan's Market
A Eulogy
by Kathryn Lamb
It is early morning, and in the pre-dawn mist, vehicles quietly pull into the parking lot, so as not to disturb the still-sleeping neighbors. Birds are tuning up for their daybreak chorus, and spring geese rise from the water.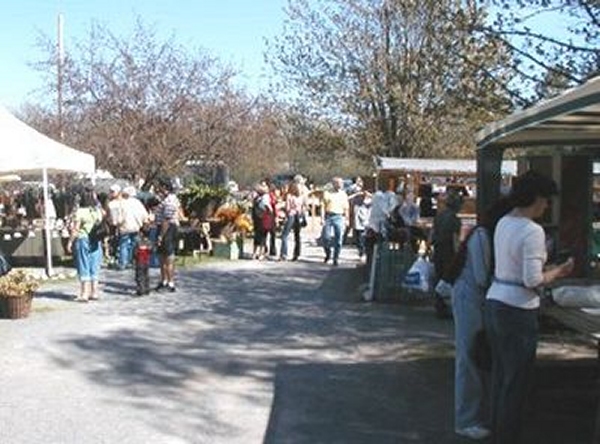 The local Saturday market is preparing for its big day. This market has been a fixture in Hudson for many decades, and reliably, every Saturday from the first of May to the end of October, it comes to life in this idyllic meadow. It is owned by the Aird family and is run by Mrs. Aird and her three daughters. For six months of Saturdays, it is a backdrop for transactions of things grown, baked, carved, painted, sewn, twisted, wrought, and photographed. You name it, you'll find it. Old things, new things, antique, cutting edge, practical, decorative. Things to eat, things to wear, things to decorate your home or use in the office. In the early days, Mr. Aird, the patriarch, would come out in the morning with a big smile, peruse the merchandise on display, and say to a vendor with pure delight "You mean you made that!" It is functional creativity at work.
Economists define a market as a place where two or more parties meet to engage in an economic transaction: a place where buyers and sellers come together to facilitate the exchange or transaction of goods and services. This is an abstract, and frankly dead definition of a phenomenon that has existed for millennia. A living market is a vibrant, evolving mirror of our lives, our needs and our desires. It is sensitive to what we want, and what we will want, even before we know it ourselves.
Traditional stores exist to fill our needs and, in many ways, they do, but they can be mired and restricted by procedures, historical data and seasonal projections. A true market vendor is in touch with the client, and can fine tune his products and his display to satisfy, even preview, what people really want. It is an intuitive process deeply rooted in understanding human nature.
This market that I am familiar with morphs annually, seasonally, even weekly. There have been years where antiques were king, and years where handicrafts or pottery or birdhouses were hot. I have seen record years for children's clothing, silver jewelry, straw hats. antique linens, perennial plants, wrought iron, garden statuary and pet accessories.
There is always someone with a great new idea, and what better place to try it out? For a nominal fee, and for getting up early on a Saturday, you can be an entrepreneur, in business for a day. There you can fine tune your presentation, work out your sales pitch and get REAL reactions. Most of all, you have the experience of standing behind your creations and when the person walking by says "Is this your work you can answer with a resounding "YES"!
Full disclosure, I have been a market vendor for years. My favorite activity is setting everything out, arranging my offerings on the table so that everything is visible, but not crowded. I want it to look interesting, to tell a coherent story in the 30 seconds it takes for a person to walk by. This is what draws people in. And since I am here, installed, I will see everyone I know sooner or later. Clients and acquaintances come by, as well as friends from the past, and people I had forgotten I knew. It is a varied and rich social life that I would not otherwise enjoy. And I enjoy the other vendors that I meet each week. We are a feisty tribe.
I have sold at markets, bought at markets and I admit to being a fan of the concept. It is as valid now as it was in the Middle Ages. And in a world where virtual activities threaten to replace real face-to face contact, I think we need to sometimes remember the old ways and rebalance a bit. So, head to a market with your friend or your family or your pet. Approach a stall, talk to a vendor, be curious and learn something new. Sure, he wants to sell you something, but anyone who is truly interested or admiring is usually welcome. We have sadly been deprived of our market for over two years, thanks to COVID, and I profoundly hope that this May, we will have it back.
P.S Latest sad news- the market will not reopen. Government restrictions and resulting financial issues have claimed another victim. Many will be heartbroken, and I believe we will all be the poorer for it. Love and thanks to the Aird family for fifty years of pleasure and service to the community.
P.P.S. This piece was written last winter, before the closure was announced.