Little Red Ridinghood
Strikes Back
by Kathryn Lamb
As I walked into the Hudson Village Theatre to watch a rehearsal of this year's pantomime, the energy and excitement was immediately palpable. After two years of "panto-deprivation", the town is ready. I watched with wonder as the performers on stage worked to perfect their routines, fine-tune their gestures and get their timing down pat.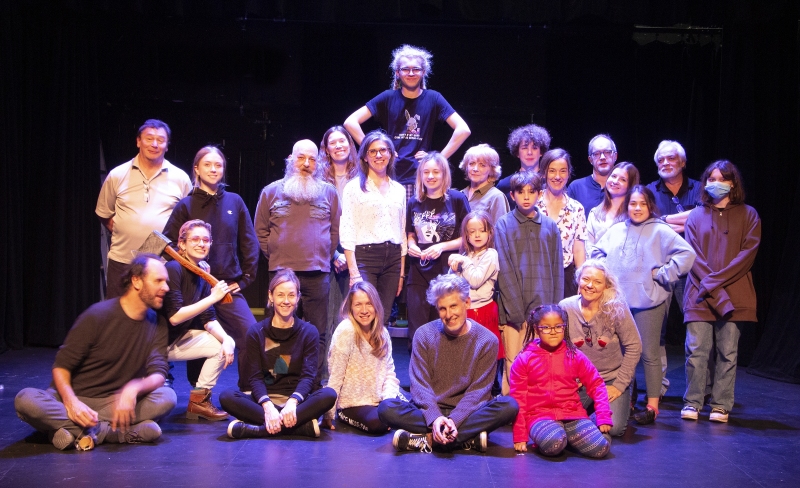 Above a snapshot of just some of the fabulous cast in the Lttle Red Riding Hood panto.
Photo John Sheridan
Little Red Riding Hood Strikes Back is director John Sheridan's second original pantomime for the Hudson Village Theatre. This version was loosely inspired by Sondheim's musical Into the Woods. It is set in a forest that a rowdy pack of leather-clad biker wolves want to take over as their home turf. The main obstacle to their plan is spunky Little Red Riding Hood, who carries provisions from the village through the woods to her granny.
As she makes her way into the forest, the hungry wolves try to make her their dinner, but Red, accompanied by her lovely cow and confidante, Betsy, refuses to be intimidated. The wolves might like to munch on a few of the audience members too, but the large red PT (Pantomime Rule Book) forbids it.
Granny, the "dame" of this production (a pantomime always has a dame) is no push-over either. She lives in a cabin in the forest and makes porridge for everyone. She is, in fact, a porridge entrepreneur, and I am told that her "porridge machine" is a marvel of modern invention (I haven't seen it yet!).
Little Red, as it turns out, is a natural-born leader. The wolves, on the other hand are a laughable gang of yokels. Johnny, their leader, is not much of one, and the others - Knuckles, Mangey, Doogie, Bangers and Mash - possess rhythm, some singing ability and a lot of attitude, but that's about it.
Other fairy tale characters inhabit this enchanted wood including Goldilocks, her three Bears and the Three Little Pigs. These threads are woven together into a magical tale that, when you think about it, turns into a relevant fable for our times.
One of the challenges of creating a new pantomime, involves working out new choreography and a musical score. Donna Stewart, a very talented choreographer, has previously worked with John and was ready to take on Little Red. When John asked her if she thought an original musical score for this production could be created, she said "why not?". Local musician Tim Walsh was brought on board, as well as Keith Ford, and from what I witnessed at a rehearsal last week, there are some VERY cool dance routines, accompanied by great songs. James Reid, one of the actors playing Knuckles, even wrote "Wolf-la-la", one of the show-stopping numbers performed in the show.
Backstage, things are just as busy, as theatre veteran Norma Murphy organizes the copious number of costumes required, Jean Claude Olivier designs sets and Julia Hébert, props.
Every year, the pantomime is an enormous undertaking, requiring months of planning and rehearsals, two casts of performers, and contributions of time and effort from countless volunteers. It is also an opportunity to showcase some of the talent that exists, sometimes hidden, in our town. Most important, it brings us together as a community, involving participants of every age, supported by their families and friends, plus all the audiences that come to be part of the show.
And since all the performers are volunteers, this project is a major fundraiser for the theatre. Anyone not familiar with the history and traditions of Pantomime is invited to go to the theatre's website, where it is beautifully explained.
Panto has become a treasured Christmas tradition in our unique town, and opens on December 16. Tickets are expected to sell briskly, so make your plans now.