Hudsonite Paul Winstanley Pens Captivating Children's Book
from China with Love
Titled Four Silk Roads
For Chinese youngsters learning English in Chongqing
by James Parry
Without question, China has certainly been in the news this past year and virtually all of it negative. Think the initial epicentre of the global Coronavirus-19 pandemic and the rabid response of soon-to-be former U.S. President Donald Trump, the ongoing Canadian saga of the two Michaels now entering their third year of incarceration and its political ramifications, as well as the country expanding its footprint around the world and its assertive foreign policy. For sure, it's not easy finding positive news when it comes to China. But I have. All thanks to a proud and multi-faceted Hudsonite by the name of Paul Winstanley and out of the city of Chongqing in South West China.
For Paul, originally from Bolton in the U.K. who emigrated to Canada in 1981, a specialist in the aviation field and whose career has seen him working in the contract design and drafting world not only in Canada but also in France, Germany, and China, is the author/publisher of a little gem of a book titled Four Silk Roads.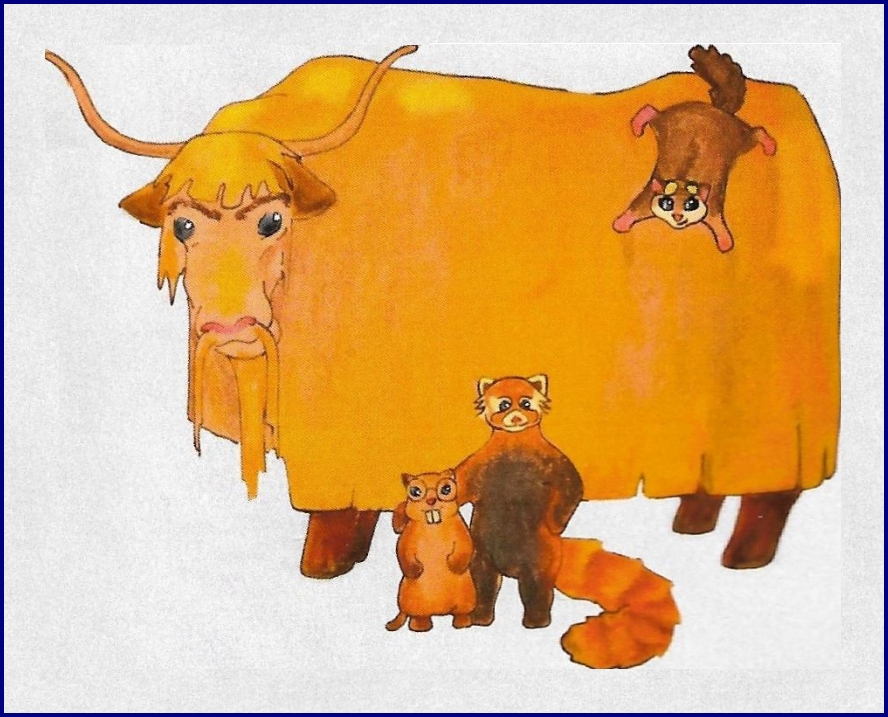 Image from the cover of "Four Silk Roads"
In essence, and with magnificent illustrations by local artist Catherine Alexander, it tells the story of four of the great discoveries and inventions of China millenia ago. Namely gunpowder and fireworks, the compass, printing, and paper. Obviously no big revelation for adults who watch the Discovery Channel, PBS, or who just love historical trivia. But what makes it particularly special is the fact that it was written for Chinese youngsters being taught English in their schools by Paul himself and others.
And each of the chapters spotlights a fairytale-like animal through whose eyes we see these inventions unfold. For the compass, there is Faye The Flying Squirrel. For fireworks, Hong The Red Panda. For printing, Lee The Golden Yak. And for paper, Hanta The Marmot. Surely a tribute to that wood-chomping critter of the same family known as the beaver here in Canada.
So how did it all come about. Explains Paul, now back in Hudson having left China just prior to the Covid outbreak and in perfect health, "You see, while I had lived here in the Hudson area for about 16 years and after having left Bombardier and the high stress job I had, I wanted to take a break from engineering. And so just by chance, I was trolling the foreign jobs online and found a teaching job in Chongqing. Sending off my qualifications, to my great surprise, I got accepted by the Hampson School. And it turned out to be the most rewarding job of my life, teaching Chinese children English."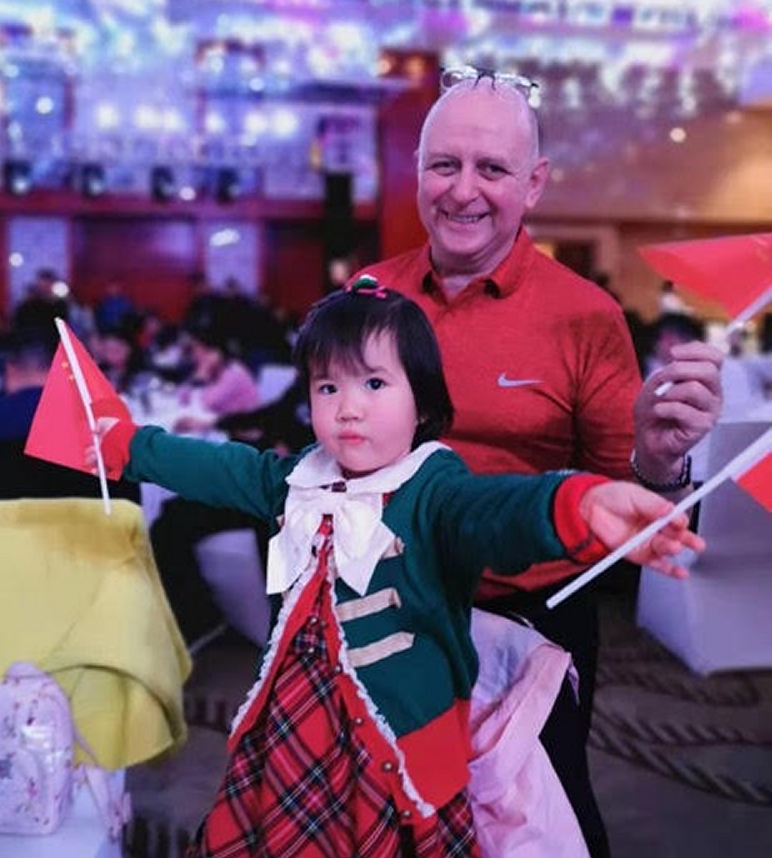 Teacher and author Paul Winstanley
with one of his favourite pupils, Jia Jing He (Pauline)
the daughter of Hong (Janet) Zhang in Chongqing, China
But how come the switch from engineering to teaching? I asked. Says Paul, "I'm sure as any foreign worker in that country will tell you, once there, you are fair game to be poached by other companies. So after a while I was offered a job back in engineering and worked for another four years for the Chinese-owned American based company Enstrom Helicopter, whilst working part time for the Hampson School. A very busy time to say the least! But I knew, while there, that this was a book I had to write. One of the reasons being because I was struck to see the lack of Canadian content in the local schools. Their material was largely American products that were written directed mainly for Spanish-speaking children."
As for inspiration, Paul adds, "I modelled my book after Wind in the Willows by Kenneth Grahame. Then to teach the verbal communication side of education, I asked my older students to listen to Canadian ballads like Joni Mitchell songs. Then try to write the lyrics down, just for practice. And I selected the main characters in the book because the 'real' animals are native to China. And it was so easy to pick the four animals like in Grahame's book and add the great discoveries to the story, so that children can just be children and wander into fantasy whilst reading English."
How long did it take from concept to print? "It took me about a full year of writing it on and off, that's really in my short spare time and goofing off at work as the boss walked past my desk and saw me scurrying away with a pen and presumed I was actually working. I paid the publisher in a suburb called Guanyingchao about $200 for an initial run of 50 copies, only a few of which I have left."
As to how he came to meet the artist in the first instance, Paul explains that it was through word of mouth on the part of another Hudsonite ex-pat, who introduced him to fellow Hudsonite Catherine (real name Catherine Laroche) as a school friend of her daughter.
Explains Paul: "Catherine, who uses the surname Alexander as a nom de plume and who now works out of Studio Laroche in Rigaud, was very detailed when coming to figure out what the stories were all about so I just left it to her creative illustration talents. I supplied her with the animal type and Chinese discovery and she came up with the rest. And brilliantly so!"
Are there other examples of Chinese ingenuity and perhaps a second book in the future? Says Paul, "There are several others that I could have included in this book. For example, the boat rudder was reputed to be discovered by the Chinese but I chose not to because it's disputed. I don't really have any other thoughts about writing another book, mind you Kenneth Grahame only wrote one book. Then again I could be persuaded… Meanwhile, my immediate future plans now that I am back in the area is to just enjoy the serenity away from the masses that this area gives. What a relief for anybody who has a stressful job to come home to the folks in Hudson or Saint Lazare."
And finally a question, I simply had to ask. Can he himself speak Chinese? Says Paul, "Yes, Mandarin. But only after an enormous effort sponsored by Enstrom Helicopter which paid for my night school studies. It is, of course, limited but Chinese folks are happy to hear me speak it. In fact, I was even on the local TV station in Chongqing. But I'll let you in on a little secret. I was given the questions beforehand and practiced my answers with my Mandarin teacher. My legs turned to jelly when I stood before the cameras. All the while with a big smile on my face!"
For more information on Four Silk Roads, which is a most delightful and informative read and which he dedicates two his two daughters - Charlotte, "a professional student" and still studying at Concordia University at the age of 29 and Rebecca who owns and operates her own children's pre-school in the U.S. and now living in Melbourne, Florida - you can contact Paul directly at (514) 984-6845 or by e-mail at paulw_uk@hotmail.com. Even in Mandarin should you so wish!