Hudson Arts Roundup
by Kathryn Lamb
Within the arts community in Hudson, the summer of 2020 has been, well, let's just say it, unlike any other within our memory. With most local venues shuttered, regular seasonal events cancelled, and artists who depend on these activities hurting financially, artistic activity is still happening, but more at a simmer than a boil. New methods of connecting are being tested, and everybody is Zooming. But although we are grateful for these new tools, and are finding new ways to put them to use, nothing can really replace meeting in person. Nevertheless, Art must go on. And so…..
The Hudson Artists has no plans at present for physical meetings or exhibitions. However, they do have a very impressive on-line Artists Showcase featuring the work of several members. It may be viewed on their website at artistehudsonartists.com and is well worth a visit.
The Hudson Players Club has stayed creative this summer with a series of play readings, a comedy evening and a quiz night via zoom that were all fun and well attended. There has also been an experimental version of Shakespeare's "the Scottish play" which will hopefully result in a recorded performance.
And in August, the annual highly anticipated "Theatre on the Lawn" took place at Greenwood. This year, Simon Cote presented excerpts from Shakespeare including his production of "Queen Lear" featuring Susan Gilmore and Mary Vuorela, which would have been staged at the Hudson Village Theatre had there been no pandemic. Following that, Diana Gausden and Andy Bowers performed passages from "The Diaries of Adam and Eve" by Mark Twain.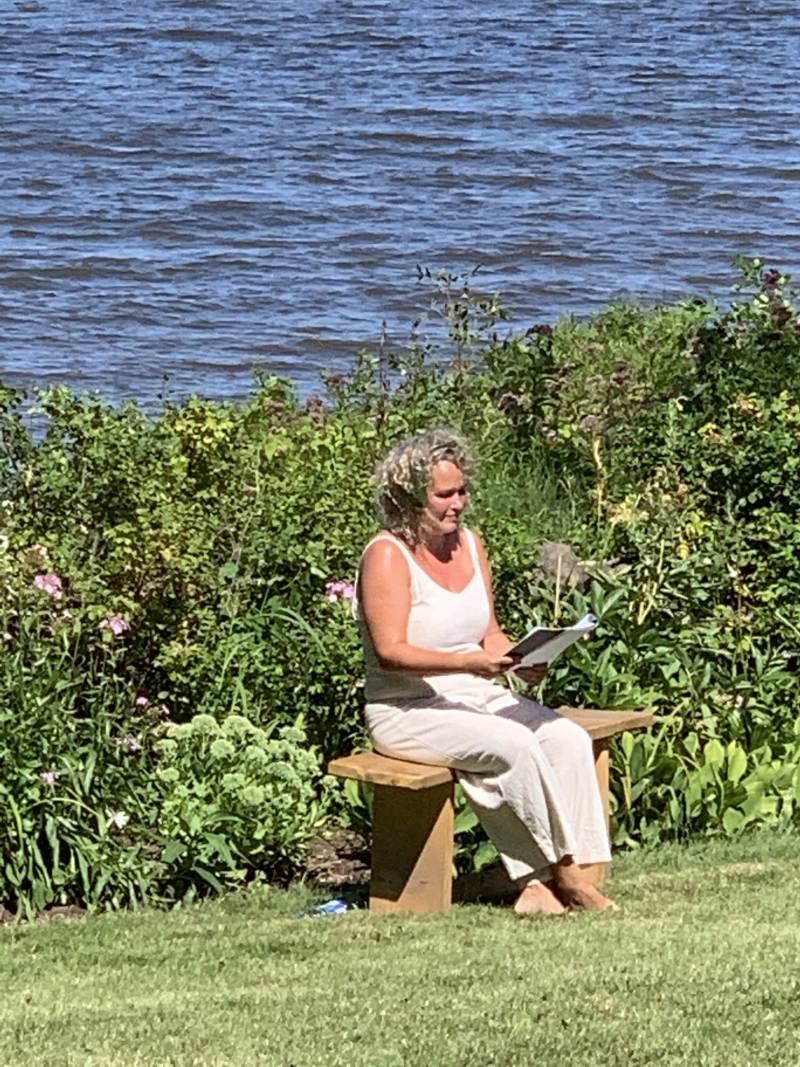 Diana Gausden
The finale was a scene from the upcoming pantomime "Little Red Riding Hood Strikes Back", the second one to be penned by the club's own John Sheridan. That afternoon, the weather was perfect, and the appreciative audience, spread comfortably over the large back lawn, had a wonderful experience.
Additional club events will be a Humorous Evening, now rechristened "Zoomerous Evening" and other online events. Information for this will be available on the club's Facebook and Instagram accounts as it becomes available, and emails will be sent out to club members.
The Hudson Village Theatre has been quietly percolating, having had to postpone this season's events due to pandemic restrictions. But fundraising remains an urgent concern. A generous donor has offered to match donations up to $50,000 so those who love our theatre, and can afford to do so, are urged to help.