In Hudson
Art and Music Bloom
by Briana Doyle
Artists practice in solitude but thrive in community. When artists gather together and inspire each other, art blooms.
Take music for example. Hudson is an extraordinarily musical town. Not only are there many opportunities for musicians to play in Hudson, but there are many excellent musicians ó†many of whom also write and record their own original material. In Hudson, music blooms.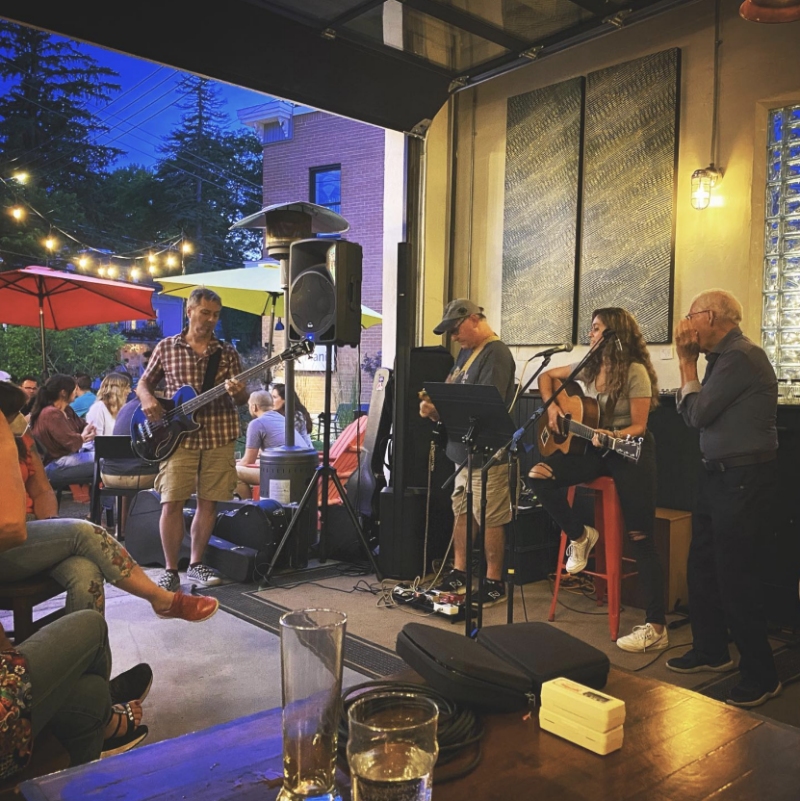 Here, we have an ecosystem of opportunities for musicians to learn, perform, inspire and be inspired, from private lessons and high school band programs, to open jam sessions, open mics, pub gigs, and stages at the Hudson Village Theatre, The Hub, the Cardinal Oktoberfest, or the Hudson Music Festival.
Audiences are nurtured in this ecosystem too. People who enjoy the free street shows at Porchfest or an event like Hudson Day will be more likely to come out to other live shows. Living room players who have worked up the courage to bring their instrument to jam or perform at open mic night become curious to see others perform. They make friends with other artists and show up to support them. They invite others to join. Over time, the audience grows.
Hudsonís musical ecosystem didnít spring up overnight. Jam sessions, for example, have been a persistent presence over many years, with a rotating crew of hosts enlivening a long list of living rooms, coffeehouses, restaurants and bars. These days, youíll find them happening regularly at Cardinal Brewing and Rube Restaurant, as well as Cameron Pub.
Opportunities for amateur artists such as jam sessions are an indicator species for a healthy arts ecosystem. The presence of well-attended gatherings of amateur artists tells us that this is a community that doesnít just passively enjoy art, but also participates. People who make art of any kind, even on an occasional basis, have a deeper appreciation for it. They know how hard it is to make art look easy.