Every Brilliant Thing
Theatre at Greenwood
by Kathryn Lamb
It was a beautiful summer afternoon on the lawn at Greenwood. Light jazz music wafted over the loudspeaker, as we gazed out over the river at an elegant heron who was preening himself in the shallows. People wandered on to the lawn, a few at a time chatting to each other as they took their seats. There was anticipation in the air as we waited for the first performance of the first play from the Hudson Village Theatre in more than a year and a half. It felt lovely- even a little magical.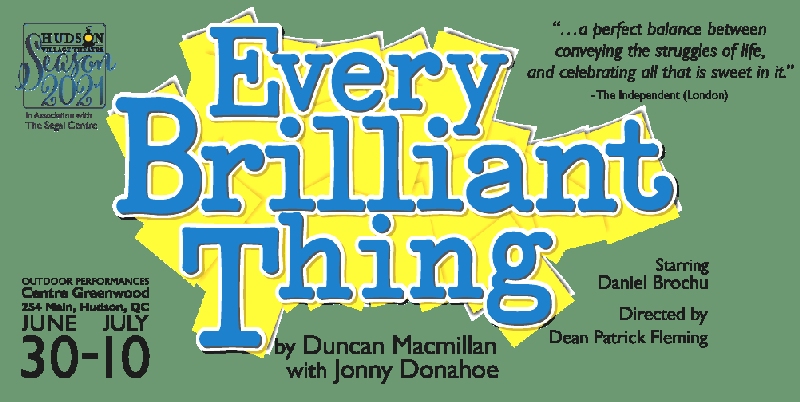 On the programme was "Every Brilliant Thing" by Duncan Macmillan with Jonny Donahue. Performed by Montreal actor Daniel Brochu and directed by the Village Theatre's artistic director Dean Patrick Fleming, in this moment and in this location, this play was an inspired choice.
Brochu plays a young man whose mother suffers from mental health issues. As a very young boy, he came up with the idea of making a list of all the best things in life, and reminding her of them, to help her combat her depression. This list begins with simple childish pleasures, such as "ice cream" and "the colour yellow". But as the years pass, and as the boy and his mother get older, the list matures into desires that are more thoughtful and complex, and that vacillate between the practical and the poignant- a hairdresser who listens to what you want", for example, or "the smell of old books".
Brochu creates a remarkable bond with his audience, as he engages them to participate in the listing of these needs and desires. Each person has received a card with a few numbered "brilliant things" as they enter. As the play progresses Brochu will bring up a number and the audience member who has that number will speak out the 'object on his card. It is hard to describe, yet it works. The audience becomes implicated, intensely involved, and the different voices chiming in feel vital and spontaneous. It is a different kind of storytelling, and we do it together! Brochu keeps the audience in the palm of his hand, as he grows from a small boy, to a teenager, to a young man in love. The hard topics of depression and suicide are addressed with empathy and respect but this play also offers hope, and the idea that we, as human beings, have resources at our disposal that are neither costly nor complicated.
Mental health is currently a big topic, and the accumulated distress caused by this pandemic will take years to fully recognize and address. But as we each in our own way, begin to clamber out of our various pandemic caves, and stretch our atrophied limbs and sensibilities (speaking for myself here!) towards a more social lifestyle, I appreciate a chance to re-enter gently. This play was, for me a quiet celebration.
"Every Brilliant Thing" is being performed at Greenwood Centre (254 Main Rd.) from June 30 to July 10. For tickets and information, contact the Hudson Village Theatre: 450-458-5361 or hvtbox@villagetheatre.ca.I I would also like to give credit to the production, technical and sound team, which given the outdoor venue and variable conditions, probably had a more challenging job than anyone of us could suspect.