Hudson Chamber Music Series
Andrew Sords and Cheryl Duvall
by Steve Ambler
The Hudson Chamber Music Series is pleased to announce the third concert of our 39th season, on November 6 at 4pm in St. Thomas Church, 413 Main Rd. in Hudson. Violinist Andrew Sords and pianist Cheryl Duvall will present a recital of works from the Classical, Romantic and early Modern periods (Mozart, Chopin, Brahms, Saint-SaŽns, Faurť, Ravel and Boulanger).
Andrew and Cheryl performed in our series in 2017 as part of the Andrew Sords Trio, with a wonderful program of piano trios by Brahms.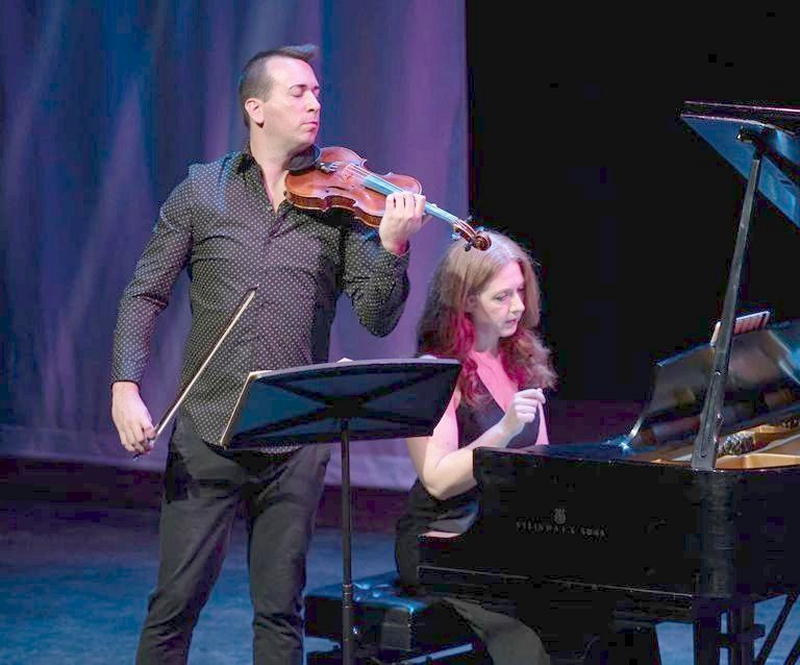 Andrew is an acclaimed and award-winning soloist from Cleveland. He has appeared as a soloist and chamber musician on four continents, and has received numerous awards and distinctions including the Pittsburgh Concert Societyís Career Grant, the National Shirley Valentin Award, and the National Federation of Music Clubs Young Artist Award. See andrewsords.com for more.
Cheryl is Toronto-based and is a soloist, chamber musician, teacher and adjudicator who has toured extensively on three continents. She is an experienced choral accompanist, and is the pianist for the Toronto based Bell Arte Singers and the internationally renowned Oakville Childrenís Choir, with which she has recorded albums of Canadian choral repertoire and seasonal music. Her website can be found at cherylduvall.com.
The concert consists mostly of shorter works, except for the Saint-SaŽns sonata which concludes the program.
Faurťís AprŤs un rÍve is part of a set of three songs (Opus 7), with the vocal part transcribed here for violin. It is one of his best-known and best-loved melodies, and has been transformed into a song without words for several solo instruments besides the violin, including a transcription for cello by Pablo Casals in 1910.
We heard Lili Boulangerís Nocturne earlier this season, together with another of her short works, CortŤge. Audience members were enchanted and will love the opportunity to hear it again. Those who missed our September concert may want to jump at the opportunity to hear this wistful and contemplative work.
Ravelís Tzigane is a staple encore piece for virtuoso violinists. Ravel is rightly associated with French Impressionism, but this piece imitates the late Romantic style of violin showmanship of composers like Paganini and Sarasate. Composed for violin and piano, the Tzigane is often heard in concert halls with the piano part replaced by a full orchestra.
After the intermission, Cheryl gives Andrew a break by performing Chopinís Nocturne Opus 62 No. 1 for piano solo. Chopinís nocturnes represent the composer at his most intimate, and this nocturne is a good example, beginning with two simple chords, with a middle section consisting of a melody sustained over syncopated chords and a solitary and dream-like finale.
The Violin Sonata No. 1 Opus 75 by Saint-SaŽns concludes the program. It was composed in 1885 and was the composerís first published sonata for violin and piano, although he composed a violin sonata in 1842 at the age of six (which was actually published in 2021). A dazzling showcase for both violin and piano, it has taken its rightful place among the worthies of late Romantic chamber music. There are four movements, but the first two and the last two are played together without a break. Saint-SaŽns uses a limited number of themes, each incorporated, disassembled, reassembled, and reprised throughout the sonata.
St. Thomas Church is a great setting for chamber music, with wonderful acoustics and room to accommodate a large audience with physical distancing, while still providing unobstructed view of the stage. Individual tickets will be available at the door for $20. Admission for those 14 and under is free. Our goal, as always, is to offer world-class chamber music in Hudson without the commute to the big city and without the big-city prices.
During the COVID 19 pandemic, Arts Hudson has transitioned to an online-only arts blog, publishing articles about the arts throughout the year.
Past issues are still available under the Archives section.
Below are links to Hudson-related cultural sites:
Erica Jacobs-Perkins