Recycling for Art's Sake - Outdoor Family Fun in Hawkesbury
Eight artists exhibit on the banks of the Ottawa River through 2021
by James Parry
Back in the late 60s, shortly after immigrating to Canada from England, I landed a dream job. Editor of the nationally-distributed Canadian Plastics magazine published by Southam Business Publications in Toronto.
It was the heyday of plastics, a rapidly growing high-tech industry transforming the world and immortalized in the 1967 movie, The Graduate, when a young Dustin Hoffman (Benjamin) seeking a career choice was advised in one word. 'Plastics'.
Hard to believe today, but I actually researched and wrote in depth articles and editorials on the future of injection molding. Injection blow molding. Extrusion. Twin extrusion. Fiberglass molding. And ad infinitum. Plastics were the future. And nobody questioned it.
Wow. What a difference in such a relatively short time span! When in 2020 and for many, plastics is akin to a dirty word. The scourge of the planet. Despite the fact that they remain an integral and important part of our lifestyle and, in my humble opinion and disposable water bottles aside, will continue to remain so for the newer generation for whom the new buzz word is not plastics but rather recycling. And, of course, I am all for that in all its forms.
So why am I mentioning this? Because recently I visited Le Chenail Cultural Centre in Hawkesbury to check out their 5th Recycl'art outdoor exhibit within the framework of the centre's 45th artistic season with the theme Cultivate Your Imagination. Showcasing eight new artists this time around using only recycled materials of every description, it will be on permanent display from now through the end of March 2021 on the banks of the Ottawa River in front of the Maison de l'Ile in collaboration with Recycl'art Gatineau and La Maison Natale de Louis Fréchette in Lévis, Québec.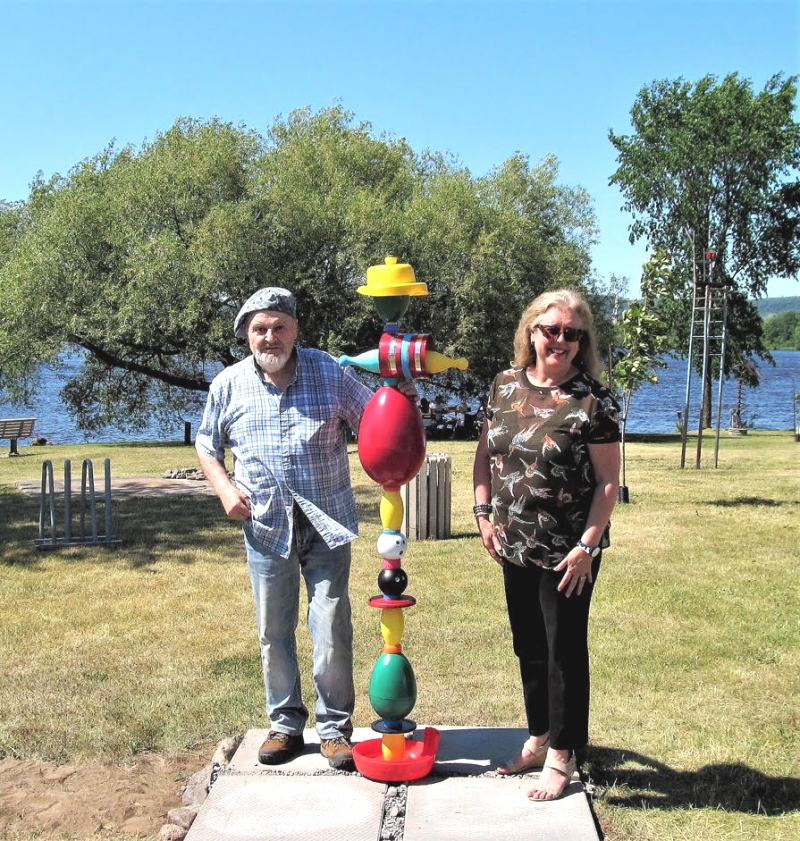 Artist Leo Schimanszky and Le Chenail Executive Director Lynda Clouette-Mackay with "Totem of Hope"
The artists, all selected and approved by a jury, comprise Daniel Gautier, Genevieve Sideleau, Josée St-Jean, Mélodie Coutou, Claude H. Vallée, Denis Marceau, Francine Vernac & Gabriel Lalonde, Adriana Gutierrez Mejia, Sylvie Potvin, and Leo Schimanszky who lives in Vaudreuil and who brings me back to plastics.
For his whimsical and fun-filled 6 ½ ft-tall sculpture, titled "Totem of Hope," is constructed almost entirely from discarded and salvaged plastic items of virtually every description. And in describing his participation, Le Chenail Executive Director, Lynda Clouette-Mackay, told me, "It's a real opportunity for Hawkesbury and the Prescott-Russell Region to host an international artist."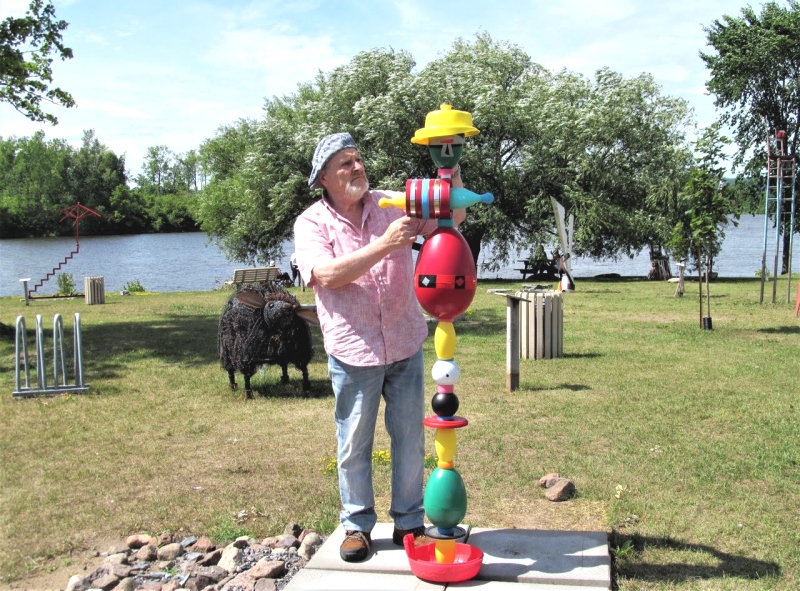 Artist Leo Schimanszky and his "Totem of Hope"
Says Schimanszky, whose sculptures and paintings have been shown over the decades in prestigious galleries and exhibits throughout Canada, the U.S., and Europe as well as in public and private collections throughout the world, "I am so honoured to be part of this outdoor exhibit together with other great artists and it really does make for a wonderful outing for the entire family when indoor gatherings are so difficult during this terrible pandemic that is affecting everyone and of all ages." Couldn't agree more Leo. Check it out for yourself. For more info, call the centre at (613) 632-9555 or visit their website:
http://lechenail1975.com .
And all just a 30-minute drive from Hudson!
PLASTICS WITH A TWIST
In closing, was gobsmacked to learn at the end of August that fewer Canadians are actually supporting a ban on single-use plastics since the Covid-19 pandemic began. This according to a recent survey by Dalhousie University in Nova Scotia.
Evidently, according to a poll conducted by the university's Agri-Food Analytics Lab, between 2019 and 2020, the percentage of Canadians who support plastic bans and regulation dropped from 70 per cent to 58 per cent. Also, that while Canadians remain concerned about the environmental impact of plastics, 29 per cent of respondents reported that they had consumed more plastic-wrapped products during the pandemic. And more than half of those polled believed it would be better to wait until the crisis is ended before imposing new restrictions on the use of plastics. Who would have ever thunk it!