Native Drummer Direct from Watercolour Canvas to YouTube Video
Created by local multi-faceted and award-winning artist Barbara Farren
By James Parry
With galleries closed - or at least perhaps open by appointment only - studio tours as dead as the Dodo, and at-home showings frowned upon, it surely has been a freaking frustrating spring and summer for artists and artisans of all stripes during this continuing traumatic times. Not only right here in our neck of the woods in Hudson and environs but indeed throughout Canada and the rest of the world.
On the upside, if there could be one, artists have had more free time to create. Reflect upon past works. Be inspired by nature or different daily realities to create new ones for the future. Experiment with new styles and media. And explore new technologies courtesy of the computer to stay in touch with their previous clients and hopefully reach new ones.
For all will surely agree that, at the end of the day, it is critically important for them to actually find a showcase and audience for their work, sell their creations, and generate money not only to fund their future aspirations but to pay for the now. No doubt about it. Covid-19 has been a real bummer and many artists are finding themselves down in the doldrums.
I recently met with one local artist with an international vision, however, who is refusing to let the virus get her down. Her name is Barbara Farren, who has been painting professionally since graduating from the Ontario College of Art, Toronto, in the early 70s and to learn more about her check out her web site at barbarafarren.com. You can also see her on the YouTube channel, almost 9,000 views so far since May, in what has to be a first for any local artist.
Said Barbara in an exclusive interview for Arts Hudson magazine, "Since the outbreak, I have to admit that it has been a very strange time and I was not feeling that productive. However, I did manage to create my first demonstration video of a portrait painting.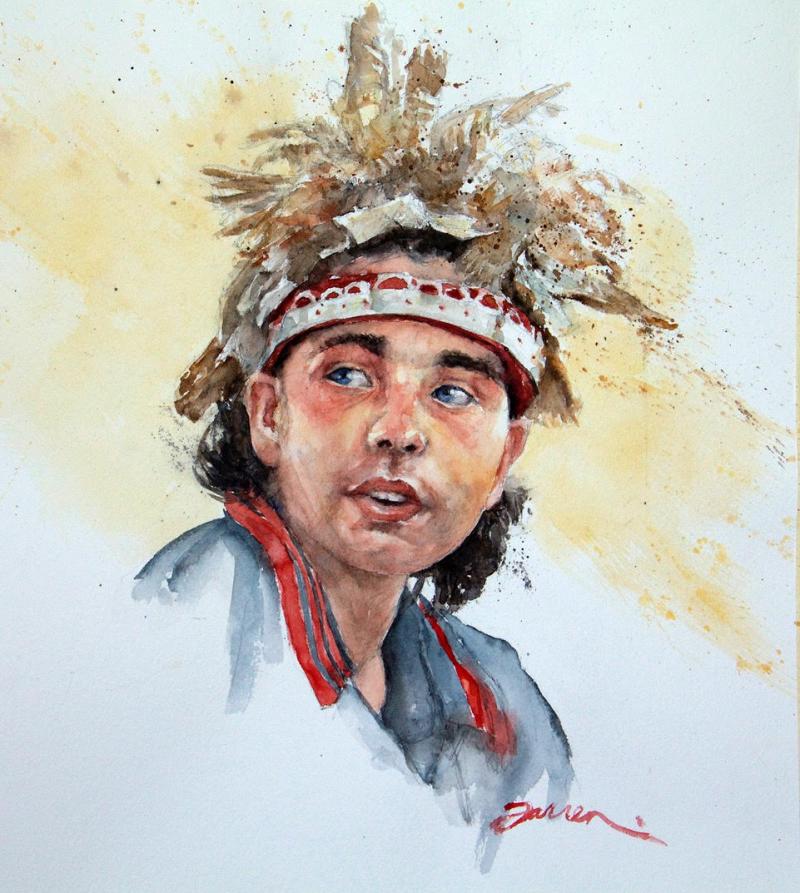 This portrait of a young Native Drummer has been viewed by almost 9,000 people on YouTube and still counting.
"Oddly, this is something I never would have considered, except that I was asked by Anna Massinisso, founder of the Fabriano Watercolor Festival in Italy, to contribute a demo video for the 2020 Fabriano online event this year. This in itself really surprised me and was such a great opportunity I wanted to try my best to achieve it. I needed to deliver it in one month so wasted no time in trying to figure out, just how do you do this?"
Explained Barbara, "My first choice of subject was a PowWow dancer. It felt very Canadian. I videoed three different paintings, one with a background, one without a background, and the final and best one was the young Native Drummer."
Laughed Barbara, "We increased the speed otherwise it would be too boring. And once I started painting, there was no talking or music. Lacking technology, we divided it into segments which are titled instead of voice over. And it took the entire month. No surprise! Thanks to my son, Trevor, we were able to produce and edit a 36-minute video that I am quite proud of." With reason Barbara and here's the link to check it out for yourself:
youtube.com/watch?v=2estmqkekiY
WATER IN THE WOODS WINS AWARD
And if you are not familiar with her works already, here's another reason to discover this quite shy, and unassuming, but multi-faceted artist. Her painting "Water in the Woods" was recently selected by the jury as the Second Award of Excellence in the Society of Canadian Artists Members Only Online Exhibition that began July 4 and closes September 6.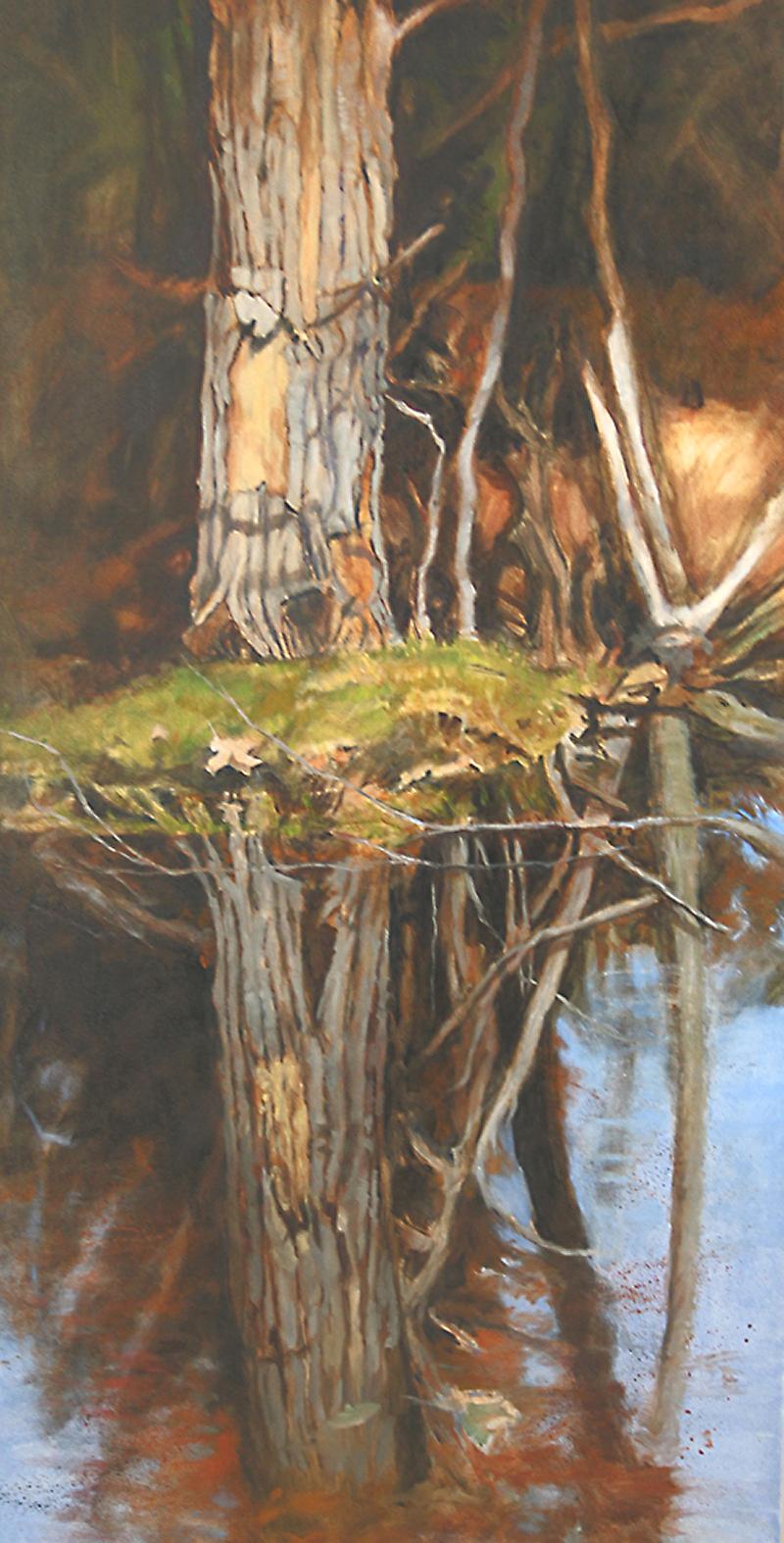 The Water in the Woods as seen along Shepards Circle in Hudson near the wooded area where the owner taps his trees every year.
Said Barbara, "I spotted this scene while jogging past a wooded area near my home in Hudson some years ago. I felt the dark mystery and beauty of the old tree in the reflected water instantly. It was very near the road so I could easily set up my stool and make a watercolour study undisturbed. This was early spring in the woods, with lots of water from the snow melt. I wanted to go big and chose a 4' by 2' canvas for oil."
Added Barbara, "The next year when I re-visited the scene, the old tree had fallen. It was only then that I realized the tree was in decay when I painted it. Trees are one of nature's most magnificent creations and gifts to us. Most artists I know, have a deep love affair with trees. While you are outside this summer, try to get up close and personal with some trees, touch their bark, feel their strength and power. Everything is in a tree, the earth, the sun, the clouds, the rain, the atmosphere. The whole world is in a tree. Trees sustain life on earth." To view the online exhibition, go to:
societyofcanadianartists.com/2020-elected-members-juried-exhibition
WATERCOLORING IN INDIA
And now to India, over 12,000 km from Hudson, where Barbara was invited this past January to participate in the incredible 6th International Inwatercolor Festival with fellow artists being invited from many countries to conduct demos and paint at the University of Kota, Rajasthan School of Drawing and Painting.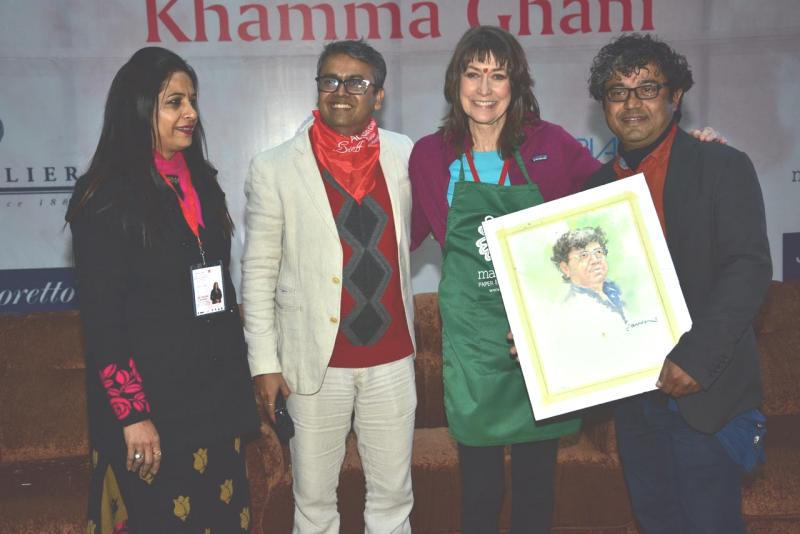 Dr. Shalini Bharti, Director of the University of Kota, Drawing and Painting Department, Rahul Chakraborty, the other leader, Barbara Farren, and Praween Karmakar Jharkhand holding his portrait that she did for the demo.
Explained Barbara, "My friend and artist extraordinaire, Praween Karmakar Jharkland, is one of the heads of the International Watercolor Society in India and I was very honoured to be invited by him to participate this year. And for my demo, and because of his faith in my artistic abilities, I decided to paint him and I gave a demonstration of portrait watercolour painting and met and mingled with many Indian and artists of great talent from throughout the world."
Added Barbara, "It was a great honour and an experience that I will treasure all my life and particularly during these difficult times when Covid-9 is continuing to spread throughout the world."
Way to go Barbara. And congratulations on your constant vision for the future!