"I'll Keep Digging..."
by Vivianne LaRivière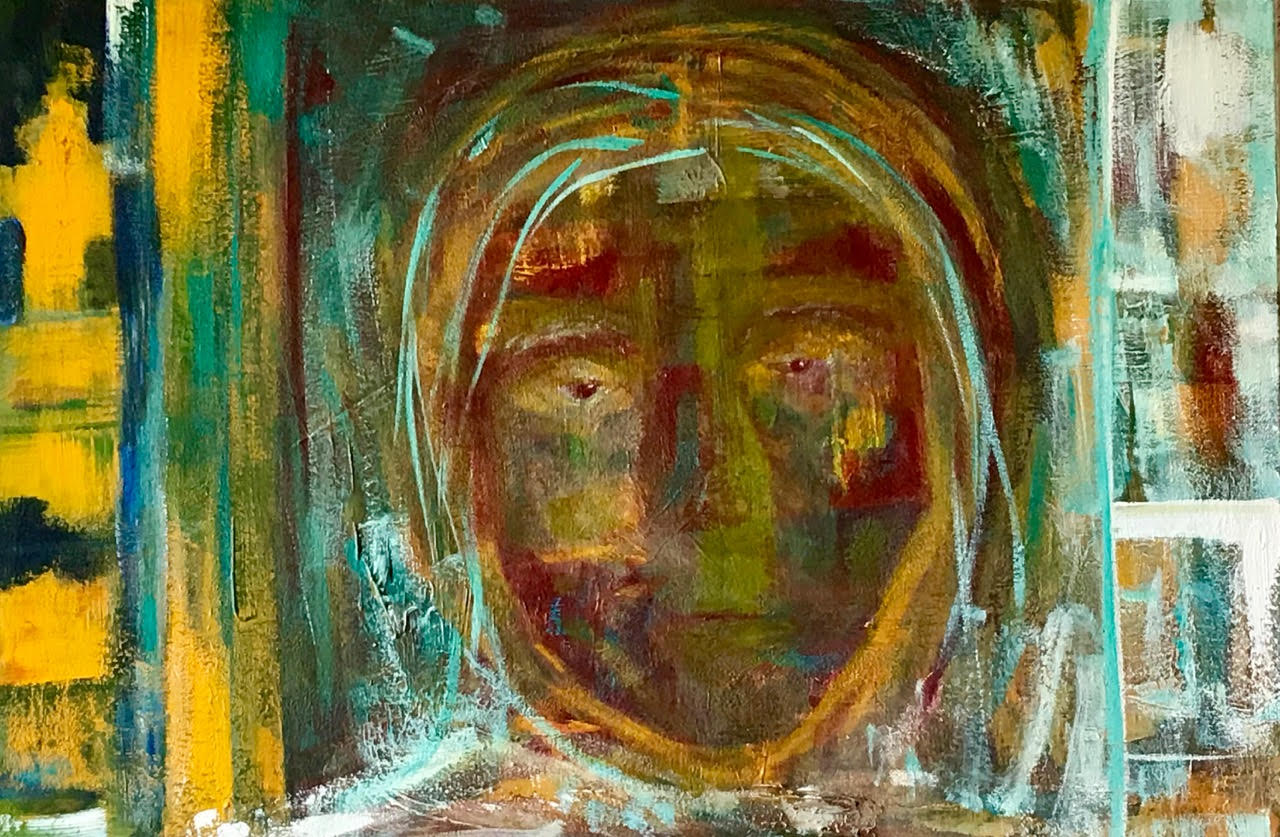 "I Found Her Hiding in the Barn." (© Vivianne LaRiviere, 36 x 24, acrylic)
I am sure that most of us would agree that we have been assailed these days by one crisis after another. The world has been upended, not only by the onset of Covid-19, but also the global protesting over the death of George Floyd. These, and other relevant and imperative cries are heard as the grieving psalmists laments over the mass amount of social injustice and corruption occurring in a world we are called to love and serve. And of course, there are also the concerns about the ongoing slaughter of the environment.
There are a lot of people who have a lot to say about these events and these challenging situations. Aghast, we come to know all of these things, and I trust that as a community, we are doing our best to meet these challenges face on. Can we do more? Or better? Most likely we can always do more or better to "love thy neighbour."
Though I at times feel tempted to jump on the bandwagon of opinion, I realize that earnestly, I do not have a lot to say, because there is a lot I do not know. Rather I am actually quite stupefied a lot of the time. Though I am inspired by my theological studies that brought me into the antiquated richness of monastic life. As such, I am inspired by a return to silence, to listen; to give space and place so that my thoughts, my heart, and my inner most wisdom are aligned and in tune with my own choice of personal direction as it is time to reflect on some decently tough questions: who am I - in these times? What do I value? What am I called to do? How do I proceed? With whom? And what are the challenges I face along the way?
No doubt, we are called to consider how much of these events inform and influence our basic day-to-day lives, but they also ask us to consider how our political, psychological, philosophical and spiritual and religious values are affected as well. As a Doctor of Ministry, I am presently working with people who are experiencing grief and loss during these times - some of it quite horrendous. I am particularly concerned with the fallout of such despair. Navigating the suffering of those affected by our present times - especially at arm's length via a zoom room - is at times, a disconcerting experience: ironically, it is also a place where deep, empathetic listening is especially urgent and vital. I can choose to sit out and hear the story on the sidelines, or I can engage responsibly with the narrative. Engagement and responsibility themselves perhaps the subtle shadow of difference between "story and narrative." There also lies an opportunity to provide more education on the nature of grief, and its many facets – and there are many facets that knowingly or not, affect our lives and our relationships in oh-so-many ways. Presently, our communities are grieving a lot. And many are traumatized, or re-traumatized. Many.
We have information and choices to weigh, and decisions to seek. For myself, I am not convinced that I will find what I am looking for in reading yet another conspiracy theory going viral on social media platforms. On the contrary, I decided to go on a social media diet during these times, as to give myself some psychic space to observe, reflect, contemplate and process all of this energy. For I see the damage that has been done in the name of propaganda.
And so I dig. I sit in the sun. I pray. I meditate. I read. I bake bread. I journal. I work. I dig some more. I plant a vegetable garden. I am concerned there will be food shortages for many. Hopefully there will be bounty to share. I also think that there will be housing shortages for many. How do we begin to move toward more sustainable and intentional living spaces? Especially for seniors? I compose. I dig. I paint, and I dig. And dig some more. And I paint some more. For me, the Earth and expressing myself artistically have a resounding healing affect not only for my body, but for my emotional and mental well being as well. "Work is prayer," say the Benedictines.
There is a lot to do. And this "doing" will require a lot of care and "loving" responses, as opposed to reactions that may only lead to more disruptive behaviour. We know in our bones that change needs to happen. We need to listen. And be curious of "the other." How to do we extend ourselves to not only try and understand the other, but also to empathetically try to understand the other, as they understand themselves? Finding our way toward an echelon of humility is a particularly tough slough these days.
It is also a very important time to consider what our own personal biases may be. We all have them. But if we do not have the courage to face them, then we resist a call or opportunity for possible transformation. Finding our way toward an echelon of humility is a particularly tough slough these days.
There is a lot of talk, trending and hype about "the new normal." I prefer to reflect on the idea of what a "new tomorrow" may look like. And what is my role, and responsibility in the shaping of this new tomorrow? How do I help to plant the seeds of hope for a new tomorrow? Who am I called to become?
I'll keep digging for a bit to see what the Wisdom of the Earth has to say. I'll keep sitting in silence for a bit, anticipating some movement from the Spirit of the wind, and the trees. I await the inner wisdom of my Indigenous ancestors. I'll keep kneading bread hoping that as the dough rises, so does my spiritual and religious cognizance speak with the appropriate wisdom that may guide my moral and ethical compass. Finding our way toward an echelon of humility is a particularly tough slough these days.
Thank you for reading, Vivianne
www.theartofsoulcare.com
514 771 3949
viv@theartofsoulcare.com