Hudson Village Theatre Receives Almost $1 Million Grant
from Federal Government
In making announcement, Vaudreuil-Soulanges MP Peter Shiefke
thanks HVT for serving community so well
By James Parry
Board Chair Elizabeth Corker, MP Peter Shiefke and Executive Director Kalina Skulska
Photo courtesy of the Office of Peter Schiefke
Fantastic, fabulous news for Hudson Village Theatre and the entire arts community in the region with the announcement by Peter Schiefke, Member of Parliament (Vaudreuil-Soulanges) this week that the Liberal government has invested $983,046 towards the theatre's planned renovations and expansion.
Making the announcement on behalf of the Honourable Steven Guilbeault, Minister of Canadian Heritage, Schiefke stated, "The performing arts bring people together, make us think and connect artists with their audiences. The arts stimulate our emotions and enrich our collective life experiences. That is why the Government of Canada is pleased to help bolster the artistic and cultural experiences of Canadians across the country."
Added Schiefke, "And with this in mind, we are proud to support the Hudson Village Theatre. These renovations will ensure improved programming that will delight audiences and bolster the vitality of our beautiful community. Your theatre's success proves that quality performances can be held outside major city centres. Thank you for serving your community so well. You are an inspiring example to everyone. Best wishes to the theatre!"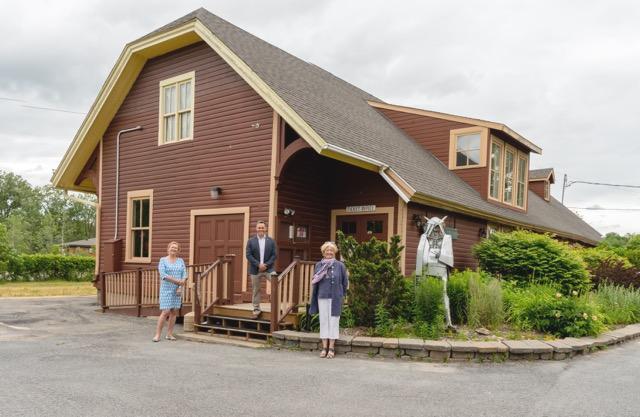 Executive Director Kalina Skulska, MP Peter Shiefke and Board Chair Elizabeth Corker
Photo courtesy of the Office of Peter Schiefke
This support from the Canada Cultural Spaces Fund will help improve facilities and modernize the creative space to meet the needs of artists. The project will also optimize the conditions for hosting public events.
Said Guilbeault, "We are all aware of the severe impact that the current crisis is having on the performing arts. Our government is committed to the well-being of our artists and artisans, as well as everyone who is passionate about arts and culture. We are pleased to help the Hudson Village Theatre offer them optimal conditions. We all hope that the residents of Hudson and the surrounding areas will soon be able to watch live entertainment in a beautiful, renovated space. Thanks for shining a light on the talents of our valued actors."
Obviously delighted with the news, Elizabeth Corker, Chair of the Board of Directors, Village Theatre West, added, "The proposed expansion will greatly enhance the overall theatrical experience for our performing artists and growing audiences, and will definitely have a positive impact on the professional arts community as a whole. Doubling the usable area will allow the Hudson Village Theatre to better serve the local community and surrounding area. Thank you to Canadian Heritage for helping us bring our building expansion to life."
During the COVID 19 pandemic, Arts Hudson has transitioned to an online-only arts blog, publishing articles about the arts throughout the year.
Past issues are still available under the Archives section.
Below are links to Hudson-related cultural sites:
Artist Rita Shellard