Parrydise Hudson
by James Parry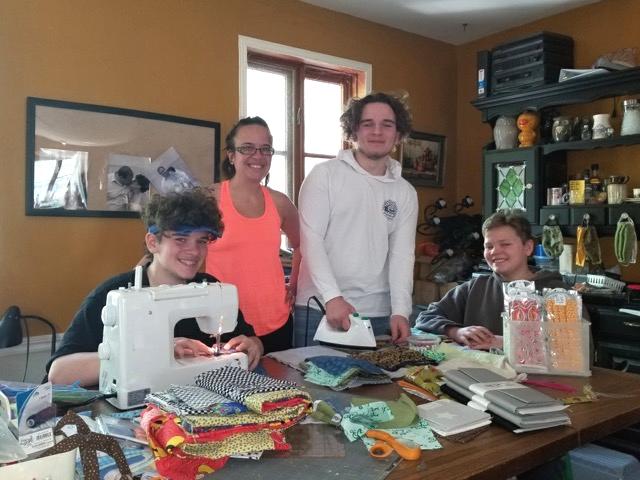 Making masks has become a family affair for Brigitte Beaulieu and her three sons in St. Lazare.
Photo by Jean Philippe leBlanc
In these turbulent times, and in this our summer edition of Arts Hudson which is only appearing online because of limited access to distribution outlets, what can one possible write or say that hasn't already been writ or said? In fact, during this period of self-isolation for the most part, I even gave some thought to renaming this column, Parrynoid or Parrynoia. Nah, just kidding!
Since just three months or so ago, an unforseen pandemic began wreacking havoc and heartbreak around the world. Suffering and pain, deaths and postponed memorial services and funerals, rainbow renditions, families temporarily torn apart through mandated but prudent isolation and lockdown, celebratory graduation days not happening, constant confusion and uncertainty about so many things, and travel plans cancelled.
Businesses going bankrupt or hopefully hanging on by their fingernails, plexiglass screens and a whole new meaning for cash money laundering, live church services cancelled, ditto for all art galleries, theatres as well as cinemas and live performance venues, masks becoming de rigueur, parents forced to become home school teachers, youngsters missing their teachers and classmates and their regular routine, well deserved praise for our frontline workers, rainbow artwork everywhere. And, well, the list and litany goes on and on.
So I thought I would begin this column with a most moving and inspirational poem e-mailed to me by Hudsonites Denis and Jean Germain and surely shared by countless others in our region and even further afield in recent weeks. It goes as follows:
"And people stayed at home
And read books
And listened
And they rested
And did exercises
And made art and played
And learned new ways of being
And stopped and listened
More deeply
Some meditated, someone prayed
Someone met their shadow
And people began to think differently
And people healed.
"And in the absence of people who
Lived in ignorant ways
Dangerous, meaningless and heartless
The earth also began to heal
And when the danger ended and
People found themselves
They grieved for the dead
And made new choices
And dreamed of new visions
And created new ways of living
And completely healed the earth
Just as they were healed."
Written during this ghastly Covid-19 pandemic? No. The name of the poet? Unknown. But according to the best research, it was first penned in 1869 and reprinted in 1919 just a year after the end of World War 1 and during another disastrous global pandemic that infected some 500 million people worldwide. About a third of the planet's population at the time. Namely, the Spanish Flu, so dubbed despite the fact that its geographic origin was never determined!
MY GREAT ESCAPE
So life goes on. Certainly different from what we had taken for granted just a few months ago. But it has also been a time for greater creativity on the part of so many and sharing time with family. Either at home or through social media and all of the technological marvels that would have been dismissed as science fiction just a few decades ago.
For example, during this period of border closures and together with my beautiful Sunshine, Mireille, in addition to enjoying the garden, the beauty of nature, and creating even more Parry's Pictorials pen and ink drawings, I have visited and explored so many different parts of Canada that otherwise I would perhaps never have seen in my lifetime. Also such exotic climes as Polynesia, South America and the Amazon rain forest, Egypt, Australia, and the Arctic. All vicariously, of course, as I discovered the channel Planet Earth on Videotron. And much of it hosted by the inimitable David Attenborough. You might want to check it out and travel the world without even going to an airport and no bills coming your way - apart from the channel fee that is - to pay. And yes, I did subsequently sign up and pay our subscription!
FAMILY FUN IN THE GARDEN
Meanwhile, closer to home, caught up with some owners of local businesses who have obviously been having a rough time of it lately but who have transformed this 'down time' into a positive experience for their families and youngsters.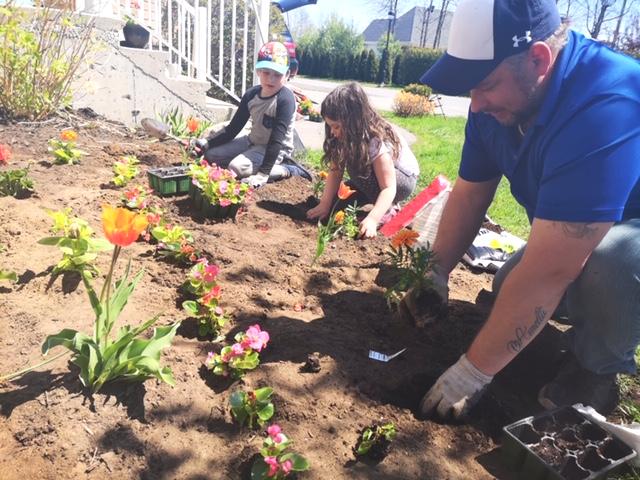 Eric Poitras and his two youngsters, Thomasz and Amelia, share the joy of gardening for the first time as a family.
Photo by Patricia Poitras
Eric Poitras, for example, co-owner of The Carousel restaurant on Main Road in Hudson together with his father, Joe, for the past 14 years. For the past 10 of which, Eric has been enjoying gardening as a hobby. He and his wife, Patricia, are now the proud parents of three youngsters - 10 year-old Tomasz, Amelia who is six, and Edward who just turned one-year old in May.
And so this past winter, and even before Covid-19 hit, he decided to share his love of gardening with his children and not only seeding and bedding purchased plants when warm weather would inevitably returned in spring and summer. But actually growing them from fruit and veggies already bought.
Says Eric, "Looking outside late winter and early spring, seeing all that snow and waiting impatiently for it to melt and not being able to be out in the garden, I thought why not bring it inside and get the youngsters involved. And they soon came to love it. In fact, when they understood and saw that these things were actually growing they could not believe it. Inside the house. By the window. And every day they rushed to water them and find new ways to take care of them."
To date, they have been experimenting with apples, lemons, green peppers, mango, tomatoes, and green onions. And according to Eric and six nine-inch new apple trees to prove it, apple seeds were easy to get started. "We put them in a folded moist tissue for about 10 days in a cool spot looking for a little sprout," he explained. "We then gently potted them right under soil and watered them every day. As to whether they will actually give fruit one day, that's not really important. What is, that it helped the children pass the time while schools were closed, kept them busy with a new interest, and gave them a greater sense of pride, responsibility, and knowledge." And who can possibly argue with that!
THE TRADITION CONTINUES
Gardening during the lock down has also evidently been on the mind of David May, owner of the third-generation eponymous photo studio just a few doors away and founded back in 1962 by his late grandfather, Gordon 'Gordie' Hulley, and his wife, Helen, who is now 96 years young.
For together with his life partner, Hanie Blais, he has created a sizeable boxed-in herb and veggie garden at the back of May's Studio not only to provide home-grown produce for the family, but also to teach their children how to grow things and experience the joy of gardening.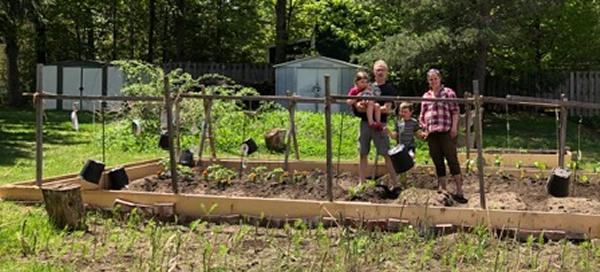 David May and Hanie Blais with their children, Alexander and Kyra, in their new garden at the rear of May's Studio.
Photo by Linda May
Explains David, "The land was already there and with our business being closed during this pandemic and more free time on our hands, we thought it would be a great idea." As to what factors he considered when it came to the design, he opted to plant companion plants and heirloom species whenever possible.
Says Hanie, "We are growing a lot of different types of peppers and chili, different varieties of tomatoes, eggplants, cucumbers, zucchini, turnips, celery, beans, peas, onions, and several herbs such as basil, oregano, and thyme. Also a few flowers including lavender, echinacea and calendula that we will use to make soaps."
Was fascinated to learn that Gordie, who passed away at the age of 97, used to grow some 48 tomato plants on the very same spot and would distribute the fruit of his labours to neighbours and local residents. Also, that the bricks used to edge the garden's wooden framework, come from the studio's old chimney and date back to the late 1800s. Talk about recycling for a worthy cause!
PHABULOUS PHOTOGRAPHY WITH A TWIST
And still on the gardening scene, a big Hudson welcome to Sylvie Racicot who, together with her family, has just moved in to the community with a multi-faceted professional portfolio and a passion for photography. She too has just built a raised veggie and herb garden with edible flowers. Not only to eat personally, but also to feature, together with pics, in dishes she cooks, styles, and photographs for an online client "WeCook" according to their specific menu of the week.
Her company, Haryco, specializes in brand strategy with an emphasis on food and cosmetics fine goods, visual identity creation, packaging, the creation of websites and visual content for ads and social media, and the like. A principal element in all of them being photography. And when I caught up with her recently - two metres apart of course - she was working on a recipe and photographs for a new grass-fed beef brand coming up. Also some cakes and macaroons for another brand altogether.
Says Sylvie, "While I still have a studio downtown in Outremont, I am certainly going to be doing more and more work right here in Hudson. I loved the move. And we just love the town!"
Welcome to the neighbourhood Sylvie and happy gardening!
JAREDS ON THE MOVE
As is the case with any community, new people arrive to set up home and others leave. And so it is that Al Jared and his beloved wife, Georgia, who moved to Hudson 53 years ago this very month and who have contributed so much over the years to the social and cultural fabric of the town, have sold their house, packed their bags, and are en route to Victoria, B.C., to start a new life there with their sons, Mark and Todd, and Al's older brother, John.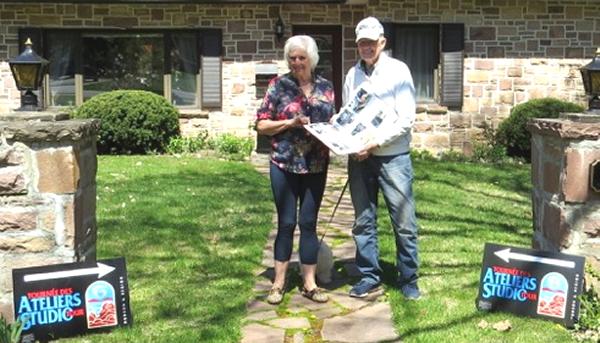 Long time Hudson residents, Al and Georgia Jared, outside their home now sold and en route to Victoria, B.C.
Photo by Jen Baumeister
"We have both given it a lot of thought," says Al. "We love Hudson and we will miss all our friends here, but it is time to move on. Well, to say that they will be missed is putting it mildly. Both former teachers on the West Island and here in Hudson, they have been members of the Hudson Yacht Club since the 70s, long-time members of Hudson Legion Branch #115, and Whitlock Bridge Club, as well as of the YMCA in Pointe Claire.
Al also founded the short-lived Hudson Raquet Club in 1980, the tremendously successful Hudson Studio Tours in 2003, and Hudson's first-ever Photo Expo in 2018. For her part, Georgia was the driving force behind the creation in 2004 of St. Mary's Church Drop-In Centre which welcomed tots and youngsters absolutely free of charge right up until this year, as well as serving on the board of directors of the Greenwood Centre for Living History for which the annual gourmet dinners she once organized with a dedicated team of volunteers were invariably sold out raising many thousands of dollars for the cause.
So bon voyage to you both, take care, and do stay in touch to let us know how you are faring out west! Where, incidentally, they will have to remain self-isolated for 14 days!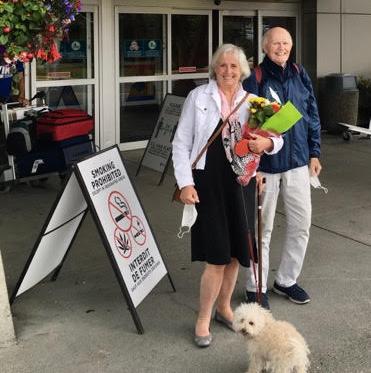 Al and Georgia arrive in B.C.
Photo by Janice Senyk
MORE MASKS THE MERRIER
Which brings us back to yet another 'new' art form very much in evidence these past few months. Mask making. With such high profile Quebec designers as Marie Saint Pierre charging as much as $85 a pop, Disney pumping out models featuring Mickey Mouse and Baby Yoda, and even the National Post columnist and former owner reporting that he had received a call from his Saville Row tailors in London, England, offering to custom design one for him which would probably cost more than I would pay for a suit!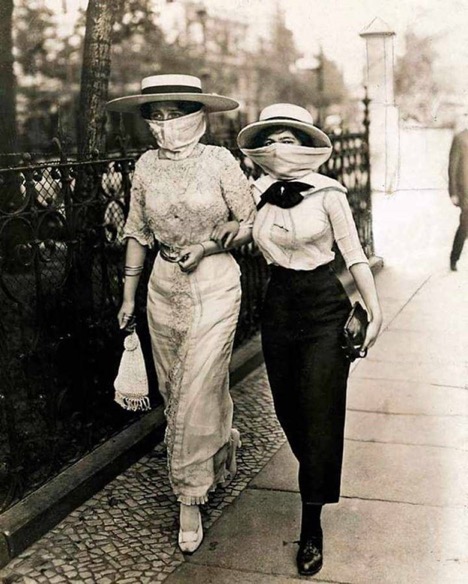 Preventitive masks were a definite fashion accessory during the Spanish Flu pandemic way back in 1918 as proven by these two ladies out for a stroll.
For ours, we looked no further than St. Lazare where tattoo artist and quilt-making hobbyist, Brigitte Beaulieu, her husband, Jean-Philipe, and their three young sons, twins Alexandre & Frederick and Jacob, have been making them in their home of 100 per cent cotton on a sewing machine in almost assembly line fashion. Charging just $10 per to cover cost of materials and provide some pocket money for the boys, while selling them by word of mouth only.
Says Brigitte, "With the boys out of school needing a purpose and the tattoo salon, Addiction in Vaudreuil, closed, we looked for ways to come together and create as a family. So I brought out the old sewing machine and fabrics that I had left over from my quilting days, and taught them how to make masks. Each of us has a special task in the process and we have so much fun doing it."
Well, we have fun wearing them Brigitte whenever social distancing is not possible. And bravo on an excellent initiative. Perhaps when all this is over, I will stop by the salon and get my first ever tattoo. Ah, there again, perhaps not!
NEXT FOR NOVA HUDSON
However, like so many others, not only from here in Hudson but from far and wide, can't wait for the reopening of the two NOVA Boutiques, here in Hudson. One sandwiched between The Carousel and May's Studio. The other focusing on furniture and home accessories at the corner of Main and Elm. For while there has been unprecedented appreciation of frontline workers and health care professionals everywhere these past few months, we are indeed blessed to have Judy Tellier and her dedicated team of nurses at NOVA Hudson here in our community all year long.
At deadline time, still no word on the actual date of reopening the boutiques. But according to Janet Ellerbeck and Linda Cobbett, when they do so, it will initially be only for a few days a week and will have certain restrictions on the number of clients allowed in to ensure a level of personal separation. Masks will be worn by both staff and clients and an ample supply of hand sterilizers will be offered.
"In other words," says Janet, "the new norm of shopping will be respected and with the recession-like atmosphere invading the population in the villages surrounding Hudson there will be an increased demand for our clothing and furniture. Since 2009, when La Boutique NOVA opened, the whole concept for our charity store was based on donations from the public and the volunteers who operated the stores.
"We've been extremely blessed with success as we have been able to contribute to our nurses at NOVA Hudson. Around the world health care workers are being justifiably applauded. Meanwhile, thanks to our many volunteers and donors, the NOVA Hudson nurses have been able to carry on providing their renowned care, doing what they do best."
Ain't that the truth. Stay safe. And that's a wrap!