Hudsonite Pierre Chalifoux Pens and Records
The China Virus Blues
With a little help from John Lennon, Tom Cruise, Bugs Bunny and Daffy Duck
by James Parry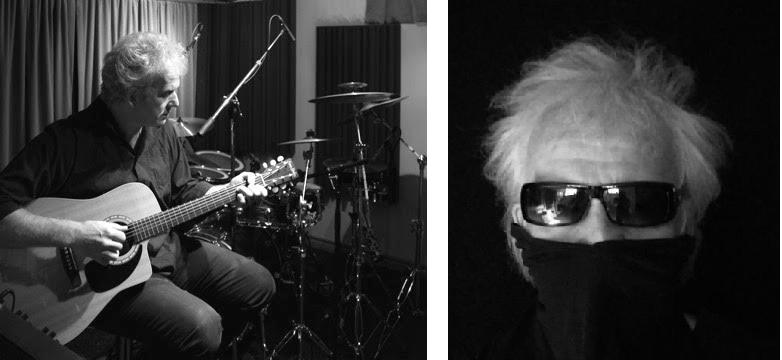 Pierre Chalifoux in his studio and an image for the song.
&nbsp:
Frustration has been at the fore for many folk in our region, and indeed worldwide, for the past three months or more as we have all had to come to grapple with the reality of a new social world caused by the still virulent Covid-19 virus. Of all ages. And from all walks of life.
For Hudsonite celebrated singer-songwriter, Pierre Chalifoux, dealing with that frustration was a no-brainer. And the result is a truly original, powerful, and inspirational video titled The China Virus Blues written and recorded in his home town studio where he has been working since 2005, Soprano Studio, that will blow your mind.
With intro lyrics such as:
"I woke up this mornin'
To find that I was still alive
That was kinda nice knowin'
I coulda been layin' on ice
I'm heedin' the warnings
No handshakes no high fives
Can't touch my nose, my eyes
My face, can't even touch myself!!!"
Oh yes, it also includes specific quotes and the original voices of such international stars as John Lennon, Tom Cruise, Jack Nicholson, Bugs Bunny, Daffy Duck, and even former President Franklin D. Roosevelt stating in no uncertain terms back in1933, "This is preeminently the time to speak the truth, frankly and boldy. The only thing we have to fear is fear itself!" And at the end of the video, you hear actual Chinese people protesting the virus in Wuhan.
Explains Pierre in an exclusive interview with Arts Hudson magazine, "Writing songs is my therapy. My outlet! And over the past few months, I kept hearing various comments from friends and acquaintances about the virus situation and confinement. I started seeing how frustrated people, including neighbours, were becoming and many cases of government and police overeach just fueled the inspiration for this song. We humans were not created to be locked up and whenever I get frustrated with a situation, my first 'go-to' is songwriting."
When his father, also named Pierre, died in 1986, for example, he wrote what he considers to be one of his better songs My Father's Son. When Pauline Marois called an unnecessery election in 2014, he composed Queen Pauline in which, in his own words, he exorcised years of frustration with the entire Separatist movement here in Quebec.
And just for the record for those of you who are not familiar with the name Pierre Chalifoux, this is the same guy who played and performed in bands starting in high school and toured across North America, sharing the bill with the likes of Liberace, The Four Tops, Michel Fugain, Neil Sedaka, Charlie Callas, Lighthouse, Crowbar, and many others. He has also received two personal letters from former Beatles' producer, Sir George Martin, in one of which he writes, "Having read your biography and listening to your tapes, I am surprised that one of the big record companies hasn't signed you up yet."
So how does he actually go about creating a new song? Says Pierre, "Composing is usually quite easy for me melodically and structurally. Crafting fine tuned lyrics, especially when there is so much subject matter, is much more demanding. It took several hours over the course of about three days to finalize it but then, of course, I had to learn to sing and speak it while recording it. In fact, many hours of work are required to produce just one minute of performance for any song."
As for the musical arrangement, he says it was quite simple. "Dave Devine, who lives in
and who I have known for about 10 years, provided a solid drum track and I played electric guitar and bass. Dave has been providing the studio with world class drumming while also bringing in many great musicians from his entourage. He has also played on nearly every recording session involving my other clients and I have been assisting him in arranging and co-producing his original album.
"My former manager, Gary Greensword, was also kind enough to help create the video. And while my wife, Johanne Trottier, my best editor and a retired air traffic controller who is currently home schooling our 11 year-old son, Damien, was not involved in its creation, she is always very supportive and critical of my work and strongly approved of the song."
The China Virus Blues? It begged the inevitable question. "Is that politically correct?" I asked him. Replied Pierre without missing a beat, "Like I tell everyone, the only thing PC about me is my initials. It has never bothered me. I strongly believe that political correctness has become far more dangerous to our society than any terrorist threat. It often makes us put our guard down, having to accept nearly everything in order not to offend anyone. By doing so, we often end up offending nearly everyone!
"Some don't like calling it the China virus or the Wuhan virus out of fear of offending Asians.
"What about the Hong Kong Flu, the Spanish Flu, German Measles or Ebola? If this disease had originated in Hudson, I'd call it the Hudson virus. So what! Besides, this is the third pandemic that China has so kindly given us."
Says Pierre, "While my first love is music and all that it entails, while bringing like-minded people together for the good regardless of their country of origin, I am a very political person with very strong opinions. As those who know me will attest to. Like me or not, you always know exactly where I stand. I believe that, like voting, it is also our duty to speak out while maintaining respectful discourse. I learned this from my father who never suffered fools, did not believe that intelligence was necessarily tied to a diploma, and knew that common sense could not be taught or learned. In words, to stand by my convictions!"
Adds Pierre, "I vehemently believe that the Communist dictatorship governing China has to be called out and held responsible for this global pandemic. The people of China are not to blame and no gestures of violence or discrimination should be aimed at any Asians here in Canada or across the world. But China knowingly let hundreds of thousands of people fly in and out of Wuhan after they had discovered that this virus was infecting and killing their own people. And then lied to the World Health Organization (WHO) saying that it could not be transmitted from person to person."
To view the video, go to YouTube at The China Virus Blues and for further info check out Pierre's website at pierrechalifoux.com, or email him at pierrechalifoux@aol.com. I'm sure he would love to hear from you!
Quotation attribution:
* John Lennon: "But if you go carrying pictures of Chairman Mao, You ain't gonna make it with anyone anyhow!"
* The famous exchange between Tom Cruise and Jack Nicholson in A Few Good Men:
"I want the truth!... You can't handle the truth!"
* Bugs Bunny: "What a marroon ... what an ignoramus!".
*President FDR: "This is preeminently the time to speak the truth, frankly and boldy. The only thing we have to fear is…fear itself!"
* Buddy Hackett: "Every man for himself!".
* Daffy Duck: "SCREAM!!!"