Strawberries in January
Shows are Back at Village Theatre
by Kathryn Lamb
The doors of the Hudson Village Theatre have opened at last with Strawberries in January, a clever, fast-moving play written by Evelyne de la Chenelière, translated by Morwyn Brebner and brought to our stage by Hudson Village Theatre artistic director Dean Patrick Fleming. It is a play full of life, love and laughter- just, I think, what the doctor ordered!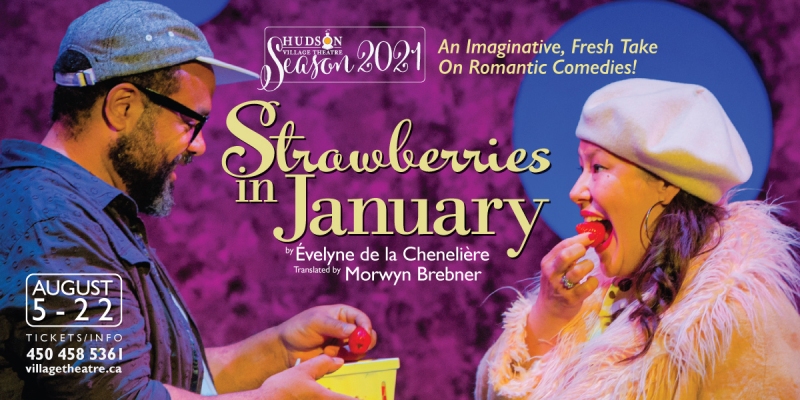 Evelyne de la Chenelière is a Quebec writer and actor best known for her Governor General's award-winning play Desordre public and Bashir Lazhar, the screenplay basis for the 2011 film Monsieur Lazhar. Morwyn Brebner is a writer, translator and co-creator of the TV series The Coroner, Saving Hope and ...Read More
---
Greenwood Activities Music and StoryFest
Greenwood Music in the Garden and August StoryFest
Music in the Garden features the Better Half Trio on August 22nd and Brian Gallagher on August 29th. Tickets are $10.00 and the music starts at 2:00 pm.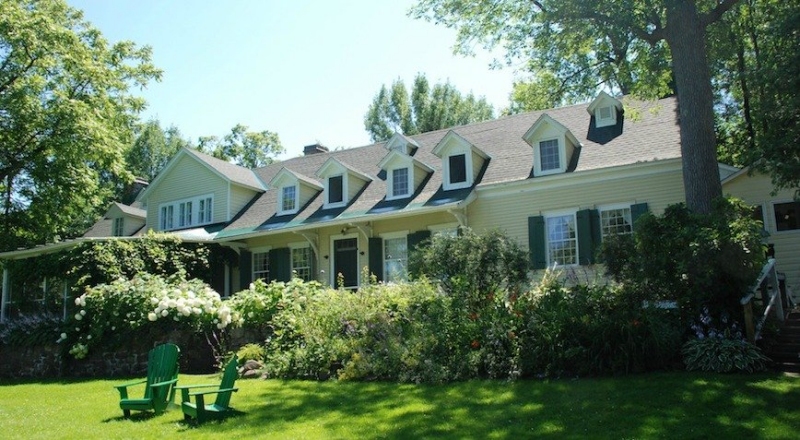 The 20th anniversary of StoryFest starts with Marie-Louise Gay on Saturday, August 28th at Greenwood, 10:00 am. The book is a children's book called "The Three Brothers" and admission is by donation. Visit Greenwood Centre for more information.
---
Coronicles 4 - Living with COVID
Tales from the Great Pandemic
by Art MacDonald
As he wrote in Coronicles 1 - Tales from the Great Pandemic, Art usually writes in the first person but he is still finding the need to socially distance himself and will therefore write in the third person - third minus first: there's your two meters social distancing right there.
Coronicles are COVID-related stories that Art has heard or read and that he thinks are worth repeating.
Back to the New Normal
So, how's your return to normal life been? This past spring we were wrestling COVID to the ground (see Coronicles 3 below) and we were going to be maskless by Labour Day. Then Delta struck and we're lucky not to be in a lockdown (yet). And we're still at the beginning of the Greek alphabet - there's room for many more variants. On a more cheerful note, Quebec has morphed from worst-in-class to a top performer as far as vaccinations, new cases and deaths go. Apparently we trust our government. Art wonders why this ...Read More
---
"Macbeth" by the Hudson Players Club
Theatre at Jack Layton Park
by Kathryn Lamb
Shakespeare's Macbeth, known also as "The Scottish Play" opens at Jack Layton Park on July 30. It is a Hudson Players Club production, and Aaron George is directing. He is known for his highly successful fringe festival productions, and for Shakespeare Canada, an organisation that takes Shakespeare to school audiences across the country. Macbeth is played by Simon Côté, well known to Hudson audiences for his past performances in Balconville and One Flew Over the Cuckoo's Nest.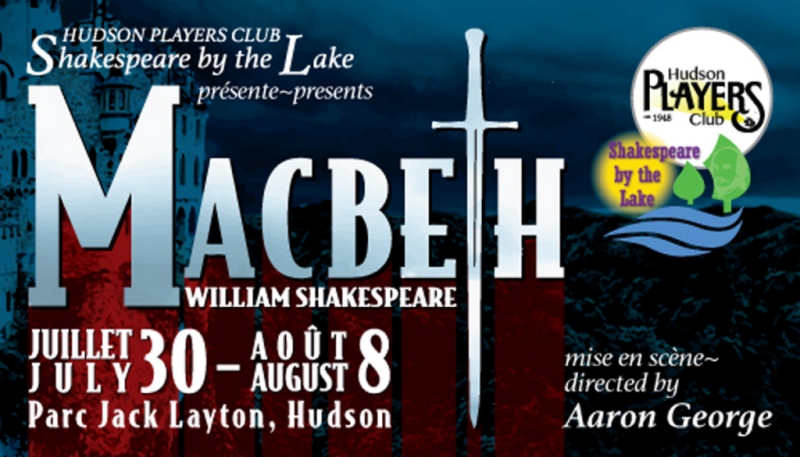 As I arrive at a rehearsal, I almost trip over a huge pile of weapons...Read More
---
Every Brilliant Thing
Theatre at Greenwood
by Kathryn Lamb
It was a beautiful summer afternoon on the lawn at Greenwood. Light jazz music wafted over the loudspeaker, as we gazed out over the river at an elegant heron who was preening himself in the shallows. People wandered on to the lawn, a few at a time chatting to each other as they took their seats. There was anticipation in the air as we waited for the first performance of the first play from the Hudson Village Theatre in more than a year and a half. It felt lovely- even a little magical.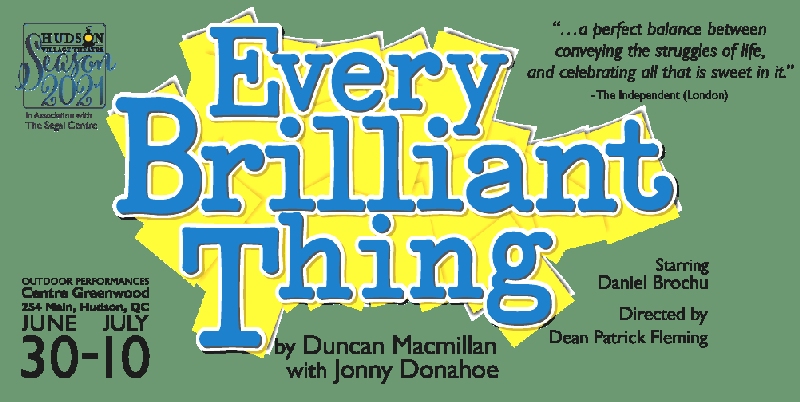 On the programme was "Every Brilliant Thing" by Duncan Macmillan...Read more
---
The Amazing Art of Gardens
and Some Fabulous Painters Who Immortalized Them
From Monet to Vincent van Gogh to Kadinsky and each in their unique style
by James Parry, photographs by James Parry - from his garden
'Tis Spring. My favourite season of them all. A time, in the garden, for rebirth and renaissance. With the hope of better, more positive days, ahead. A time when I'm always amazed at the sheer wonder, strength, tenacity, and perennial magic of Mother Nature. With green spikes forcing their way through bare ground or frosted grass. To unfurl, in just weeks, into an array of brightly coloured, often fragrant, leaves and flowers to stimulate and dazzle the senses. Not only for us homosapiens but also the bees, butterflies, and non-gardeners alike.
A time when Crocus pierce unraked leaves and even still-remaining patches of snow and ice. When swaths of Scilla transform green lawns into carpets of blue. Tulips shaft skyward to unfold in all their glory when the warmer weather comes.

Dazzling Daffoldils and Narcissuses, if not exactly to parryphrase William Wordsworth, a crowd, a host of golden daffodils, beside the lake, beneath the...Read More
---
Overcoming Stress and Spotlighting Climate Change
Local artist Leo Schimanszky reflects on both during ongoing Covid pandemic
by James Parry
It is no secret that with galleries still closed across Canada, and no real positive news to the contrary in the short or medium term for them to physically exhibit and ideally sell their works, artists have certainly had lots of time over the past year to reflect, create, and perhaps even expand their own horizons.
For Vaudreuil-Soulanges artist, Leo Schimanszky, two things were uppermost in his mind. How to combat the stress that is impacting on millions of Canadians as well as countless others worldwide as a result of the Covid pandemic, as well as the inexorable reality of climate change. At least if you listen to the scientists.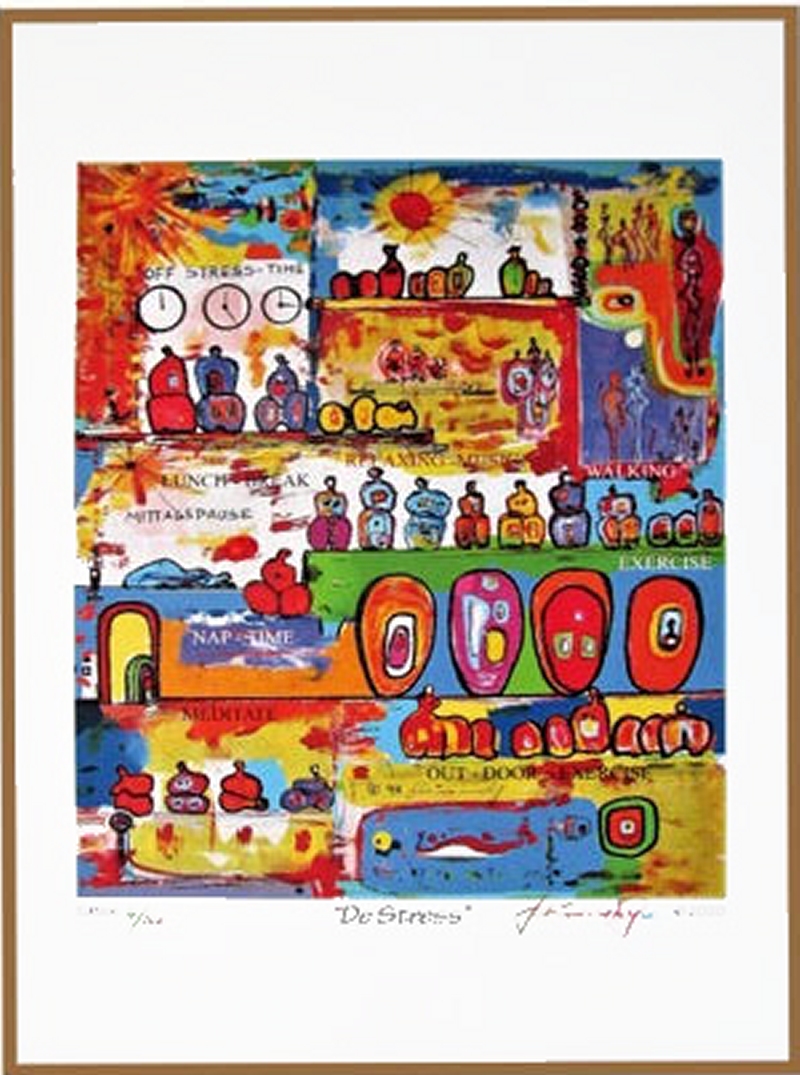 And so, in recent months, he has been working on two pieces – just completed – titled De Stress and Meltdown. And now ... Read More
---
Hudson Film Festival Available Everywhere in Canada
Hudson Film Society festival moves on line
by Clint Ward
The Hudson Film Festival was lucky last year to fill the Village Theatre just days before our whole world collapsed behind locked doors. This year we are not so lucky because those doors are still shut tight. Instead, as a great challenge but one loaded with excitement, the decision was made to do a virtual festival and stream the contents directly into comfortable living rooms. The excitement comes with more films, a longer time frame and a reach from shore to shore in our great country. Be part of this big adventure and pass the word to all your friends no matter where they live in Canada.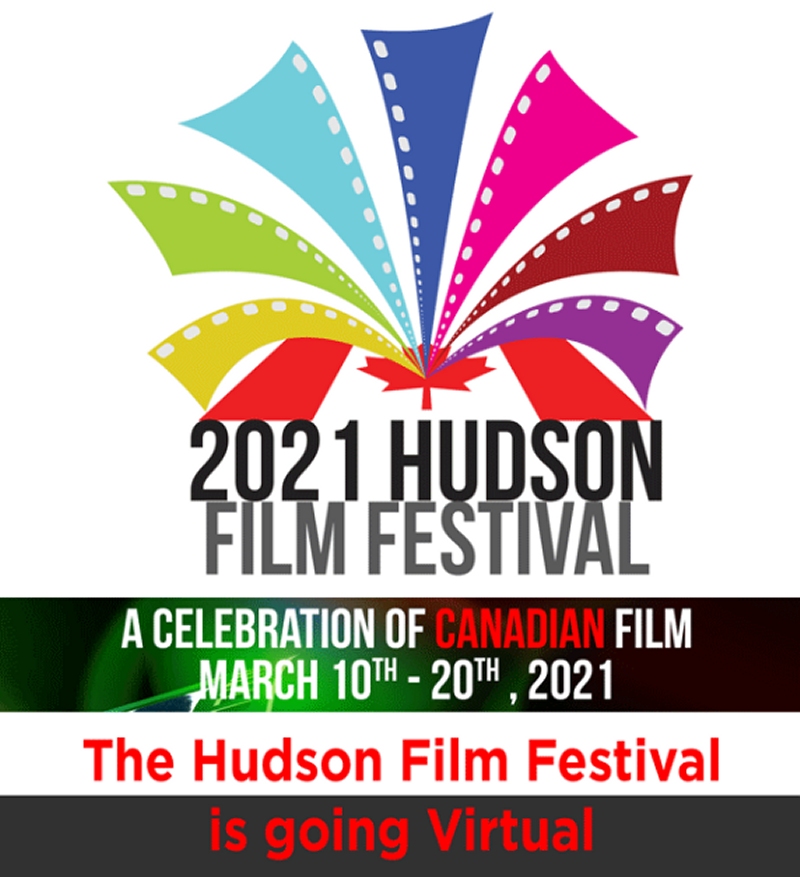 All the films on the program will be available from March 10 to March 20. You can watch them ... Read More
---
A Story for the Birds
Quite Literally!
Gerry Foliot creates artistic birdhouses
in support of palliative care
by James Parry
Bored with being simply bored during this seemingly endless pandemic that is Covid-19, Gerry Foliot opted to think outside the box as it were just after Christmas and went into his workshop-garage and decided that he had to get busy and become more creative.
Seven absolutely amazing birdhouses later, all unique, fun, whimsical, yet supremely practical, he is now on a roll while not planning to sell any one of them. Rather, he is making them available to his immediate family members, neighbours and friends with but one caveat. They have to promise to contribute to supplying bird seed for feeders at the Vaudreuil-Soulanges Palliative Care Residence on Como Gardens in Hudson.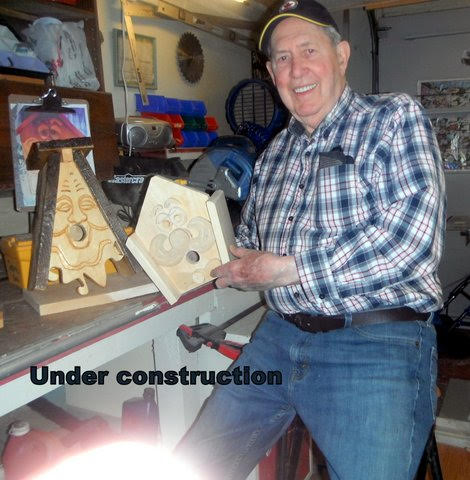 Explains Foliot, a long-time woodworking hobbyist since retiring in 2002 and who lives in St. Lazare, "As we begin 2021 still in the midst of a pandemic, boredom has become a code word for any experience in which people feel disconnected, when life appears meaningless or uninteresting. I mean, there's only so much...Read More
---
Hudson Area Artists Enhance Their Online Presence
Updated Hudson Artists website
adds an extensive artists' showcase.
by Bert Markgraf
Everything is going on line, and that includes art. After Hudson Gallery Plus put many of their works on line at their website, galleryplus.ca, the Hudson Artists group last year revised their website at artisteshudsonartists.com and added a showcase where the member artists can display their work. The showcase highlights several works by each artist and has links to the artist's website or their section at the main Hudson Artists gallery. The showcase gives a quick overview of the style and type of work of each artist and lets you find out more if you're interested.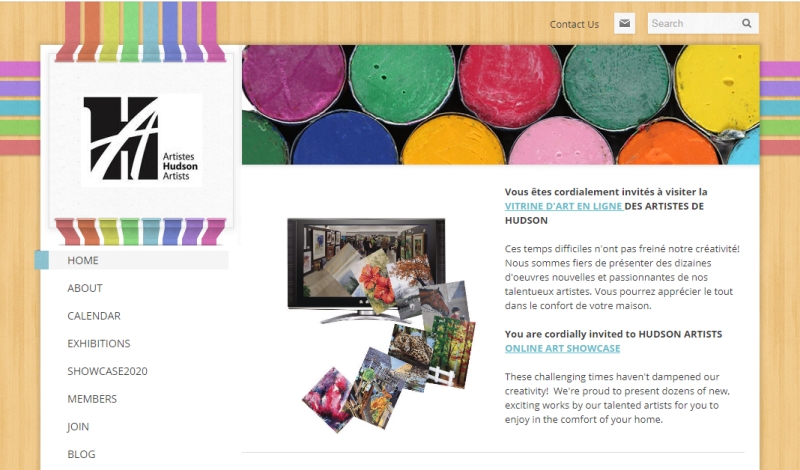 While you can't buy works on the Hudson Artists website, each artist's section has a link to their email address and you are encouraged to contact the artist directly to arrange for any purchases. Many of the works are cheerful or whimsical, exactly what we need at this time. Prices are low, especially for artists who have yet to make a name for themselves. What better way to brighten up your COVID day than to place a new work of art somewhere prominent in your home.
---
Hudsonite Paul Winstanley Pens Captivating Children's Book
from China with Love
Titled Four Silk Roads
For Chinese youngsters learning English in Chongqing
by James Parry
Without question, China has certainly been in the news this past year and virtually all of it negative. Think the initial epicentre of the global Coronavirus-19 pandemic and the rabid response of soon-to-be former U.S. President Donald Trump, the ongoing Canadian saga of the two Michaels now entering their third year of incarceration and its political ramifications, as well as the country expanding its footprint around the world and its assertive foreign policy. For sure, it's not easy finding positive news when it comes to China. But I have. All thanks to a proud and multi-faceted Hudsonite by the name of Paul Winstanley and out of the city of Chongqing in South West China.
For Paul, originally from Bolton in the U.K. who emigrated to Canada in 1981, a specialist in the aviation field and whose career has seen him working in the contract design and drafting world not only in Canada but also in France, Germany, and China, is the author/publisher of a little gem of a book titled Four Silk Roads.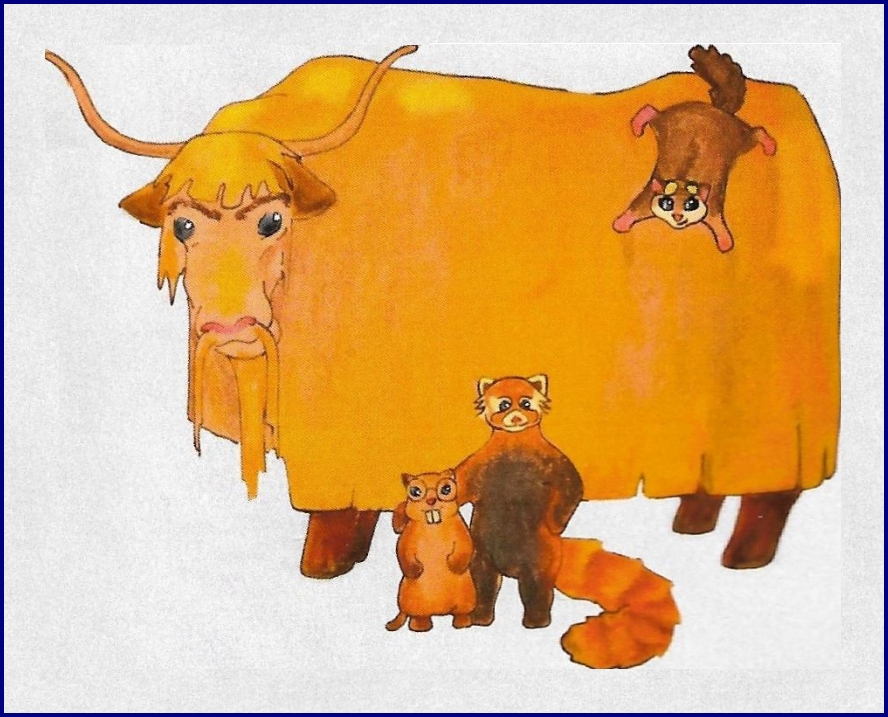 Image from the cover of "Four Silk Roads"
In essence, and with magnificent illustrations by local artist Catherine Alexander, it tells the story of four of the great discoveries and inventions of China millenia ago. Namely...Read More
---
Coronicles 3 - Wrestling Covid to the Ground
Tales from the Great Pandemic
by Art MacDonald
As he wrote in Coronicles 1 - Tales from the Great Pandemic, Art usually writes in the first person but he is finding the need to socially distance himself and will therefore write in the third person - third minus first: there's your two meters social distancing right there.
Coronicles are COVID-related stories that Art has heard or read and that he thinks are worth repeating.
Following the Science
To defeat Covid, we all have to follow the science, make logical decisions and act responsibly. There was a great exchange in a Canadian paper about this. Someone had written a post about following the science but their English was not great. The next person posted (paraphrased), "After following the science, you should follow the grammar." Another post said that science was about cause and effect. In the spring we were told not to wear masks, we had a lockdown and the cases went way down. Now we are told to wear masks, we have had a lockdown and cases are way up. Obviously, the science says masks increase the number of cases.
Online, people often miss sarcasm, which is why we have the sarcasm tag: &lt/s&gt, which means...Read More
---
The Room Below
Nineteen Years of Panto Fun
A panto retrospective on the Village Theatre website
by Kathryn Lamb
As a small child, one of my favorite Christmas fantasies was the "forgotten" gift - the present that didn't make it under the tree on Dec. 25 - (whether because it was lost, misplaced or delayed) but would turn up, magically, a day or two later.
Well in keeping with the unpredictable nature of this holiday period, that has actually happened! Although COVID deprived us of our annual Christmas pantomime, someone rooting around in the basement of the theatre, has located some archived film from pantos past and created "The Room Below - 19 years of Panto Fun", currently available on the Hudson Village Theatre website (www.villagetheatre.ca). This presentation is MC'ed by Steve Walters - in the guise of his better known alter-ego, Patty Cake, with input and help, I suspect, from videographer Michael Reid and a few other Hudson Players.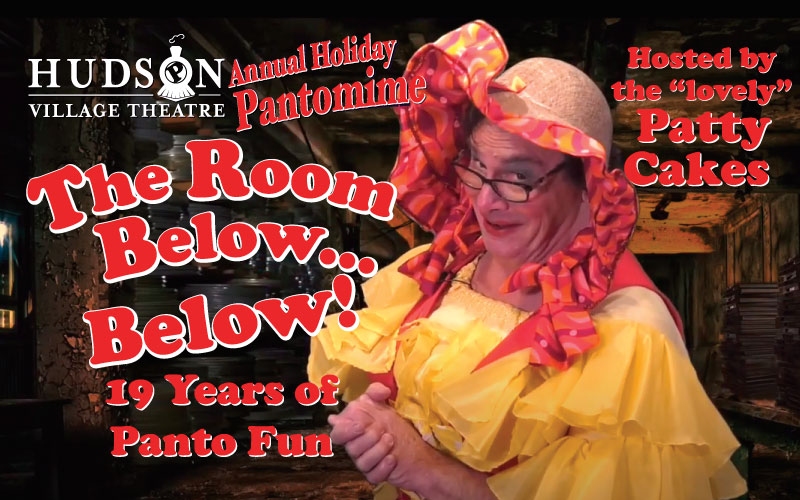 We have been blessed with nineteen editions of this unique form of fun, craziness, hilarity and work. The plots have evolved, the cast enlarged, costumes and sets have become more elaborate and technology has advanced. But what is always clear is the skill, creativity and commitment of so many individuals that have gone into these...Read More
---
The Challenges of Doing Theatre
Online During Covid-19
Hudson Village Theatre and the Hudson Players Club
by Kathryn Lamb
HUDSON VILLAGE THEATRE
'Twas the night before Christmas
And all through the house,
Not a creature was stirring….
Except……there seems to be a light over there at the Hudson Village Theatre!
The theatre has this year gifted the town, with a collection of virtual holiday stories presented from their own stage, called the 12 15 Days of Christmas. They have been released one per day from the 10th to the 24th of December (after which they will be archived) and they are available from the theatre's website www@villagetheatre.ca, or through their Facebook page. The readings are offered free of charge, although donations are being accepted for Le Pont- Bridging foodbank from anyone who feels able to do so, and all donations will be matched by Your Local Journal.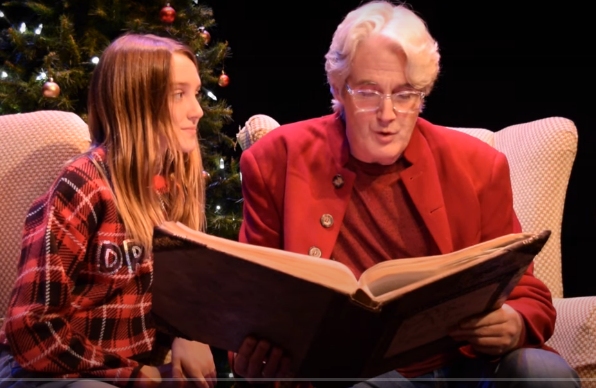 "A Child's Christmas in Wales" read by Bruce Dinsmore and Tallula Savage-Dinsmore
These readings are delivered to us courtesy of many of our favorite local thespians, and include old stories, new stories, stories from other lands and, of course, imaginary...Read More
---
The Astonishing 'Art' of Conspicuous Consumption
During Covid-19
From truffles to racing pigeons
by James Parry
During this crippling pandemic and for months now - particularly from south of the border - we have been hearing horror stories of desperate families going hungry and food banks stretched to the limit, wage-earners now without a job and not another one in sight, tenants behind in their rents being evicted and literally thrown out on the street with only what they can carry, and ever-increasing concerns about mental health and greater depression caused by Covid-19.
And yet, it seems, there are some in the world who... Read More
---
Hudson Gallery Plus Closes Hudson Location
and Moves Online at galleryplus.ca
New website is a convenient online platform
for area artists and other creative people.
by Bert Markgraf
After being forced to close for three months after mid-March, it became clear to gallery owners Heather and Bert Markgraf that operating the gallery during the pandemic was not viable. After reduced operations over the summer, the gallery moved out at the end of September and a computer networking company now occupies the space.
As the paintings were returned to their owners, some of them were photographed for eventual online presentation. A basic version of the new website at galleryplus.ca went live in November and it now has over 100 works for sale online. With Arts Hudson still working with the artists and with a logo (below) similar to the one that was at 448 Main Road, the website itself and the ecommerce part is operated by IT company North46 Technologies based in Vancouver. With the North46 system, you can buy Gallery Plus items with a credit card and you don't need an account.

New artists and crafters are being added continuously but you can already buy works by James Parry, Susan Jephcott, Joan Salter and Heather Lowe in addition to a large number of Markgraf prints. Lorne Elliott comedy tracks, Charles Becker jewelry and Hudson T-shirts and sweat shirts are also available. For orders from the Hudson area, you can ask for (contactless) delivery. If you wish to sell your work via Gallery Plus, please email art@artshudson.org.
---
Shernya Vininsky Krause
Shares her Passion for Horses with 40-Piece Exhibit
With gallery in Vaudreuil-Soulanges currently closed,
she creates her own virtual tour
by James Parry
I think it is safe to say that it is every artist's dream to have a few of their works exhibited in a high-profile art gallery. But 40 of them? And all showing at the very same time and until they are sold from now through January 20 next year? Well, that is perhaps a once-in-a-lifetime achievement!
But that is exactly what has happened for long-time Hudsonite and multiple award-winning artist, Shernya Vininsky Krause, who first developed her love of art at the tender age of six when her parents moved to Ville St. Laurent, an almost country-like setting at the time.
But here's the rub. Unfortunately, and due to ever-changing Covid-19 restrictions, that gallery - Le Musée Régional de Vaudreuil-Soulanges at 431 avenue Saint-Charles - is now closed and almost certainly will be for some time to come.
Undaunted, Shernya has come up with a most innovative way of promoting her 40-piece collection. The theme of which is "For the Love of Horses." She has created a video of the actual show together with an audiotape that was made showing each piece as she talks about them. To view the slideshow go to:
(If you see a painting that you would like more information on, call the Museum at 450 455 2092 or 514 892 2851)
Caught up with Shernya recently to learn more about how she approaches...Read More
---
Coronicles 2 - Surfing the Second Wave
Tales from the Great Pandemic
by Art MacDonald
As he wrote in Coronicles 1 - Tales from the Great Pandemic, Art usually writes in the first person but he is finding the need to socially distance himself and will therefore write in the third person - third minus first: there's your two meters social distancing right there.
Coronicles are COVID-related stories that Art has heard or read and that he thinks are worth repeating.
The Civil Disobedience Stories
The Quebec government has passed legislation giving it emergency powers. These powers are described in the Public Health Act but there's also a clause that gives the government the power to take any additional measures it considers necessary. So yes, the government can send police into our homes to look for illegally present adult children or possibly friends with benefits in our beds.
But not to worry, Quebeckers don't take kindly to government overreach. Even during the first lockdown, there were...Read More
---
Remembering and Honouring
Our First Nations Sisters and Brothers
Local artist Barbara Farren exhibits in Toronto
through December under the theme of Canadian Unity
by James Parry
With Covid-19 still raging across Canada and indeed the world, calls for unity and understanding becoming more vociferous every day, so many artists as well as those in the performing arts on hiatus, and theatres and concert venues closed, it is becoming increasingly difficult to find some positive news on the arts scene these days.
But here's one that kind of encapsulates them all.
As of this week and continuing through December 18, a painting by local artist Barbara Farren titled Our Sisters and Brothers, Our Burden of Shame is on display at the N3XT Canada Exhibition staged by the Arts and Letters Club in Toronto, a very prestigious club founded in 1908 by members of the Group of Seven to support the Arts.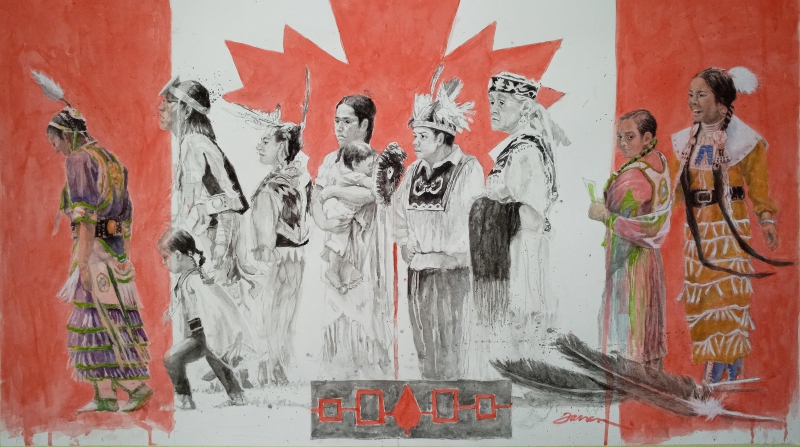 Our Sisters and Brothers, Our Burden of Shame
Their theme this year is Canadian Unity. And as Barbara told me, "James, I'm sure...Read More
---
Hudson Film Society
Video Montage of 2020
by Vivianne LaRivière

Trying something a little different this year. A friend of mine helped piece together a montage of some of the photos of the festival, as well as some video clips of the special guests. Nothing fancy here...simply some beautiful and endearing moments captured, hopefully giving us cause to take a 27 minute break, to remember the fun we had, the tears we shed, and the fun and tears we will have again. It is a such an honour to participate in such an event as 'candidly' as I do. That said, if any of you would like one of the stills let me know and I can send you one, as you provide a nominal contribution toward the Hudson Theatre Fundraising Campaign.
Enjoy! Amen. Vivianne
---
Hudson Chamber Music Series
Update on Postponement of the Season
The HCMS committee convened on September 6th and reviewed all the requirements and obligations with respect to COVID-19. After considerable discussion, our committee agreed that for the safety of our audience, we must cancel the planned concerts for October and November 2020. For the concerts planned in 2021, the possibility of resuming our season will be reviewed, but we cannot make a decision at the present time. Any change in our schedule will be announced on this page and via email to those on our distribution list.
---
Greenwood StoryFest
Unique StoryFest 2020 Goes Virtual
by Audrey Wall

Against pandemic odds, Greenwood's StoryFest has reinvented itself as a virtual online experience with authors from across Canada and as far away as England. Authors and participants will join us via Zoom.
This special literary festival will take place every Thursday during October on Zoom. The regular time will be 7pm Eastern time, with one exception….the event with Margaret McMillan will take place at 2pm Eastern time, as she is joining us from London. The final event with Tommy Schnurmacher takes place Sunday, Nov. 1st at 2pm ET.
Ticket are free, and can be reserved at greenwoodstoryfest.com . Please follow the directions on the website to get a virtual ticket and a Zoom Webinar ID number.
We are very excited about this year's stellar lineup. Here it is…...Read More

---
Hudson Arts Roundup
by Kathryn Lamb

Within the arts community in Hudson, the summer of 2020 has been, well, let's just say it, unlike any other within our memory. With most local venues shuttered, regular seasonal events cancelled, and artists who depend on these activities hurting financially, artistic activity is still happening, but more at a simmer than a boil. New methods of connecting are being tested, and everybody is Zooming. But although we are grateful for these new tools, and are finding new ways to put them to use, nothing can really replace meeting in person. Nevertheless, Art must go on. And so…..
The Hudson Artists has no plans at present for physical meetings or exhibitions. However, they do have a very impressive on-line Artists Showcase featuring the work of several members. It may be viewed on their website at artistehudsonartists.com and is well worth a visit.
The Hudson Players Club has stayed creative this summer with a series of play readings, a comedy evening and a quiz night via...Read More
---
Coronicles - 1
Stories fromthe Great Pandemic
by Art MacDonald

So, while Art usually writes in the first person, he is finding the need to socially distance himself and will therefore write this piece in the third person - third minus first: there's your two meters social distance right there.
Coronicles are COVID-related stories that Art has heard or read and that he thinks are worth repeating.
The Chicken Stories
What's the first thing that comes to mind when you're self-isolating?
"Let's get some chickens!"
You wouldn't think so but Art has first-hand evidence - even way back in March the chick supply chain in Quebec and Ontario was sold out. It turns out you can get day-old chicks mailed to you from as far away as London, Ontario, or you could if they had any to spare. By April the only chicks you could get were a random selection of left-over chicks if more hatched than expected.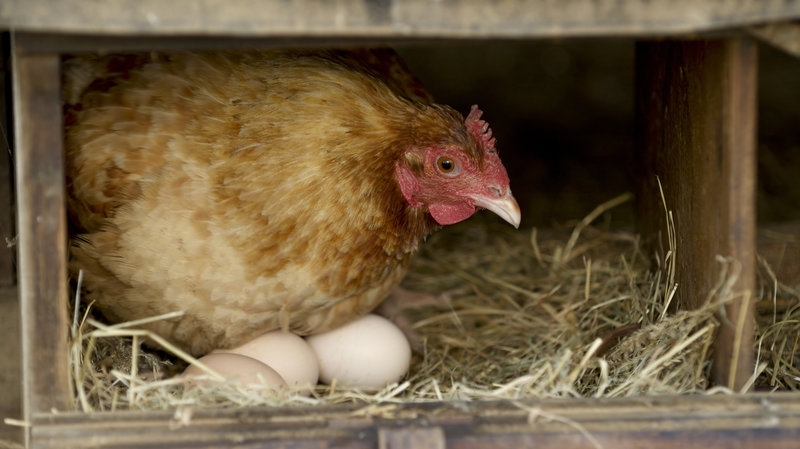 Hen in a laying box
The thing about a random selection is, it includes roosters. By the law of averages, if you get a dozen chicks, you're likely to have...Read More
During the COVID 19 pandemic, Arts Hudson has transitioned to an online-only arts blog, publishing articles about the arts throughout the year.
Past issues are still available under the Archives section.
Below are links to Hudson-related cultural sites:
Artist Rita Shellard