Recycling for Art's Sake - Outdoor Family Fun in Hawkesbury
Eight artists exhibit on the banks of the Ottawa River through 2021
by James Parry
Back in the late 60s, shortly after immigrating to Canada from England, I landed a dream job. Editor of the nationally-distributed Canadian Plastics magazine published by Southam Business Publications in Toronto.
It was the heyday of plastics, a rapidly growing high-tech industry transforming the world and immortalized in the 1967 movie, The Graduate, when a young Dustin Hoffman (Benjamin) seeking a career choice was advised in one word. 'Plastics'.
Hard to believe today, but I actually researched and wrote in depth articles and editorials on the future of injection molding. Injection blow molding. Extrusion. Twin extrusion. Fiberglass molding. And ad infinitum. Plastics were the future. And nobody questioned it.
Wow. What a difference in such a relatively short time span! When in 2020 and for many, plastics is akin to a dirty word. The scourge of the planet. Despite the fact that they remain an integral and important part of our lifestyle and, in my humble opinion and disposable water bottles aside, will continue to remain so for the newer generation for whom the new buzz word is not plastics but rather recycling. And, of course, I am all for that in all its forms.
So why am I mentioning this? Because recently I visited Le Chenail Cultural Centre in Hawkesbury to check out their 5th Recycl'art outdoor exhibit within the framework of the centre's 45th artistic season with the theme Cultivate Your Imagination. Showcasing eight new artists this time around using only recycled materials of every description, it will be on permanent display from now through the end of March 2021 on the banks of the Ottawa River in front of the Maison de l'Ile in collaboration with Recycl'art Gatineau and La Maison Natale de Louis Fréchette in Lévis, Québec.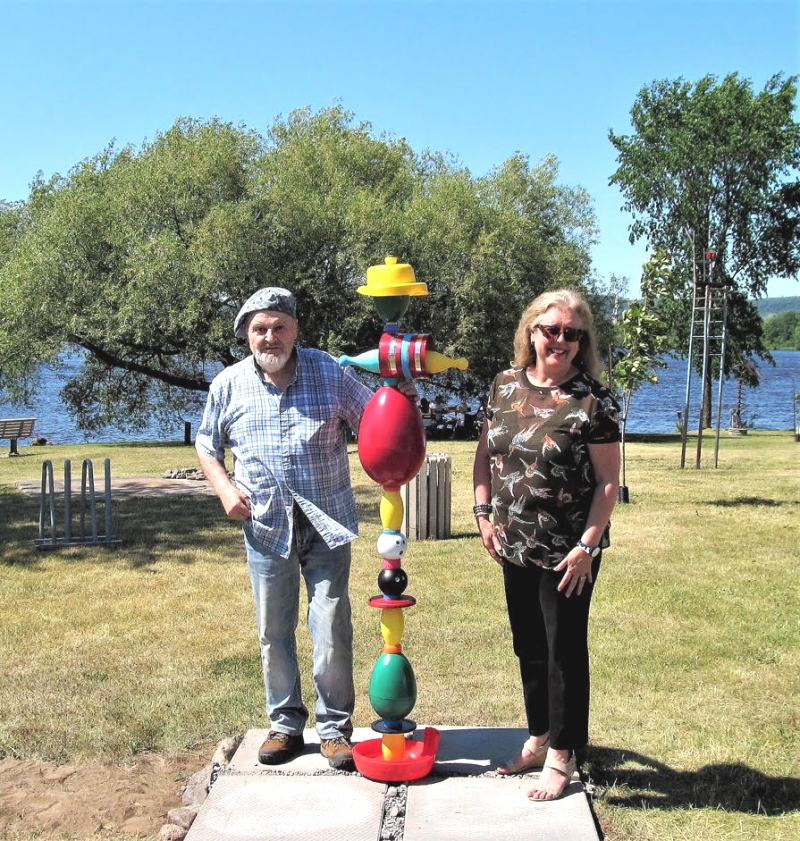 Artist Leo Schimanszky and Le Chenail Executive Director Lynda Clouette-Mackay with "Totem of Hope"
...Read More
Native Drummer Direct from Watercolour Canvas to YouTube Video
Created by local multi-faceted and award-winning artist Barbara Farren
By James Parry
With galleries closed - or at least perhaps open by appointment only - studio tours as dead as the Dodo, and at-home showings frowned upon, it surely has been a freaking frustrating spring and summer for artists and artisans of all stripes during this continuing traumatic times. Not only right here in our neck of the woods in Hudson and environs but indeed throughout Canada and the rest of the world.
On the upside, if there could be one, artists have had more free time to create. Reflect upon past works. Be inspired by nature or different daily realities to create new ones for the future. Experiment with new styles and media. And explore new technologies courtesy of the computer to stay in touch with their previous clients and hopefully reach new ones.
For all will surely agree that, at the end of the day, it is critically important for them to actually find a showcase and audience for their work, sell their creations, and generate money not only to fund their future aspirations but to pay for the now. No doubt about it. Covid-19 has been a real bummer and many artists are finding themselves down in the doldrums.
I recently met with one local artist with an international vision, however, who is refusing to let the virus get her down. Her name is Barbara Farren, who has been painting professionally since graduating from the Ontario College of Art, Toronto, in the early 70s and to learn more about her check out her web site at barbarafarren.com. You can also see her on the YouTube channel, almost 9,000 views so far since May, in what has to be a first for any local artist.
Said Barbara in an exclusive interview for Arts Hudson magazine, "Since the outbreak, I have to admit that it has been a very strange time and I was not feeling that productive. However, I did manage to create my first demonstration video of a portrait painting.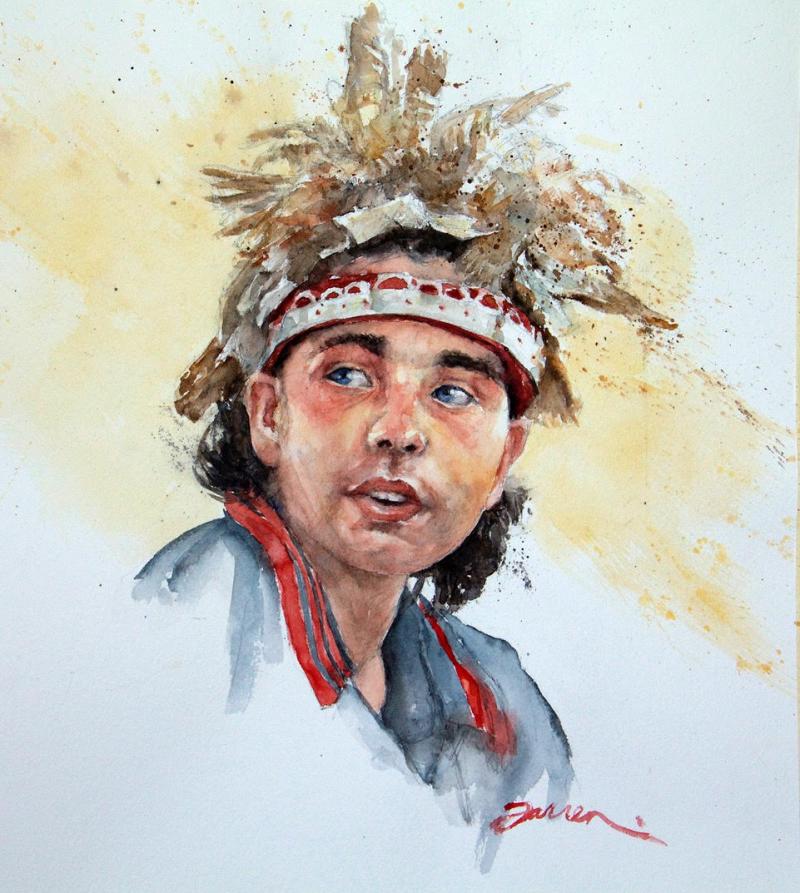 This portrait of a young Native Drummer has been viewed by almost 9,000 people on YouTube and still counting.
"Oddly, this is something I never would have considered, except that I was asked by Anna Massinisso, founder of the Fabriano Watercolor Festival in Italy, ...Read More
---
Hudson Village Theatre Receives Almost $1 Million Grant
from Federal Government
In making announcement, Vaudreuil-Soulanges MP Peter Shiefke
thanks HVT for serving community so well
By James Parry
Board Chair Elizabeth Corker, MP Peter Shiefke and Executive Director Kalina Skulska
Photo courtesy of the Office of Peter Schiefke
Fantastic, fabulous news for Hudson Village Theatre and the entire arts community in the region with the announcement by Peter Schiefke, Member of Parliament (Vaudreuil-Soulanges) this week that the Liberal government has invested $983,046 towards the theatre's planned renovations and expansion.
Making the announcement on behalf of the Honourable Steven Guilbeault, Minister of Canadian Heritage, Schiefke stated, "The performing arts bring people together, make us ...Read More
---
Hudson Players Club - Summer 2020 Update
by Kathryn Lamb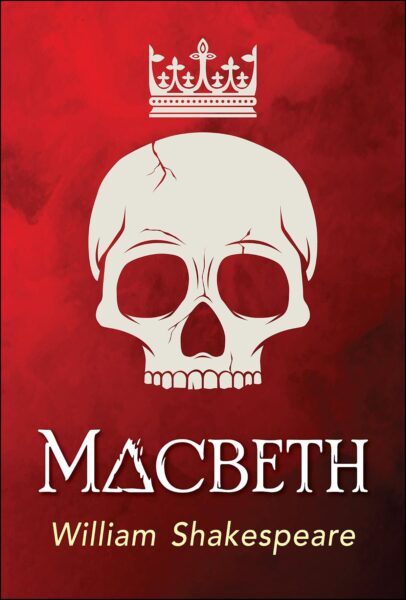 Possible summer production of Macbeth, directed by Glen Robinson
What can you say about a summer that has brought all the activities that we normally enjoy together to a complete halt? The last few months of cancellations and lockdowns have been a challenging period for the Hudson Players Club. Despite its over 70-year history of "The show must go on!", their eagerly anticipated spring production of "The Full Monty" could not go on.
But this group of passionate and imaginative individuals has not been idle. They have been investigating the possibilities of Zoom and have held three on-line play readings ... Read More
---
Hudson Village Theatre - 2020 Summer
by Kathryn Lamb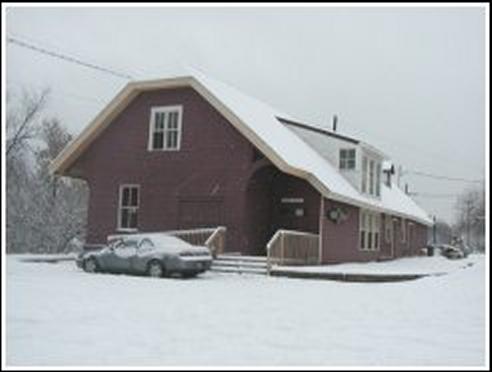 Theatres are still in a deep freeze but Hudson Village Theatre is looking at ways to help Hudsonites celebrate summer.
As we slowly awaken from three months of enforced confinement, and step by step reassume some of our former activities- (whether that might be work, shopping, or family visits,) some things are still far from normal, and won't be for a long time yet. Every day, I meet or hear of others who are affected in ways that I could not possibly have imagined.
How does a live theatre company handle a situation in which people are confined to their homes, not permitted to stand or sit closer than 2 meters from another person, and ... Read More
---
"I'll Keep Digging..."
by Vivianne LaRivière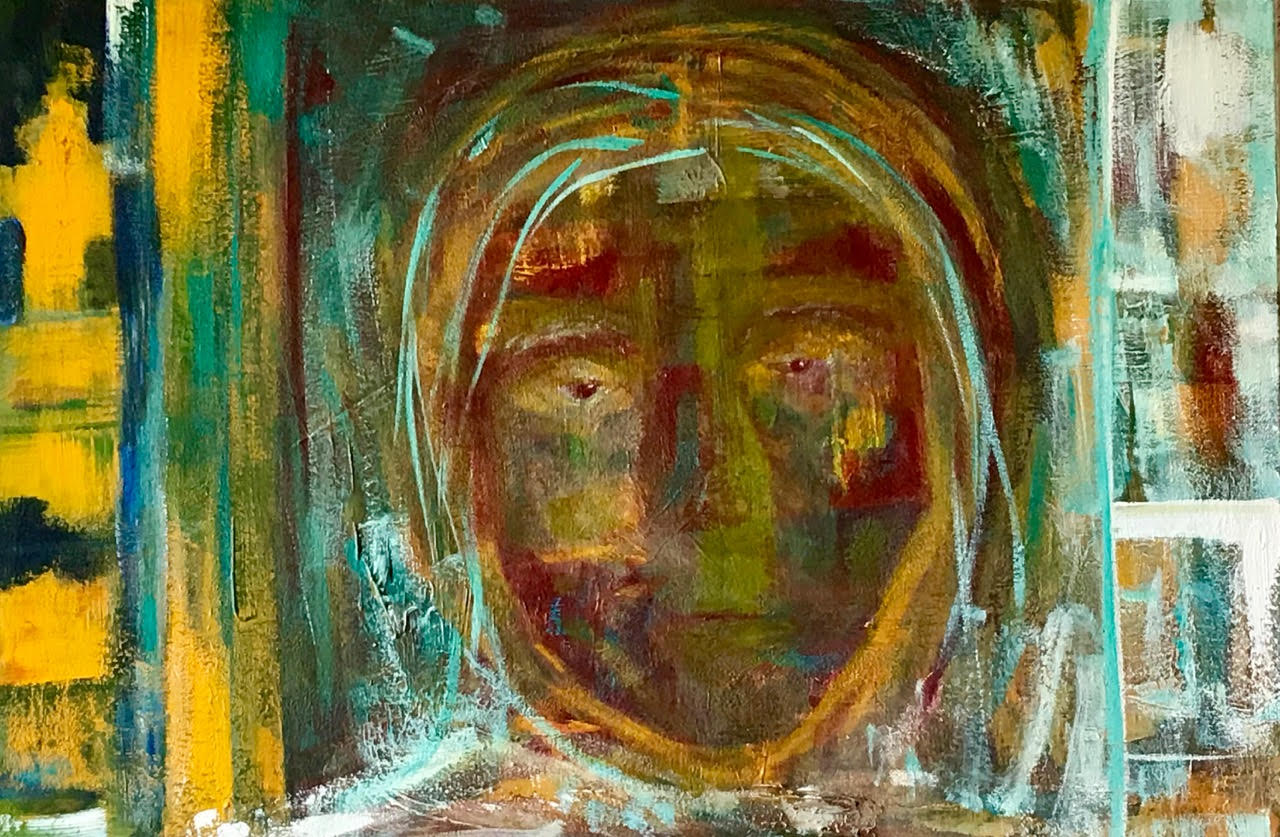 "I Found Her Hiding in the Barn." (© Vivianne LaRiviere, 36 x 24, acrylic)
I am sure that most of us would agree that we have been assailed these days by one crisis after another. The world has been upended, not only by the onset of Covid-19, but also the global protesting over the death of George Floyd. These, and other relevant and imperative cries are heard as the grieving psalmists laments over the mass amount of social injustice and corruption occurring in a world we are called to love and serve. And of course, there are also the concerns about the ongoing slaughter of the environment.
There are a lot of people who have a lot to say about these events and these challenging situations. Aghast, we come to know all of these things, and I trust that as a ... Read More
---
Parrydise Hudson
by James Parry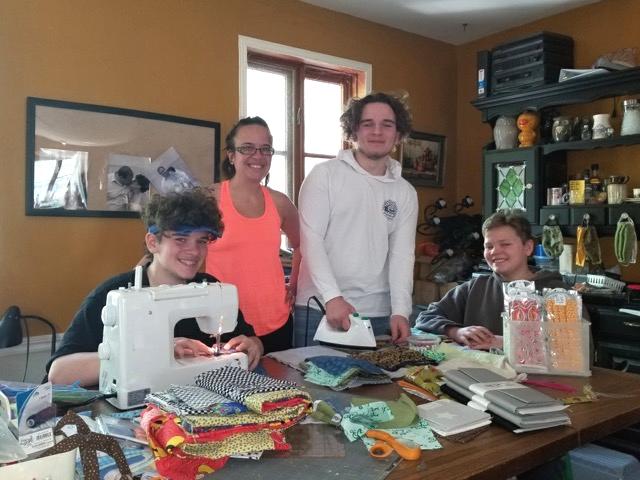 Making masks has become a family affair for Brigitte Beaulieu and her three sons in St. Lazare.
Photo by Jean Philippe leBlanc
In these turbulent times, and in this our summer edition of Arts Hudson which is only appearing online because of limited access to distribution outlets, what can one possible write or say that hasn't already been writ or said? In fact, during this period of self-isolation for the most part, I even gave some thought to renaming this column, Parrynoid or Parrynoia. Nah, just kidding!
Since just three months or so ago, an unforseen pandemic began wreacking havoc and heartbreak around the world. Suffering and pain, deaths and postponed memorial ... Read More
---
Hudsonite Pierre Chalifoux Pens and Records
The China Virus Blues
With a little help from John Lennon, Tom Cruise, Bugs Bunny and Daffy Duck
by James Parry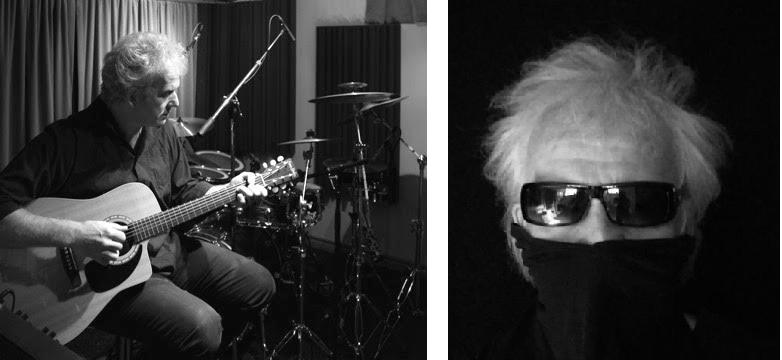 Pierre Chalifoux in his studio and an image for the song.
Frustration has been at the fore for many folk in our region, and indeed worldwide, for the past three months or more as we have all had to come to grapple with the reality of a new social world caused by the still virulent Covid-19 virus. Of all ages. And from all walks of life.
For Hudsonite celebrated singer-songwriter, Pierre Chalifoux, dealing with that frustration was a no-brainer. And the result is a truly original, powerful, and inspirational video titled The China Virus Blues written and recorded in his home town studio where he has been working since 2005, Soprano Studio, that will blow your mind.
With intro lyrics such as:
"I woke up this mornin'
To find that I was still alive
Read More
---
Take The Time to Savour The Film Experience
by Clint Ward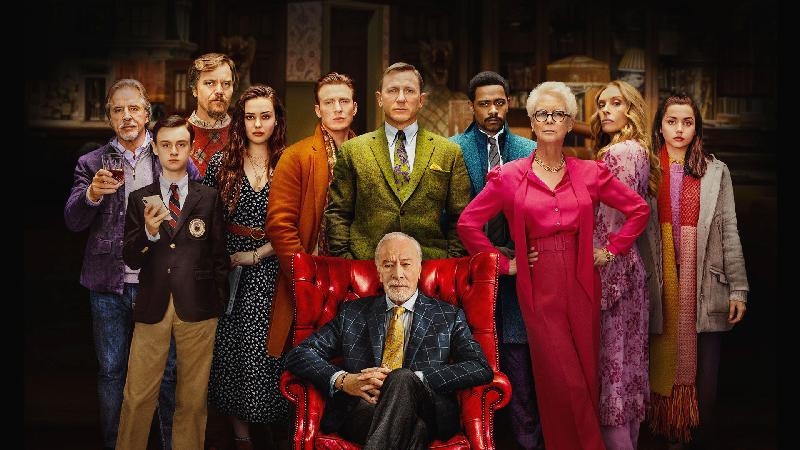 The Cast of Knives Out. There is a small surprise in the credit roll at the end of the film.
&nbsp:
In January of the Hudson Film Society's first year we screened, C.R.A.Z.Y, one of Jean-Marc Vallée's early films and enjoyed the bonus of having Jean Marc introduce his film and field questions after. It was the beginning of a relationship with the soon to become internationally respected director. What he couldn't tell us on that first visit was his recent negotiation discussions to become the director of Young Victoria. When we were able to screen that film, Jean Marc was with us again. He liked Hudson and was embarking on a film of his own called Café de Flore. He wanted to shoot some of the scenes in Hudson and asked me to help with location hunting in the area. It was a fun thing to do and I jumped at the chance. I was able to suggest a couple of locations that met his requirements but alas none of them were used. For my... Read More
During the COVID 19 pandemic, Arts Hudson has transitioned to an online-only arts blog, publishing articles about the arts throughout the year.
Past issues are still available under the Archives section.
Below are links to Hudson-related cultural sites:
Artist Rita Shellard