Remembering and Honouring
Our First Nations Sisters and Brothers
Local artist Barbara Farren exhibits in Toronto
through December under the theme of Canadian Unity
by James Parry
With Covid-19 still raging across Canada and indeed the world, calls for unity and understanding becoming more vociferous every day, so many artists as well as those in the performing arts on hiatus, and theatres and concert venues closed, it is becoming increasingly difficult to find some positive news on the arts scene these days.
But here's one that kind of encapsulates them all.
As of this week and continuing through December 18, a painting by local artist Barbara Farren titled Our Sisters and Brothers, Our Burden of Shame is on display at the N3XT Canada Exhibition staged by the Arts and Letters Club in Toronto, a very prestigious club founded in 1908 by members of the Group of Seven to support the Arts.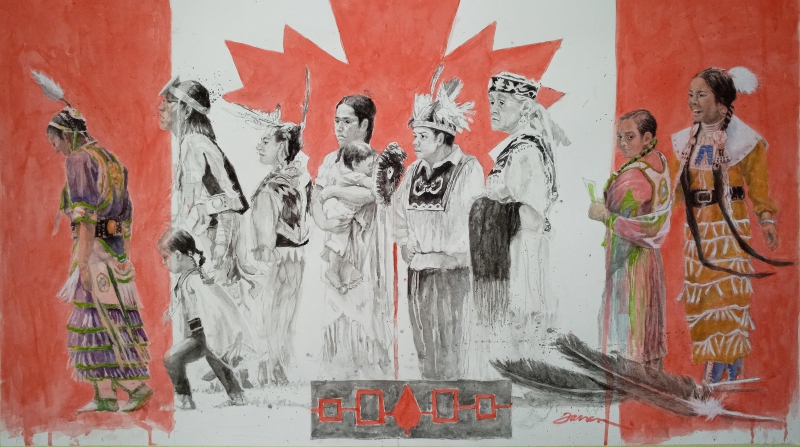 Our Sisters and Brothers, Our Burden of Shame
Their theme this year is Canadian Unity. And as Barbara told me, "James, I'm sure...Read More
---
Hudson Film Society
Video Montage of 2020
by Vivianne LaRivière

Trying something a little different this year. A friend of mine helped piece together a montage of some of the photos of the festival, as well as some video clips of the special guests. Nothing fancy here...simply some beautiful and endearing moments captured, hopefully giving us cause to take a 27 minute break, to remember the fun we had, the tears we shed, and the fun and tears we will have again. It is a such an honour to participate in such an event as 'candidly' as I do. That said, if any of you would like one of the stills let me know and I can send you one, as you provide a nominal contribution toward the Hudson Theatre Fundraising Campaign.
Enjoy! Amen. Vivianne
---
Hudson Chamber Music Series
Update on Postponement of the Season
The HCMS committee convened on September 6th and reviewed all the requirements and obligations with respect to COVID-19. After considerable discussion, our committee agreed that for the safety of our audience, we must cancel the planned concerts for October and November 2020. For the concerts planned in 2021, the possibility of resuming our season will be reviewed, but we cannot make a decision at the present time. Any change in our schedule will be announced on this page and via email to those on our distribution list.
---
Greenwood StoryFest
Unique StoryFest 2020 Goes Virtual
by Audrey Wall

Against pandemic odds, Greenwood's StoryFest has reinvented itself as a virtual online experience with authors from across Canada and as far away as England. Authors and participants will join us via Zoom.
This special literary festival will take place every Thursday during October on Zoom. The regular time will be 7pm Eastern time, with one exception….the event with Margaret McMillan will take place at 2pm Eastern time, as she is joining us from London. The final event with Tommy Schnurmacher takes place Sunday, Nov. 1st at 2pm ET.
Ticket are free, and can be reserved at greenwoodstoryfest.com . Please follow the directions on the website to get a virtual ticket and a Zoom Webinar ID number.
We are very excited about this year's stellar lineup. Here it is…...Read More

---
Hudson Arts Roundup
by Kathryn Lamb

Within the arts community in Hudson, the summer of 2020 has been, well, let's just say it, unlike any other within our memory. With most local venues shuttered, regular seasonal events cancelled, and artists who depend on these activities hurting financially, artistic activity is still happening, but more at a simmer than a boil. New methods of connecting are being tested, and everybody is Zooming. But although we are grateful for these new tools, and are finding new ways to put them to use, nothing can really replace meeting in person. Nevertheless, Art must go on. And so…..
The Hudson Artists has no plans at present for physical meetings or exhibitions. However, they do have a very impressive on-line Artists Showcase featuring the work of several members. It may be viewed on their website at artistehudsonartists.com and is well worth a visit.
The Hudson Players Club has stayed creative this summer with a series of play readings, a comedy evening and a quiz night via...Read More
---
Coronicles - 1
Stories fromthe Great Pandemic
by Art MacDonald

So, while Art usually writes in the first person, he is finding the need to socially distance himself and will therefore write this piece in the third person - third minus first: there's your two meters social distance right there.
Coronicles are COVID-related stories that Art has heard or read and that he thinks are worth repeating.
The Chicken Stories
What's the first thing that comes to mind when you're self-isolating?
"Let's get some chickens!"
You wouldn't think so but Art has first-hand evidence - even way back in March the chick supply chain in Quebec and Ontario was sold out. It turns out you can get day-old chicks mailed to you from as far away as London, Ontario, or you could if they had any to spare. By April the only chicks you could get were a random selection of left-over chicks if more hatched than expected.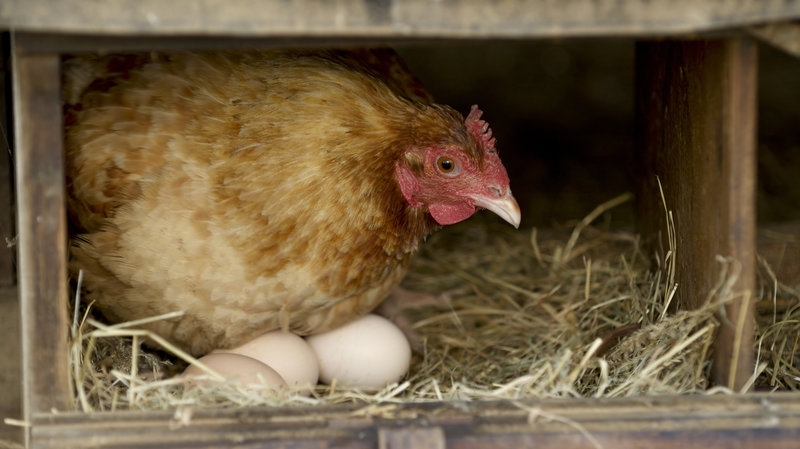 Hen in a laying box
The thing about a random selection is, it includes roosters. By the law of averages, if you get a dozen chicks, you're likely to have...Read More
---
Greenwood Adapts Their Summer Season with Success
by Audrey Wall

All of us had to adapt to new measures this summer: Greenwood took up the challenge early, and managed to recreate itself in many areas.
Just as the pandemic arrived, our new Executive Director started work! Our first decision was to move our AGM to a Zoom event, where we welcomed two new Board members. Next, we added a Canada Helps button to our website so we could have a way to renew memberships and accept donations. With the Spring Newsletter deadline, we decided to move that online as well and sent our first totally electronic newsletter to all of our members. Next, we hired a gardener, with the thought that the outside would be one area we could invite visitors to; this turned out to be an excellent decision.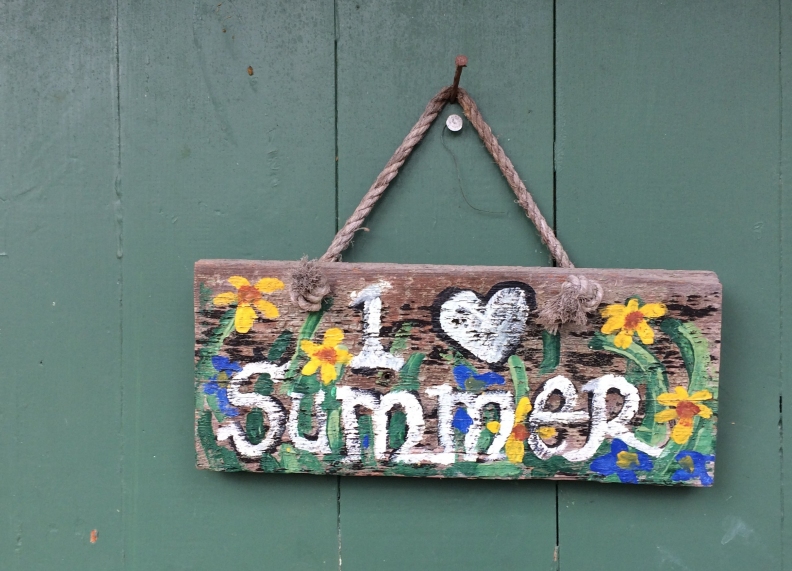 Greenwood Centre
The grants that we had submitted in the winter for our student employees arrived, and we decided that we would be able to hire them, despite not knowing if we would be able to open our Centre. When the good news arrived in late May that museums would be allowed to open, we made careful plans as to how we could open Greenwood and keep...Read More
---
Recycling for Art's Sake - Outdoor Family Fun in Hawkesbury
Eight artists exhibit on the banks of the Ottawa River through 2021
by James Parry

Back in the late 60s, shortly after immigrating to Canada from England, I landed a dream job. Editor of the nationally-distributed Canadian Plastics magazine published by Southam Business Publications in Toronto.
It was the heyday of plastics, a rapidly growing high-tech industry transforming the world and immortalized in the 1967 movie, The Graduate, when a young Dustin Hoffman (Benjamin) seeking a career choice was advised in one word. 'Plastics'.
Hard to believe today, but I actually researched and wrote in depth articles and editorials on the future of injection molding. Injection blow molding. Extrusion. Twin extrusion. Fiberglass molding. And ad infinitum. Plastics were the future. And nobody questioned it.
Wow. What a difference in such a relatively short time span! When in 2020 and for many, plastics is akin to a dirty word. The scourge of the planet. Despite the fact that they remain an integral and important part of our lifestyle and, in my humble opinion and disposable water bottles aside, will continue to remain so for the newer generation for whom the new buzz word is not plastics but rather recycling. And, of course, I am all for that in all its forms.
So why am I mentioning this? Because recently I visited Le Chenail Cultural Centre in Hawkesbury to check out their 5th Recycl'art outdoor exhibit within the framework of the centre's 45th artistic season with the theme Cultivate Your Imagination. Showcasing eight new artists this time around using only recycled materials of every description, it will be on permanent display from now through the end of March 2021 on the banks of the Ottawa River in front of the Maison de l'Ile in collaboration with Recycl'art Gatineau and La Maison Natale de Louis Fréchette in Lévis, Québec.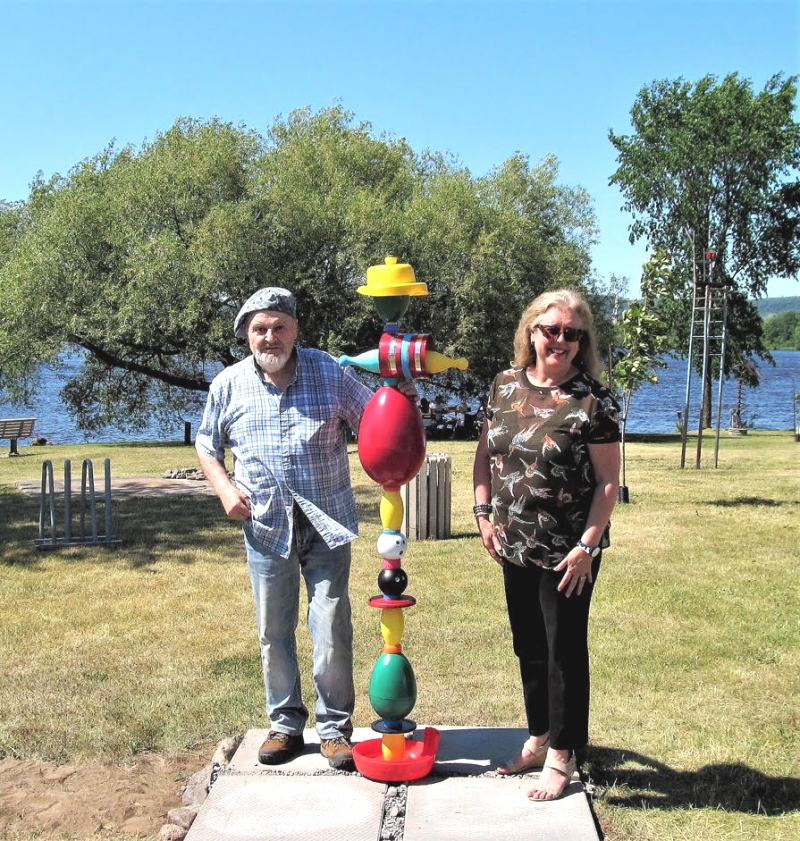 Artist Leo Schimanszky and Le Chenail Executive Director Lynda Clouette-Mackay with "Totem of Hope"
...Read More
During the COVID 19 pandemic, Arts Hudson has transitioned to an online-only arts blog, publishing articles about the arts throughout the year.
Past issues are still available under the Archives section.
Below are links to Hudson-related cultural sites:
Artist Rita Shellard