Film Society "War Horse" Performance Presentation
Nine years ago a group of dedicated film lovers held several meetings to discuss the possibility of organizing a film club. Soon the Hudson Film Society was born. The Society affiliated with the Toronto International Film Festival (TIFF) and the Film Society became a great success story in Hudson. The group later added a short festival to mark the end of a season and then added a documentary festival in March. All of the expensive equipment was soon paid for and there was even money left over each year to make a sizeable donation to the Theatre - and that was on top of the rent that the Society insisted on paying. So it has been good for the community and good for the Theatre.
Several years ago a new initiative was begun. Live Opera on the big screen. Live opera screenings have initiated a debate about projected performance and just what it means to deliver it, up big and close. Some mistakenly call it film, which it is not. Film or cinema or simply movies is the art form of the 20th century. It involves a complicated shooting schedule, editing and postproduction. Live opera on local theatre screens is just that. Rather it is a live performance captured in such a way that it can be immediately delivered to screens in multiple locations or delivered later in other ways. But what the audience sees in the originating theatre is what the audience sees in the cinema down the street - and practically speaking, for a fraction of the ticket price. Many of us can't just go to New York or to London to experience great theatre - some of us never get that opportunity. So we never see brilliant actors tread the boards of the great stages of the world - but now we can.
Our local theatre with only 148 seats is more or less forced to produce small cast shows because of the cost. A light programming fare is also the order of the day as the only sure fire way to fill the seats and keep the doors open. But there are some patrons thirsting for something more substantial. Something more serious. That would likely mean bigger casts, lofty ticket prices, empty seats and unsupportable budgets. Live screening or Performance Screenings are a way to see theatre with less cost and reasonably priced tickets. We have opera so why not the next step - great plays from Britain's National Theatre - Shakespeare from the Globe - performances from Canada's Stratford.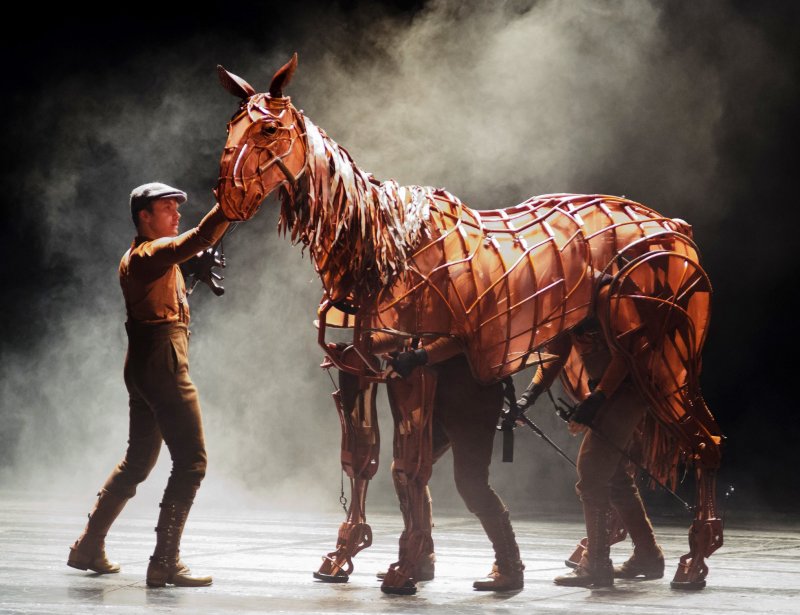 In October there was a chance to try out the concept. The Hudson Film Society showed a Performance Screening of The Curious Incident of the Dog in the Night-Time as part of Greenwood's StoryFest. Winner of 7 Olivier Awards including Best New Play, Britain's National Theatre production brought Mark Haddon's international best-selling novel to thrilling life in a dazzling stage adaptation.
On January 31st a second Performance Screening will be available to us in Hudson. Also from Britain's National Theatre it is the extraordinary War Horse, directed by Tony Award winner Marianne Elliot.
War Horse is a powerfully moving and imaginative drama, filled with stirring music and songs, a show of phenomenal inventiveness. At its heart are astonishing life-sized puppets by South Africa's Handspring Puppet Company, who bring breathing, galloping, charging horses to thrilling life on stage. The National Theatre's epic production is based on the celebrated novel by Michael Morpurgo. Actors, working with the magnificent, puppet horses lead us on a gripping journey through history. Experience an unforgettable moment of theatre.
A trailer can be viewed at: http://www.warhorseonstage.com