Hudson Film Society Marking its 10th Anniversary
Short Film Competition
The Hudson Film Society is celebrating its tenth anniversary by participating in the English Language Arts Network "Arts Alive" festival. The society is hosting a video contest on any theme related to the Town of Hudson and is ofering $2000 in prize money. Former Hudson resident and movie professional Andy Thomson will head the selection committee and the entries will be shown at Village Theatre in June.
Our lovely town of Hudson, on the south shore of the Lake of Two Mountains is celebrating its 150th anniversary in 2015. Much smaller but still an even number, the Hudson Film Society begins its 10th season in 2015. Two anniversaries, two celebrations! How should the Film Society mark that?
The answer lies in a unique idea. Celebrate the 10th with a film contest - and make the topic Hudson. Two milestones wrapped up in one event! Attention all film-makers - young and old - professional and amateur. Put together a 10 minute film about any aspect of Hudson and its history, deliver the finished product on DVD, to the Hudson Film Society by May 4 and compete for $2,000.00 in prize money.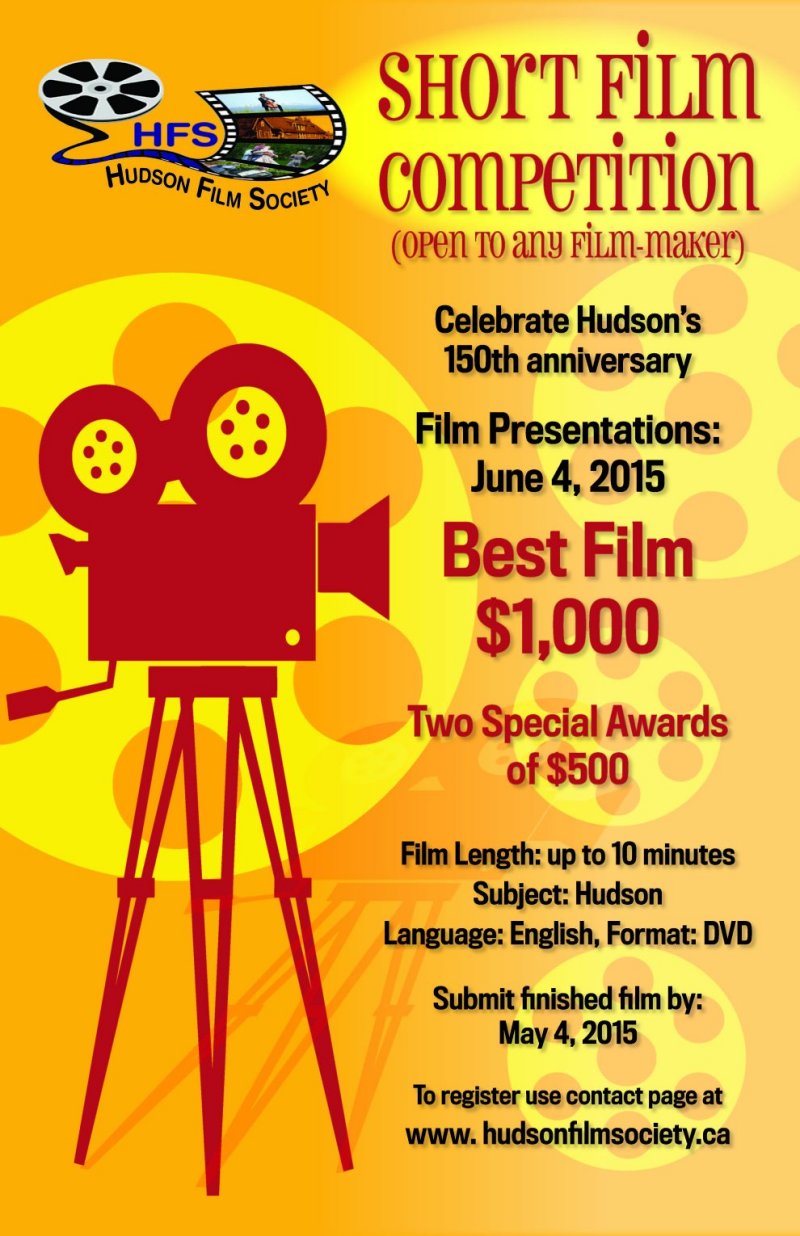 The best film will win $1,000.00 and two special awards of $500.00 will be given as well. Register now by going to www.hudsonfilmsociety.ca. Select the 'contact us' page and send a note.
The Film Society has asked Andy Thomson to chair the selection committee. Andy, whose father Arthur was a former Commodore of the Hudson Yacht Club and founder of the Hudson Music Club, grew up in Hudson and moved on to become very successful in the film world. He is a 40 year veteran of the film and television industry.
Andy began his career in 1968 with the National Film Board of Canada in Montreal and spent 17 years there as a director, producer and executive producer and received two Academy Award nominations during that period (Blackwood, 1976, and The Painted Door, 1984).
In 1986 he left the Film Board and went on to found Great North Productions based in Edmonton, Alberta. He served as President and CEO of the company until it was acquired by Alliance Atlantis in 2000 when it had grown to become the largest producer of factual programming in Canada.
From 2000 to 2005, Andy served as Executive Vice President, Factual Production for Alliance Atlantis based in Toronto. There, he supervised the development, production and distribution of more than one hundred hours of factual programming per year. In 2005, Alliance Atlantis exited the production business and Andy established Entente Entertainment and acted as an agent and consultant, helping factual producers find financing and distribution for their projects. In 2009 Andy retired from the film business but is still involved helping young film makers develop their projects. So aspiring film-makers will not only have a chance at winning but also benefit from the knowledge and wisdom of Andy's lifetime in the business of making films.
On June 4 at the Hudson Village Theatre we will get a chance to view many of the entries, all of which will be celebrating Hudson in some way.