Artists Peter & Traudl Markgraf
Peter and Traudl Markgraf developed the silk screen printing process that made them famous in their studio in Hudson Acres in the 1970s. They initially used the soft shading in non-objective abstarct works, but when they moved to BC, they were inspired to create the landscapes for which they are known. They retired in Hudson in the late 1990s to be with Hudson family and friends.
During a period of about ten years while living on the Sunshine Coast north of Vancouver, Peter and Traudl Markgraf printed about 200 editions of their own works, such as "Earl's Cove" below, and almost all sold out. The prints dealt with West Coast landscapes, sometime imaginary but often showing real, recognizable British Columbia scenery.
A typical edition was made up of about 100 signed and numbered prints as well as ten artist's proofs and two printer's proofs. The proofs were taken out of the print run at the beginning and end and at regular intervals during the run to make sure the quality was consistent. Each print received a handwritten number at the bottom left, the title in the middle and a signature at the bottom right.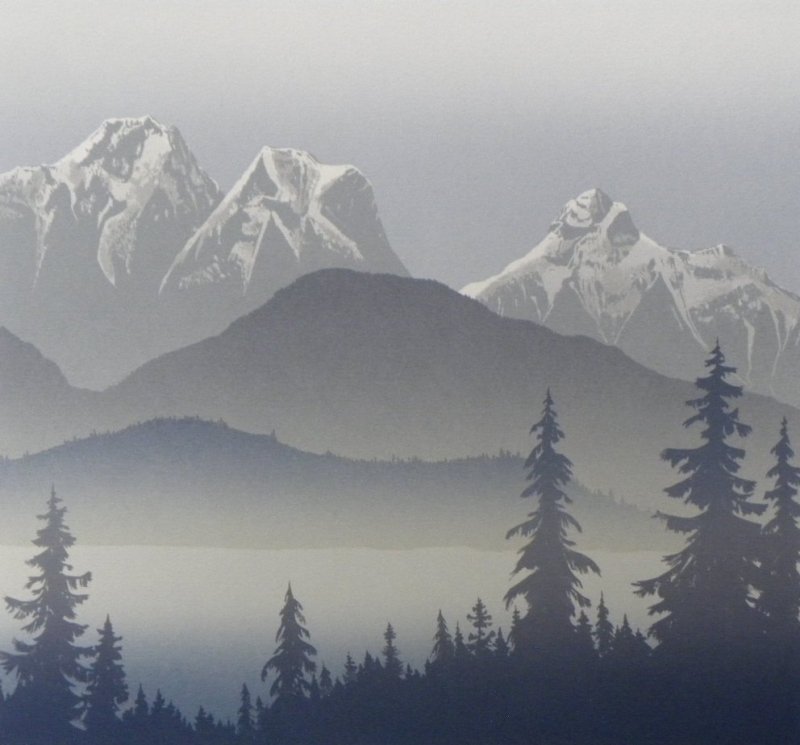 Peter and Traudl were born in Germany in the mid-1920s and spent most of the war as teenagers, although Peter saw brief military service in Italy and southern France. They studied art in Munich and met at art school. After the war they became pacifists and left Germany in 1957 when the German government re-introduced the military draft.
The family initially lived in Beloeil, east of Montreal, and moved to Hudson in 1962. Peter and Traudl built a unique A-frame house at the back of Hudson Acres to accommodate the large basement studio they needed to produce their work.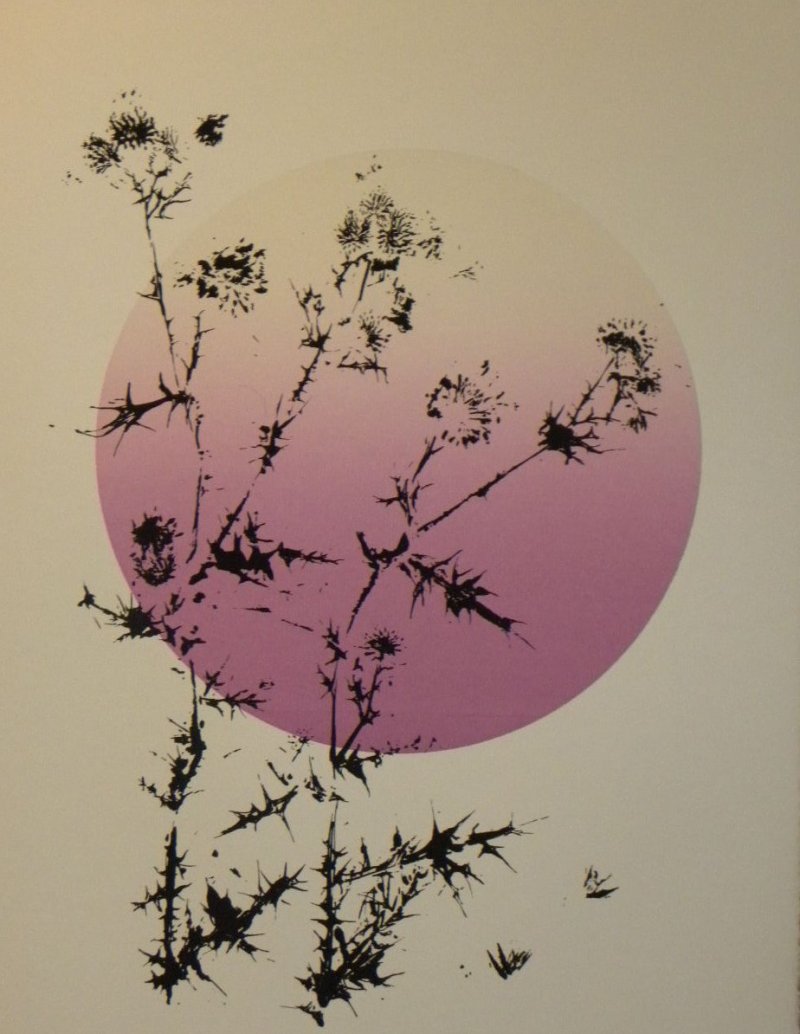 Canadians were just becoming aware of Canadian artists in their midst. The Group of Seven was popular and Quebec had a number of promising artists. While American and European artists could distribute high quality prints to familiarize the general public with their work, the Canadian market was too small for the publication of high quality art prints. Where the 5000 copies the American market might absorb was enough to cover the cost of the printing plates, the few hundred copies for the Canadian market were not enough. Peter and Traudl's silk screen process could make up to 400 copies without high up-front costs for printing plates and the quality was higher than with traditional off-set printing. An art publisher in Montreal, Artistica, was interested and the National Gallery's Queen's Printer also ordered a series of prints. Peter and Traudl started printing small editions of Group of Seven artists such as Tom Thomson and A.Y Jackson and Quebec Artists such as Alfred Pellan, Jean-Paul Riopelle and Jean-Paul Lemieux. For the 1967 Centennial, the Canada Council partnered with the Markgrafs to publish editions of new Canadian artists such as Molly Lamb Bobak, Jacques Hurtubise, Jack Bush, Guido Molinari and Joyce Wieland. The resulting prints were not only accurate reproductions, but because they were made by hand, they often captured the spirit of the original paintings. The National Gallery considered them works of art in their own right and still maintains a collection of Markgraf prints.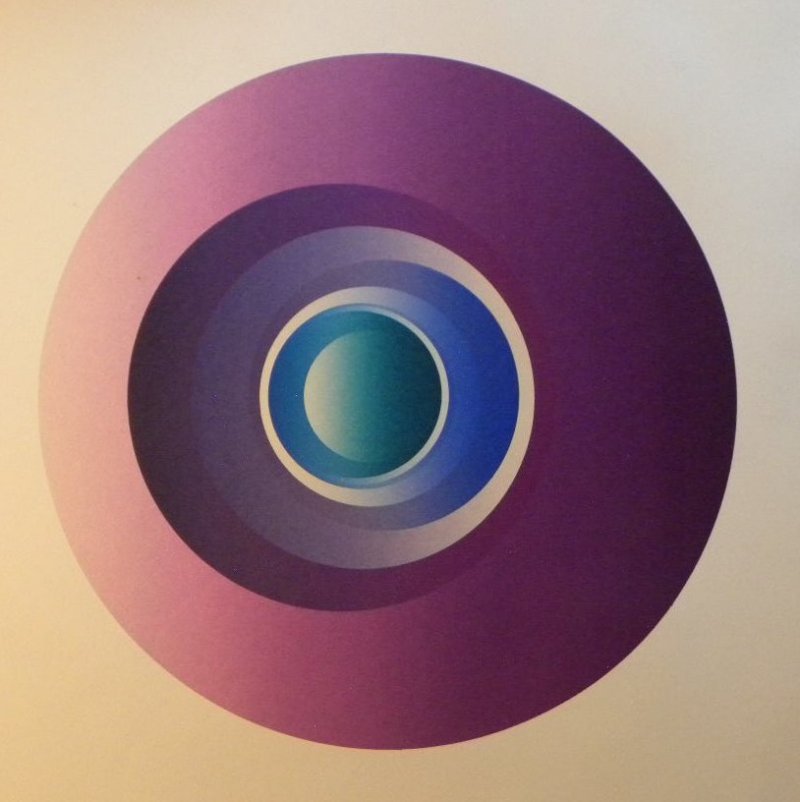 While working on these reproduction prints in their Hudson studio, Peter and Traudl started to develop their own unique techniques. Silk screen printing traditionally gives hard edges and fading is accomplished by overlapping many different shades. Such fading is never completely smooth and even the high quality offset printing of the day had trouble achieving completely smooth transitions. The eye tended to see lines wherever there was even the slightest imperfection. For reproductions this was not critical since the original paintings had lines of colour, but for their own work, Peter and Traudl wanted transitions without lines.
Once they had perfected the process, they applied it to abstract works such as "Thistle" and "Sphere." On the one hand they found that they could get compelling three-dimesional effects with the shading but they had trouble applying it to non-geometric shapes. It didn't seem realistic when used in landscapes or recognizable images. The new prints were not very popular. Their publisher, Artistica, sold a few but there was not much demand.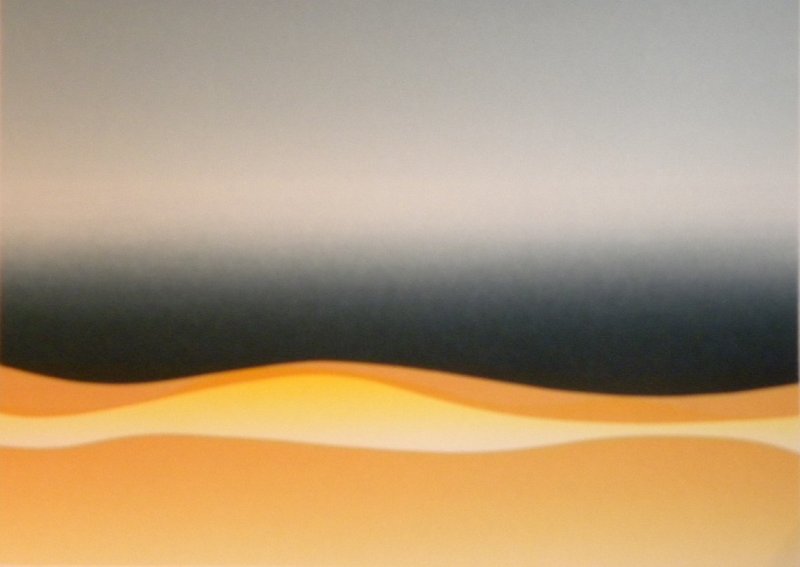 In 1976, the new Quebec government took control of arts funding in the province and decided reproductions were out. Artists would receive support directly for producing new works. When Peter and Traudl had visited artists before, they had always been keen to have their work reproduced but now they were no longer interested. With the National Gallery in Ottawa out of the picture as well, Peter and Traudl were short of work. They decided to relocate to BC and start doing only their own work.