Click on the blue links below for magazine content.
Hudson Music Club "ABBA"
The Hudson Music Club produces one major musical per year, usually at the Hudson Village Theatre. The shows feature singers and actors from the community and offer opportunities for on stage and backstage exposure to musical theatre.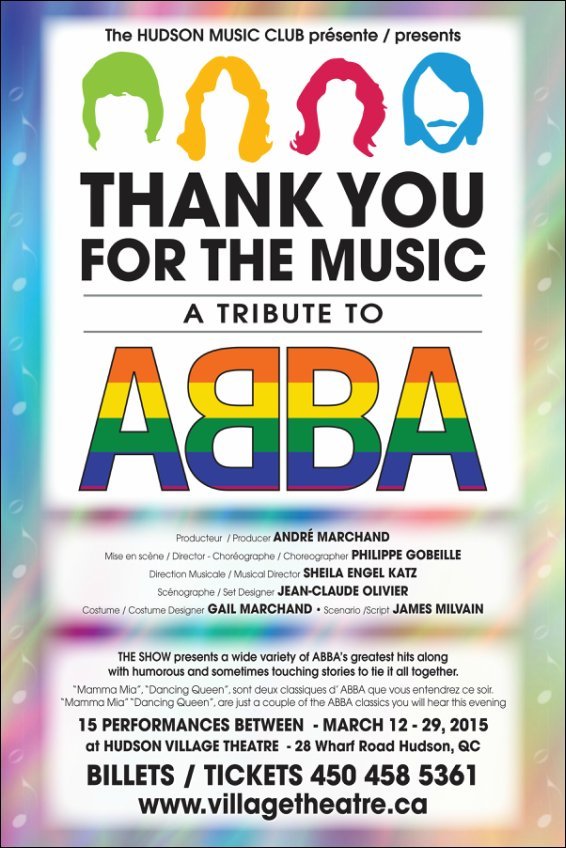 THE SHOW presents a wide variety of "ABBA's " Greatest Hits along with exciting dance numbers, memorable harmonies and humorously touching stories, to tie it all together.
ABBA CAST
ACTORS
James Milvain
John Wilson
SINGERS
Ladies
Kim Beaver - soprano
Bertha Bisanti - soprano
Jennifer Boire - soprano
Rachael Crux - soprano
Irina Ghitulescu - soprano
Shelley Hall - soprano
Elizabeth Machado Vieira - soprano
Tanya Hassanein - alto
Alexandra Larcombe - alto
Catherine Leroux - alto
Gail Marchand - alto / tenor
Katherine Potter - alto
Jamie-Lee Saucier - alto
Men
Fred Gagnon - tenor
Peter Giser - tenor
Harminder Sodhi - baritone
Alan Switzer - baritone
Dan Wheeler - baritone