Art's Hudson
Art MacDonald is the nom de plume, or possibly nom de guerre, of the people acting as editor of the Arts Hudson magazine. Art is a character in his own right, an artist and a writer, with his own email address and website. Friend him on Facebook.
While summer has theatre and music, the fall sees the visual art, film and other groups gear up for their winter seasons. The Greenwood StoryFest is back with some early presentations that are already past, but you can still get tickets for Paul Thompson, Peter Behrens or Graeme Gibson. Margaret Atwood and Romeo Dallaire will also be presenting at StoryFest but are already sold out.

This issue we are featuring Ile Perrot artist Mandy Van Aarle. Works such as the abstract "Horizon" below caught our eye for their balance of both shape and colour. Abstract works often run the danger of being boring if they are too balanced and regular but Mandy's works achieve a pleasing effect while retaining your interest. Find more of her abstract works as well as other art on her pages.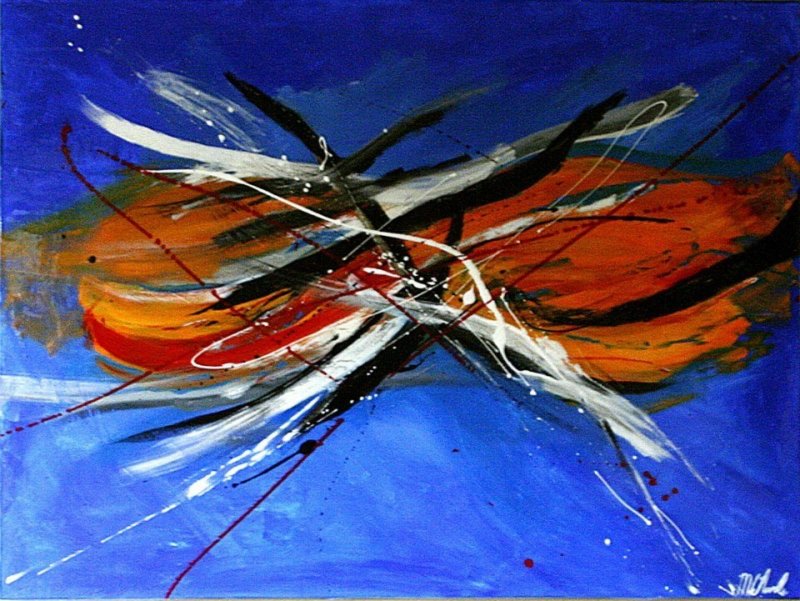 We are once again featuring a Pure Art project, this time in Guatemala. We think it is fantastic that Brigitte has located her boutique in Hudson and given local residents the opportunity to enjoy art from developing parts of the world while helping local people there improve their standard of living.
In this issue the Pure Art Boutique is presenting the Guatemala Communities of the Earth "Wakami Villages" Project. Rural women in Guatemala use ancestral weaving techniques to craft necklaces, bracelets and jewelry which the organization brings to world markets through partners such as Pure Art. Over 300 women participate at present and the revenue from their art allows them to substantially improve the lives of their families.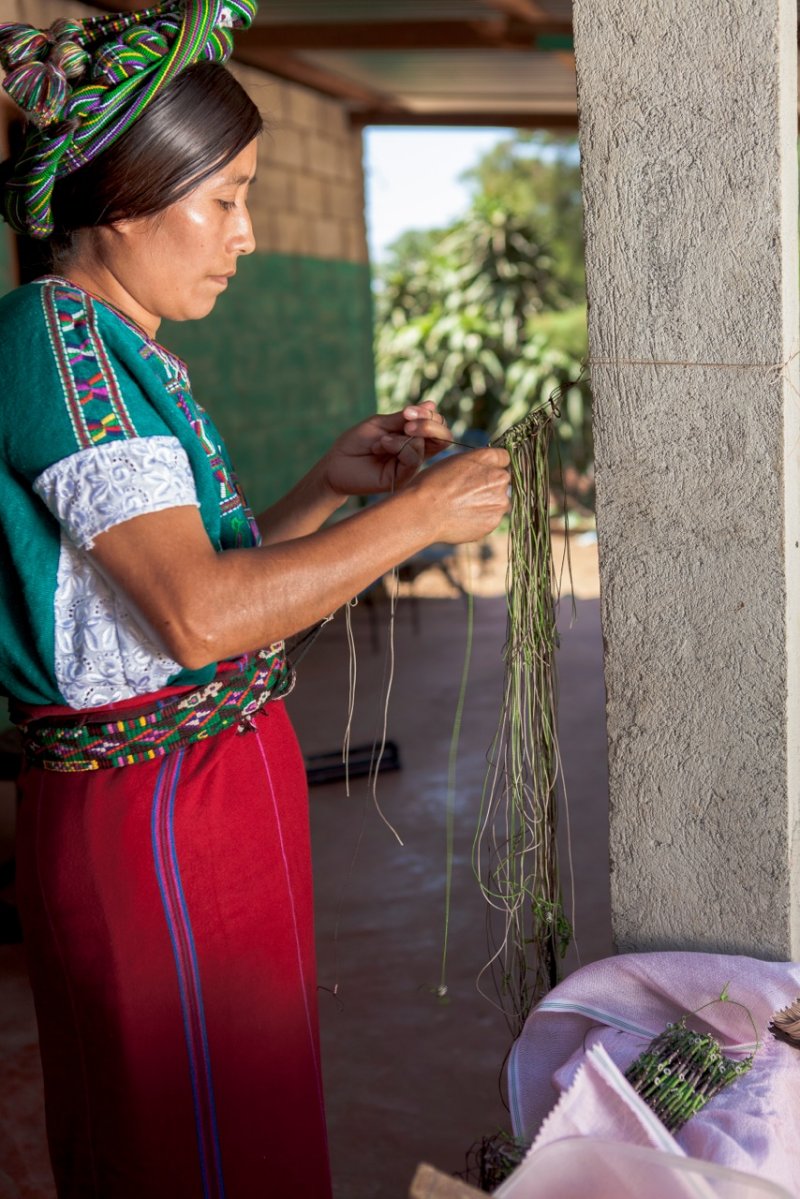 The Hudson Film Society brings the details of its fall season. Three films are on tap before Christmas, and on the film society web page you can also see the opera videos that the society offers.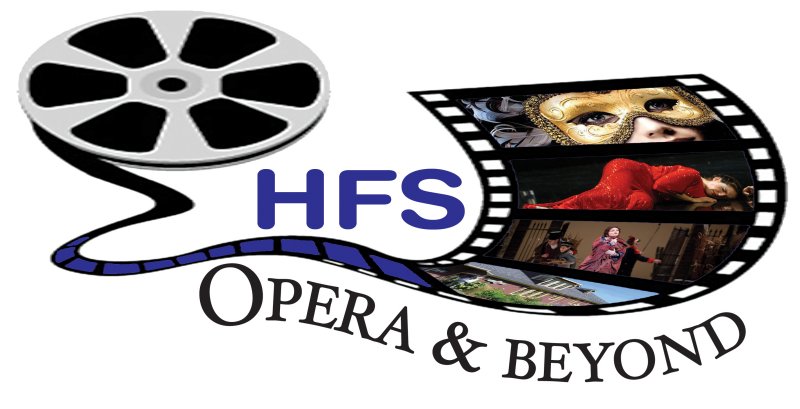 The October film, Algonquin, combines a family story with a starring role for the landscape of Algonquin Park, a few hours up the Ottawa highway from Hudson. Don't forget that this film, during the Thanksgiving weekend, is re-scheduled because Margaret Atwood, taking part in StoryFest, took over its usual slot.
Village Theatre is gearing up for the fall season under a new artistic director, Matthew Tiffin. Although the main responsibility of the Village Theatre Artistic Director is the professional summer season, he will also have input on a lot of the decisions that are made during the winter. Predecessor Heather Markgraf programmed a top-notch season for 2014 and ticket sales were way up. As a result, the new artistic director can work with an organization that is back on a firm financial footing going forward.
To prepare for selecting his season, Matthew has already auditioned local actors for possible roles in next summer's plays. During his previous time in Montreal, as part of the Gravy Bath troupe, Matthew initiated some innovative but not always financially successful theatre. He is already getting to know the Hudson audience to find out what will work here and what type of theatre can reasonably be expected to attract an audience. Village Theatre has never received extensive funding from governments so the costs of productions must be covered through fund raising and ticket sales.
In the meantime, tickets are already on sale for the annual Bowser and Blue shows, the Christmas show and the Pantomime. Since they first appeared at Village Theatre, Bowser and Blue have usually sold out their shows in Hudson. When Heather first approached them about playing here many years ago, they were initially hesitant and not sure what to charge. They settled on doing one show as a trial. When the tickets immediately sold out, Heather called them back and asked whether they would do a second show, then a third and a fourth. Get your tickets right away because they are again likely to be scarce.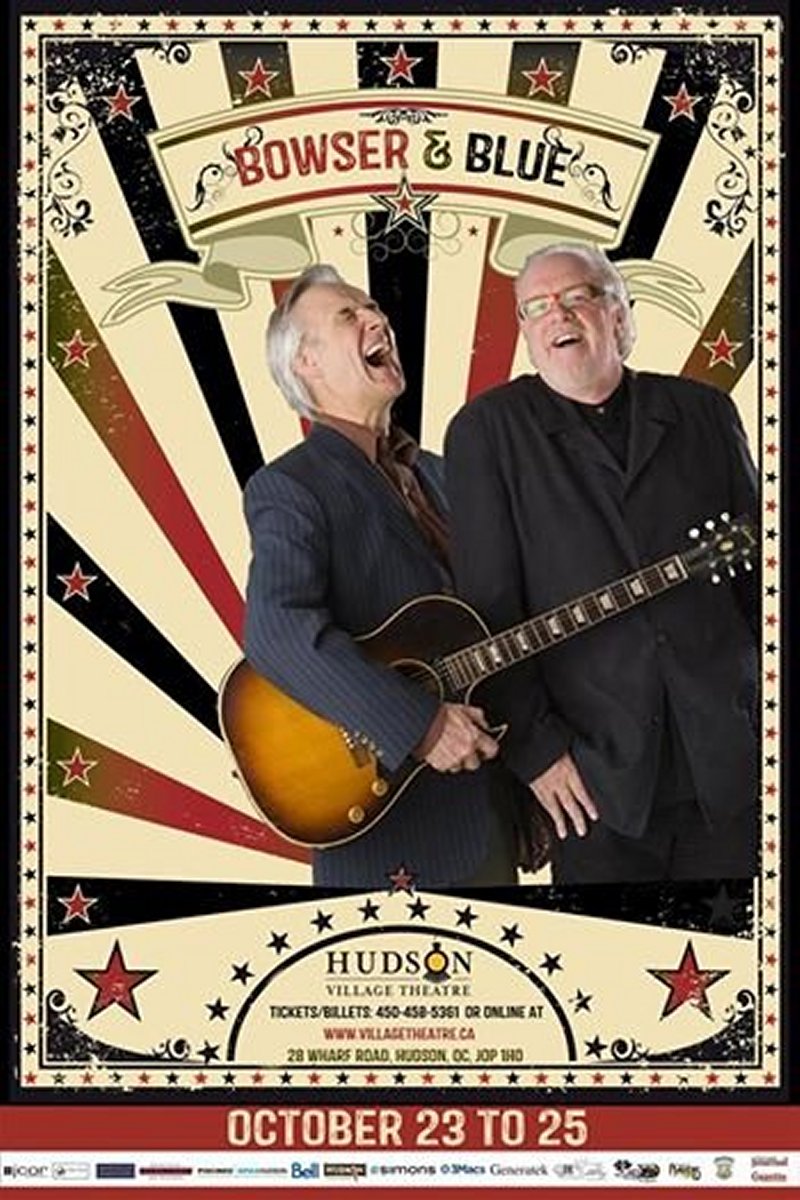 When he is not immersed in film, Film Society president Clint Ward sometimes looks for projects in theatre. He has written and is producing a musical presentation he calls dramatic music entertainment, under the title "Spitfire Dance" (see menu on left for details). The piece combines the stories of women pilots in World War II with songs from the era.
Clint staged several readings of the work in Hudson and now, with musical director Brian Jackson and local actors Karen Cromar and Glen Bowser he plans to open the show at the theatre in the War Museum in Ottawa and subsequently bring it to Hudson Village Theatre. Look for tickets on the Village Theatre website.
For more information on the opera series and the other shows planned for this season, please see the menu on the left.
Don't like to read on the computer screen? You're not alone.
Pick up the current issue at outlets such as Pure Art and Village Theatre in Hudson, hotels in Vaudreuil and Rigaud and at many other outlets in the area. You may also subscribe by sending a cheque for $15.00 and your address to Arts Hudson, P.O. Box 415, Hudson, QC J0P 1H0 or pay by credit card or PayPal at Subscribe