Featured Artist - John Vazalinskas
John Vazalinskas is a West Island artist who is active in Hudson arts organizations and who has sold works to Hudson residents. He paints landscapes that combine realism with his own style to create powerful Canadian images. Additional works are at vazart.ca .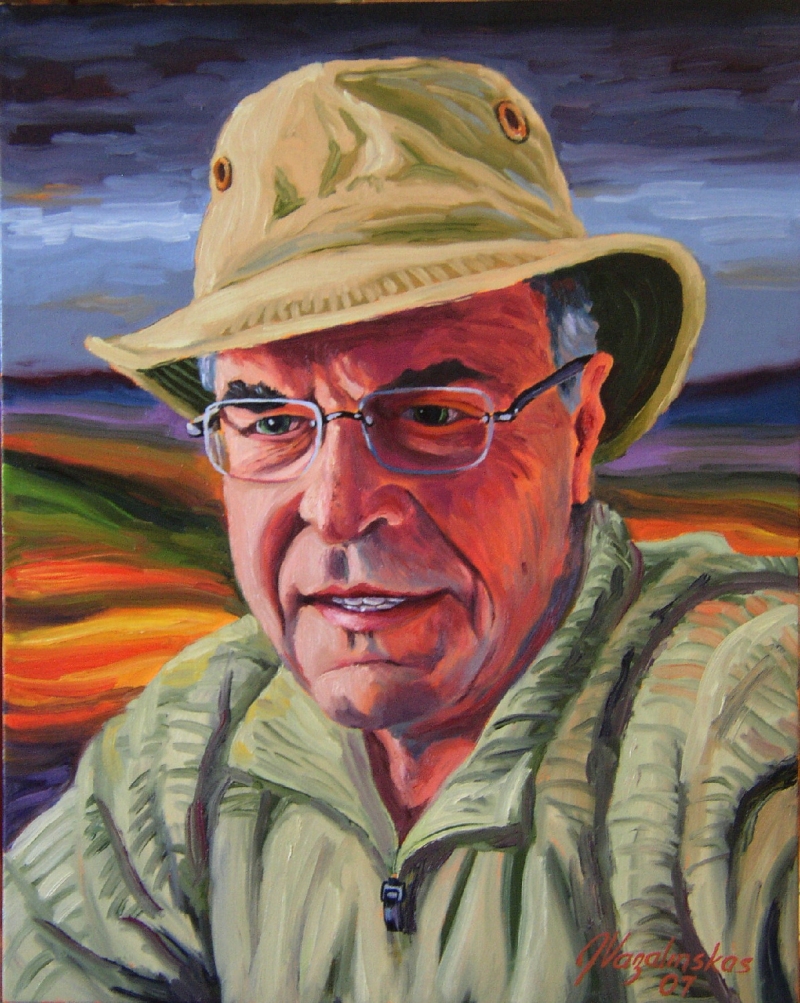 John Vazaninskas goes out into the landscapes that he paints and looks for the scenes we all know are there but that we seldom see. He takes wilderness, seascapes or urban scenes and extracts the essentials, emphasizes what makes them unique and brings us recognizable Canadian imagery.
Where many artists today work from memory or photographs, he paints live, with the scene in front of him. Perhaps that's why you can feel the cold in some of his winter scenes and the tangy air of the seascapes - those influences were there when he created the works.
As if to highlight his way of working, John shows us pictures of him working on paintings in the scenes which he is painting. A fun way to bring us closer to the creative process and to see what he does to make the scene memorable.
The self-portrait above demonstrates his approach. He emphasizes the features he considers important. The colours are vibrant and the brush strokes deft and clear. Like the pure and white snow of the paintings, the straight pines, the steep hills and the bright skies, the paintings distill the essential elements of the scenes.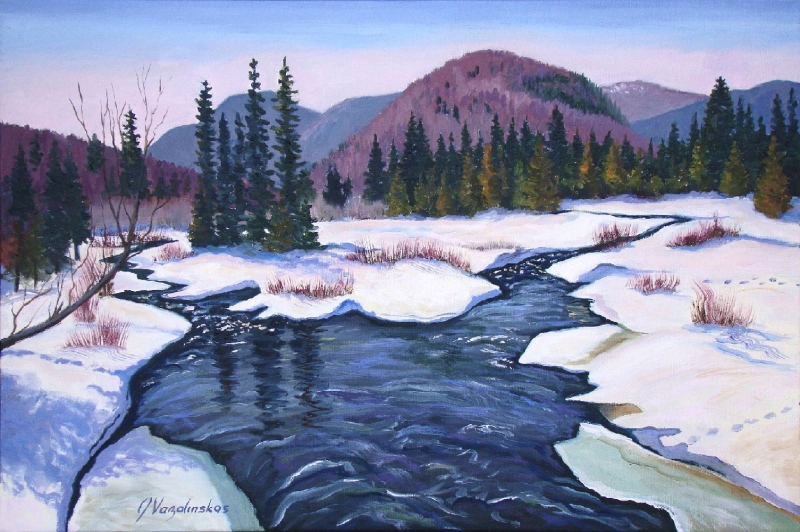 Above is the painting "Pointe aux Bouleaux." John painted it standing on a bridge that crosses the creek. In reality, the forest forms a solid wall in the background, but the painting isolates the elements that make up the scene. The clumps of pines become individual trees, the edges of the creek become more plastic and icy and the distance is brought closer. It's as if John recognizes the universal and Canadian qualities of the scene and places them on his canvas for us to recognize and remember scenes just like it, from our own visits to the areas where he paints.
On the following pages you can read more about the artist and his work and see where he paints, how he paints and where his works can be seen and purchased. In addition to leaving a message on his website, you can reach John at ijvazalinskas@videotron.ca .