Featured Artist Vivianne LaRiviere
Featured artist Vivianne LaRiviere lives in St. Lazare where she pursues her many artistic endeavours, including music composition and performance, drum making, workshops in spiritual guidance and her painting. She moved to the Hudson area in 2008 and operated The Songroom studio in Hudson before moving it online and now bringing it back as part of a new studio space in one of the buildings on the property she rents on Cote St. Charles.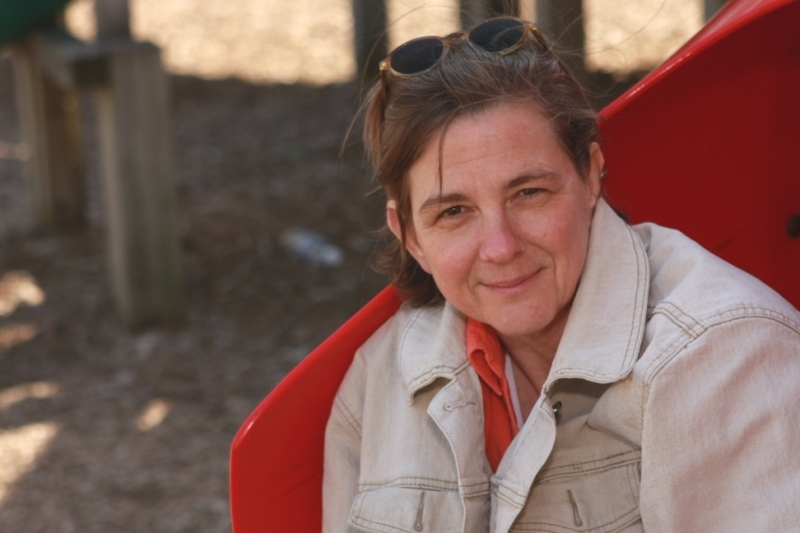 Vivianne does some of her work in acrylic and is experimenting with other media to find what works best for expressing herself. Below is one of her works, titled "Sunrise, Sunset." Many of her works exhibit religious influences, however she would emphasize the spiritual experience of such influences as opposed to the doctrinal effect of structured religious thought.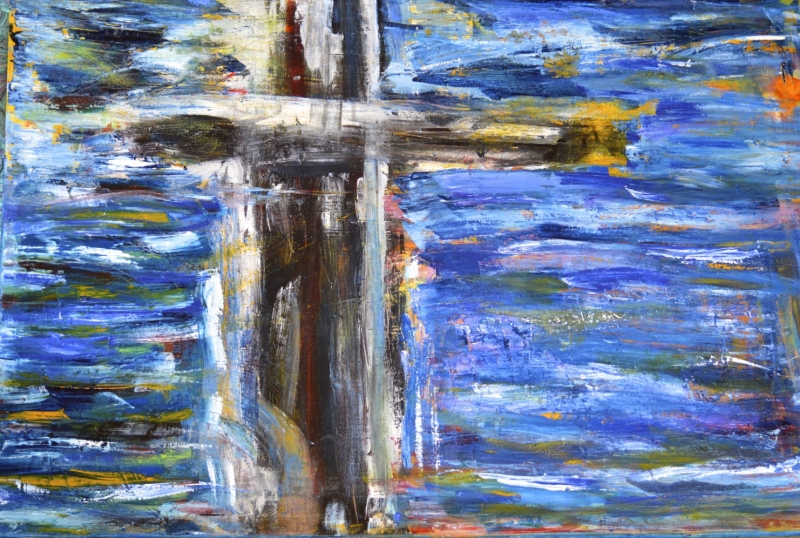 Where the figures in many of her works sometimes have an indication of a halo, the cross in "Sunrise, Sunset" is more ambiguous. The two crosses, or a cross and its shadow, taken with the title and the lack of a figure on the crosses make you look for other meanings in the work. Most of her paintings work on several levels in this way and, while she may have specific interpretations, she also says that paintings sometimes have to be experienced wordlessly, to be processed organically.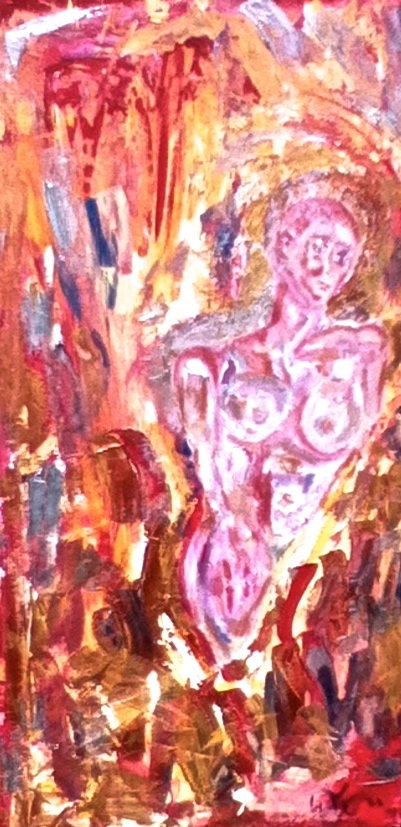 The painting above is titled "Fire," and along with the paiting "Fence" below, it showcases Vivianne's use of colour. Where "Fire" uses dark colors to bring out the shape of the figure, which is either dancing in the flames or being created by them, the fenceposts get their shape from the use of colour on each post. The posts maintain their perspective despite having patches of unusual colours in unexpected places. The orientation of the fence might make you think it serves to keep something away on the other side rather than keep the viewer in. The fence posts seem quite massive, to withstand some very strong force. Like "Fence," Vivianne's paintings lend themselves to various interpretations, depending on your own experiences, inner life and unresolved issues.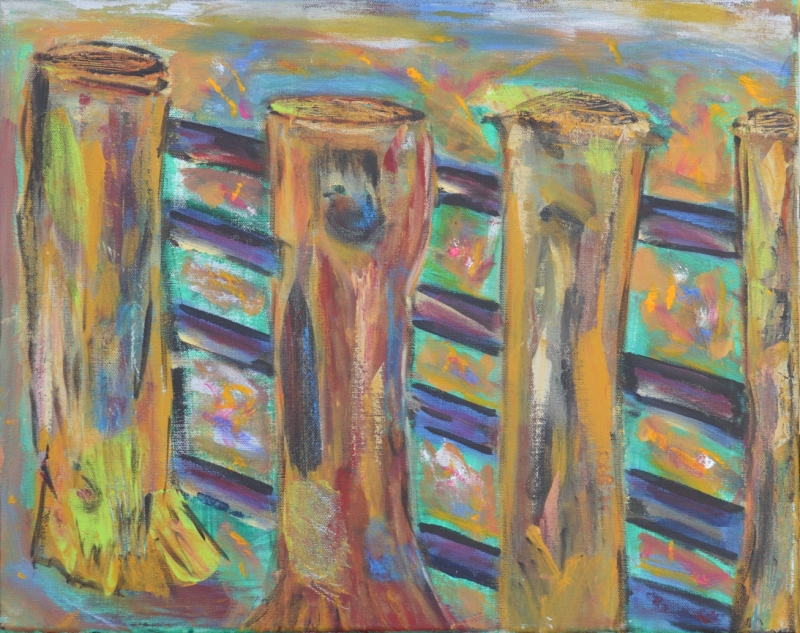 The painting below is titled "Armand," after one of the main characters in "The Vampire Chronicles" series of books by Anne Rice that Vivianne read years ago. When Vivianne discusses her paintings, it seems that she paints them first, from inspiration, and then examines her thoughts about the work and what it could represent. She wonders whether the portrayed figure could be Lestat, the vampire of the title of the books. Perhaps it is Louis, Lestat's lover. Although she calls the work Armand, she thinks that the figure is a composite of all three fictional characters.
When asked whether she sees herself in the figures she paints, she agrees that it is an element of her work and adds that she often wears black turtlenecks. She believes that her work reflects the people she has met, the places she has been and the relationships she has formed. Her abstract images integrate all these influences and show a composite of what went before. With regard to "Armand," Vivianne thinks he may be about to speak. She thinks this composite includes influences from her studies, her spiritual life and what is happening with religion. Her figures usually have their mouths closed, she says. Armand looks as if he has something to say.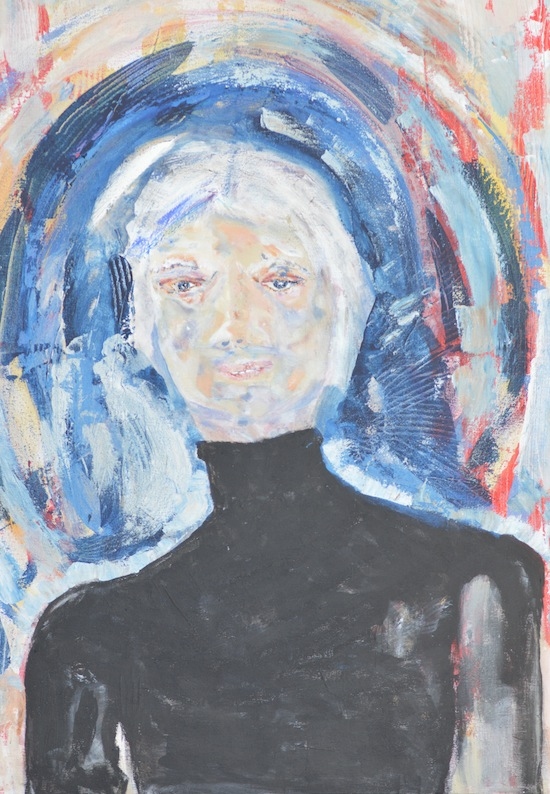 The painting below, titled "Marbles," represents another of Vivianne's styles, focusing on a circular theme and complementary or contrasting colours. "Les Seins de Mes Meres" on the following page is another example. In both cases, Vivianne's titles affect how you see the piece. This helps give expression to the work when it is non-objective, but if you look carefully at "Armand" and "Marbles", you see some of the same circular motions. It's as if sometimes the arc of creation has a face while at other times it is still at work, and what it will come up with is not quite clear. This matches Vivianne's own approach to her painting. After enjoying success with her music, she has become more passionate about painting over the last several years. She is analyzing her work, seeking out comment and criticism, and delving deeper into the intricacies of her interpretations. Her new studio in St. Lazare will help her develop further her complex approach to expressing herself through art.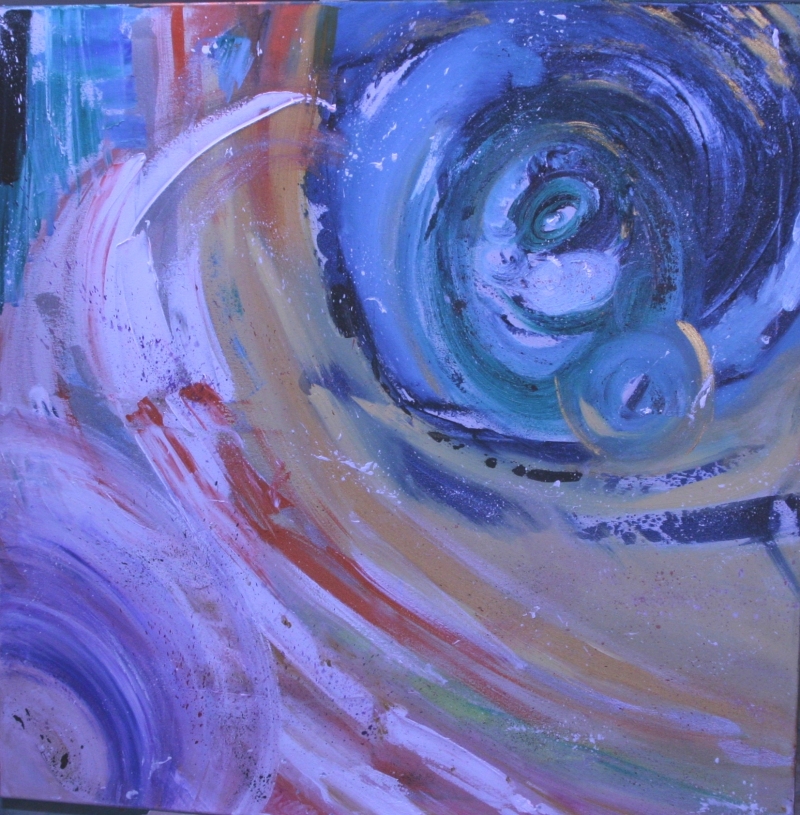 While Vivianne's figures are complex and impressionistic, some of her works are more abstact as seen above in the blue "Marbles and on page 2 (below) in "Les Seins de mes Meres." Her landscapes are simpler and more recognizable. She says she paints what she sees and she sees her figures in her mind's eye while she sees her landscapes in front of her, sometimes working from actual views or photographs she has taken.
Her figures, such as "Armand" or "She Came in From the Dark" on page 2 (below) are more complex on a psychological level as well. Vivianne paints them but then looks at what she has created and sees composites resulting from multiple influences. She regards them as expressions of the compexities of her life, her relationships, nature, archetypes and theology and interprets them accordingly.
page 2