Featured Organization - Pure Art Boutique
The Pure Art Boutique has opened in the old Leggs building. Its motto is "Shopping with a Purpose" and it collaborates with the Pure Art Foundation to provide education, water, health care and housing in developing countries. Proceeds from the sale of art help support this goal.
Pure Art Boutique, 422 Main Road, Hudson, QC, 450.458.1115; pureart.ca
MAASAI ARTS - HEALING HEARTS
PAP (People-Art-Project) - The People
The fabled Maasai, known for their intricate, beaded jewelry, are historically considered the most powerful and feared tribe of Sub-Sahara Africa. Many words describe these proud people...tall, exotic, noble, aristocratic, and independent. They are, without doubt, the "archetypal" African tribe with strikingly distinctive customs and dress, making them the best known of African ethnic groups. The Maasai (also spelled Massai and Masai) are a semi-nomadic people, warriors and cattle-herders who migrated to East Africa from the lower Nile valley, by way of Sudan, in the beginning of the 15th century.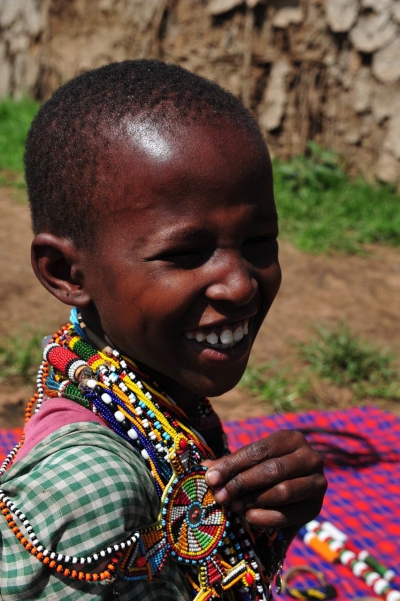 By the 19th century they reached the largest number of people and covered most of the Great Rift Valley in Northern Tanzania and Kenya. Today however, over 900,000 Maasai remain marginalized from the mainstream and are confined to certain "districts", as much of their lands were taken for wild-life reserves and game parks. They stubbornly refuse to abandon their traditions and way of life, collectively choosing not to join the process of modernization, and live without electricity and running water.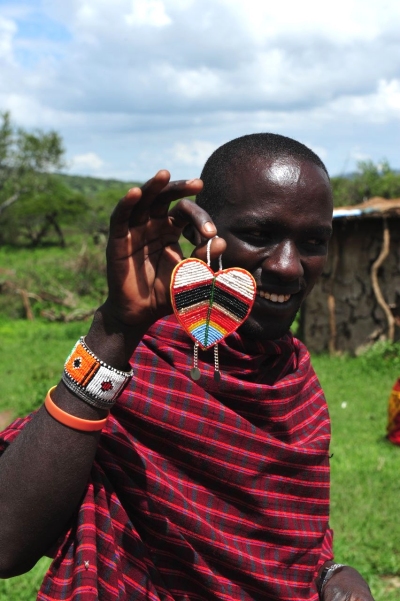 Culturally, the life of the Maasai centres around herding cattle, primarily for milk, and they engage in very limited cultivation. Their beautiful beadwork promises substantial income for families and preserves the colourful culture of these intriguing people.
The Art
The traditional Maasai is readily recognized by the special red cloth they wear, called a Shuka. Compelling jewelry pieces accentuate their over-the-shoulder robes, in the form of multiple bracelets, worn both on wrists and ankles, multi-layered necklaces and long multifaceted earrings. The small colourful beads have become a strong symbol of their traditions and now form many house-hold items from coasters to bowls, as well as a myriad of decorative ornaments which utilize thin wire to take shape.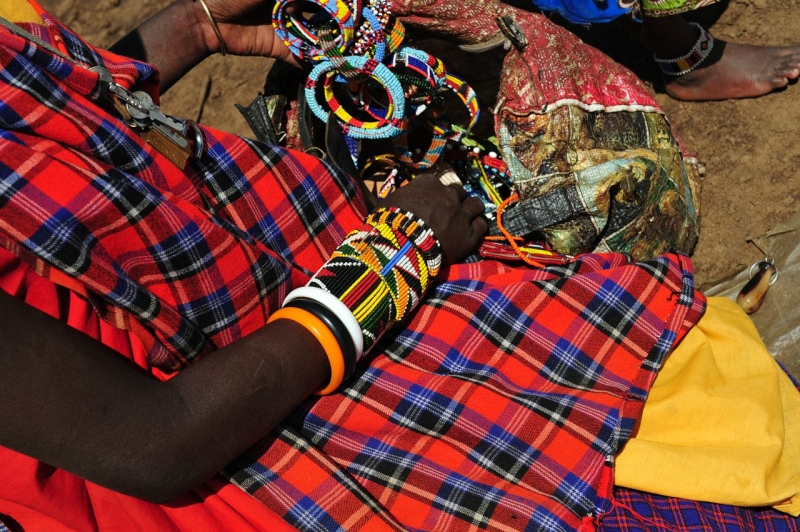 Maasai beadwork carries messages. For example, the patterns and colors of a bracelet will be decided by women beaders based on where they are from and the age group the piece is intended for. Bright color fields in the jewelry are not large and are divided by contrast colours, and similar colours rarely appear next to each other. A darker or brighter field always divides the fields of color. Maasai jewelry celebrates the harsh contrasts of their lives and embraces this natural state in a healing way. They find comfort in the notion that there must be night if there is day, sun if rain, and peace if war. And when those two opposites stand next to each other, in their eyes it is beautiful.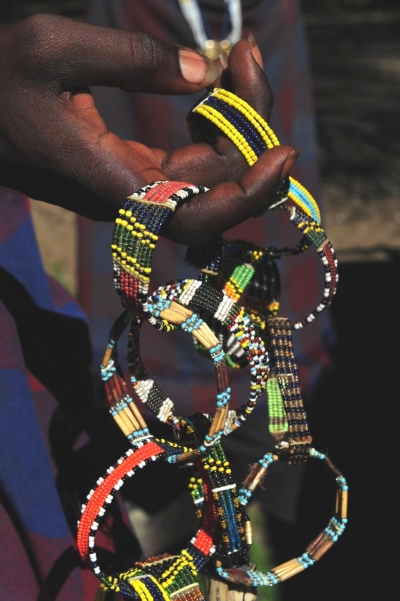 The Project
The primary source of income for the Maasai has always been cattle, goats and sheep and has been central to all aspects of their life. The wealth of a Maasai has traditionally been measured by how many cows and children a family has. With current government imposed land restrictions, the reduced cattle per household is severe. Maasai society, once proud and self-sufficient society, faces many grave social-economic challenges. The level of poverty among the Maasai has reached an unconceivable peak, and their future is uncertain.
Today the Maasai economy is increasingly dependent on new sources of income, as grazing land diminishes and livestock is sold for school uniforms, grains and beads. To lend support for their struggle, the Pure Art boutique in Hudson provides our community with the opportunity to experience Maasai beaded jewelry in the store. Purchases will support Maasai artists in Africa, but also directly impact on the Pure Art Foundation collaborative efforts in Tanzania where specific projects are in place.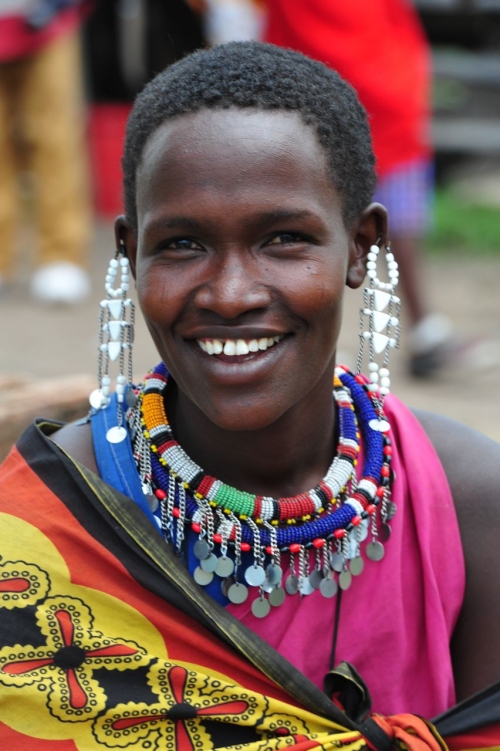 In particular a new STOP (Screening Tanzanians Offers Protection) program which has begun to provide much needed cervical cancer screening for Tanzanian women, through a mobile-clinic project near the base of Mount Kilimanjaro . Come and visit Pure Art and learn more about the women's groups who bead in their communities, a world away. Fair trade exchange here helps bring hope, prosperity and healing to the remarkable people who are the Maasai.
Don't like to read on the computer screen? You're not alone.
Pick up the current issue at outlets such as Pure Art and Village Theatre in Hudson, hotels in Vaudreuil and Rigaud and at many other outlets in the area. You may also subscribe by sending a cheque for $15.00 and your address to Arts Hudson, P.O. Box 415, Hudson, QC J0P 1H0 or pay by credit card or PayPal at Subscribe