Jeweller Charles Becker
Charles Becker is a jeweller living in St. Lazare. In his studio he can design jewellery, cast the required pieces and set the gems. He has travelled extensively to the mines and sources of gem stones and pearls around the world. Contact him at (514) 861-4915.
Charles Becker has travelled the world looking for and buying gems and pearls; Mexico for opal, Thailand for sapphire, ruby and pearl, India for amethyst, moonstone and aquamarine. Further down we feature one of the stories from his travels and a picture of a ring he made with a saphire from Thailand. The saphires are panned in rivers and then sold in markets as shown in the accompanying pictures.
Charles works in his tiny studio in Montreal where he casts, cleans and polishes his jewellery and set his precious stones. He only works with gem-quality materials and often lets the materials and stones guide him in his design.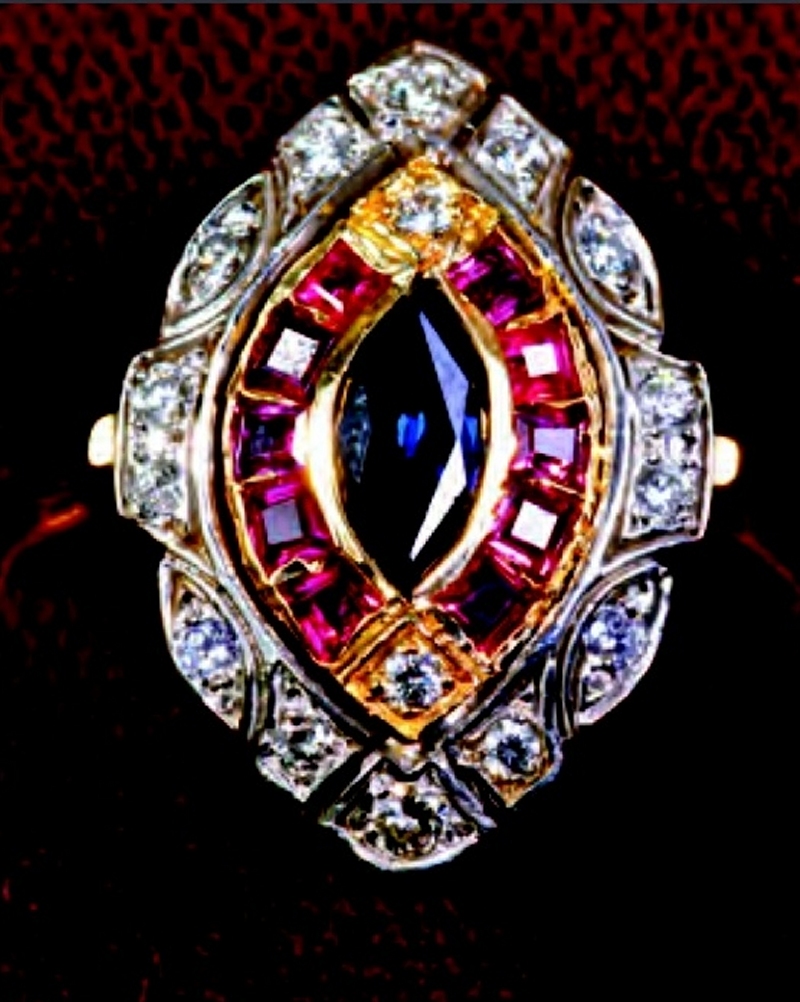 One of his favourite pieces is the ring shown above. It has a saphire in the middle, surrounded by rubies that Charles had to cut to shape carefully so they would fit in an arc around the centre stone. At the top and bottom are clusters of diamonds set in gold, and around the edge are more diamonds set in white gold. The piece is about three quarters of an inch from top to bottom.
Charles started working as a silversmith at the age of twenty and sold his work in one of the lanes in Old Montreal. His first polishing machine was powered by a motor he pulled from a junked washing machine. As he assembled the machines for his workshop and gained experience, he mastered the various techniques required to design and produce high quality jewellery.
Today, he says he can make absolutely anything. Customers can show him a picture, a drawing describe what they want or refer to a historical piece and Charles can produce it. Some years back he made precious miniature jewellery for dolls and would design and make tiny rings, crowns, candleholders and other pieces. One of his favourite miniatures is a tiny Ark of the Covenant which he researched and reproduced according to information he found in the Bible and other historical documents.
Charles was on the Studio Tour last year, showing his work on Mount Pleasant, and he will be back again this year. He can be reached at:
(514) 861-4915
or by email at charlesjeweller@gmail.com
Shower in a Waterfall
It was a typical hot and sunny day in February when I heard about the giant waterfall. I was living in Chalalai at the time. I had a ninety day visa from the Thailand government and intended to use all of it. I was there to buy sapphire rubies and maybe pearls of colors you will never see elsewhere. My new friend Mung told me of a place where families go on weekends to picnic and bathe. As it was Tuesday I thought I could have the place to myself. You'll soon see why I'm bringing this up now. Chalalai is a very small village a days walk up a jungle road. Yes, just like in the movies. There was no telephone line anywhere nearby.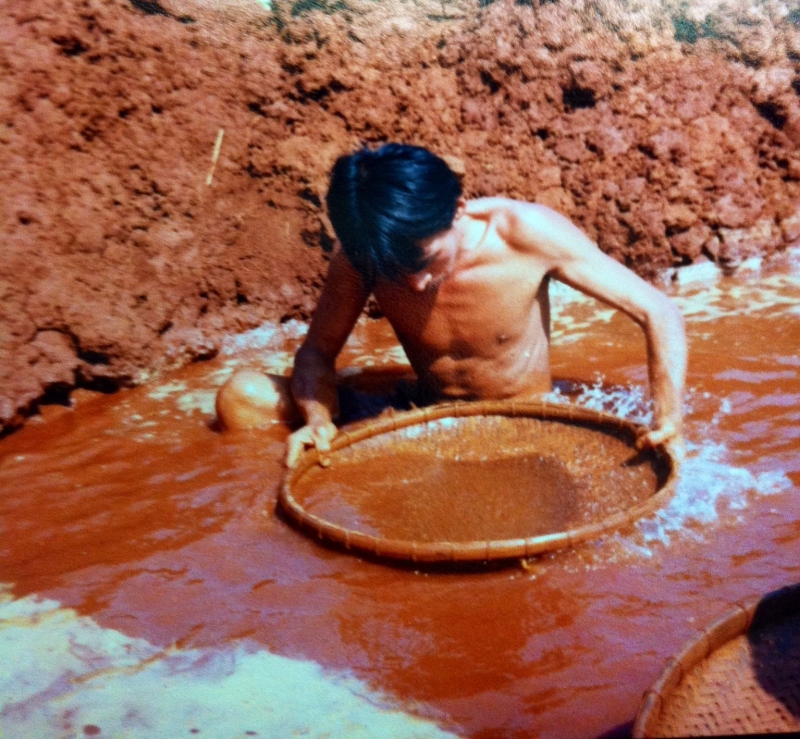 The next morning at six o'clock a.m. I jumped onto the back of a flatbed truck with benches bolted to the bed. I had a note for the driver written by my friend. It basically said "don't let this guy get too lost." About ten miles later the driver let me off the bus by the side of the road near a river. He pointed to his watch then held up six fingers. He pointed to the trail and although I didn't understand much Thai, his tone of voice and the good natured laughter from the back of the truck made what he said fairly clear.
Fifteen minutes or so walking along the trail my path intersected another. There was a young girl waiting there. As I approached she smiled as all Thai's do and said, much to my surprise, "You Mung friend?" Yes, I said (Tok Long) She signaled that I was to follow her. The walk was about ten minutes long, which gave us a chance to speak to each other with the help of my dictionary. It takes a little patience but you can look up three or four words to make an intelligent question or answer. I always buy a dictionary that also works in reverse for your new conversation partner.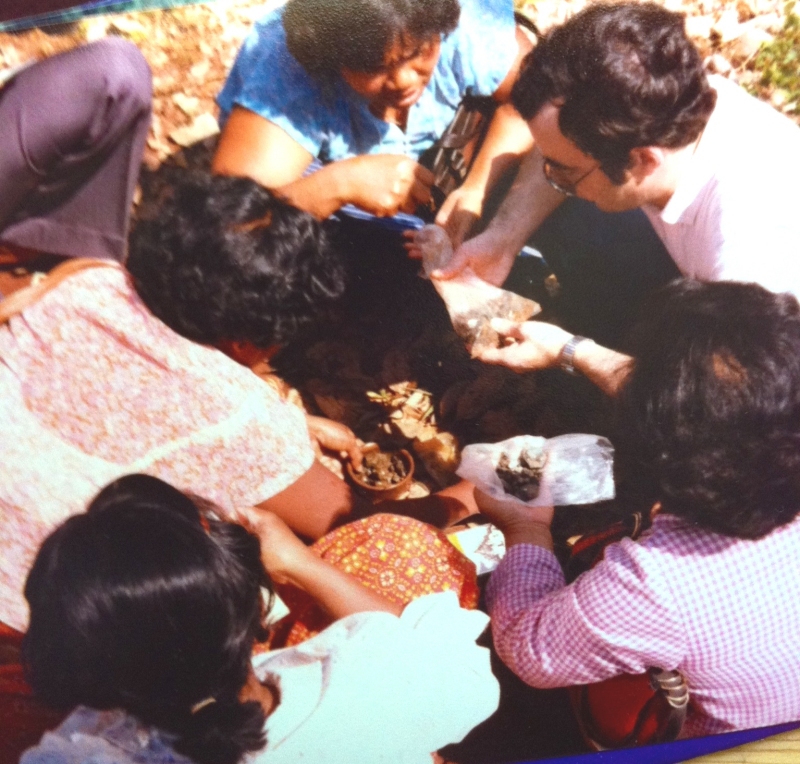 We arrived at a small, neat wooden cabin in the clearing filled with flowers and fruit trees. Of course in front of the house there was the ubiquitous Buddhist shrine with offerings of flowers and bowls of fruit. In front of the house a table had been set with a delicious hot breakfast for me, soup with an egg and shredded pork whipped into it, as well as vegetables and rice.
The girl's grandmother was all smiles and talked a mile a minute while her granddaughter quickly found words in the dictionary so that I could follow what she said. We all enjoyed that breakfast immensely. When we parted "grandmother" (YAI) gave me a parting gift. It was a segment of bamboo shaved very thin so that you could peel it like a banana. It was stuffed with sticky rice with chopped nuts and highly spiced. Soldiers carry this into the jungle. The rice keeps for several days and is nutritious and quite delicious too. As I continued my walk I mulled over how the heck had these fine people known I was coming?
There is a phenomenon known as the "jungle telegraph". You soon learn that when you are in the jungle there is always someone who knows where you are and what you are doing. No-one can explain this "telegraph" but in a small community news travels very fast.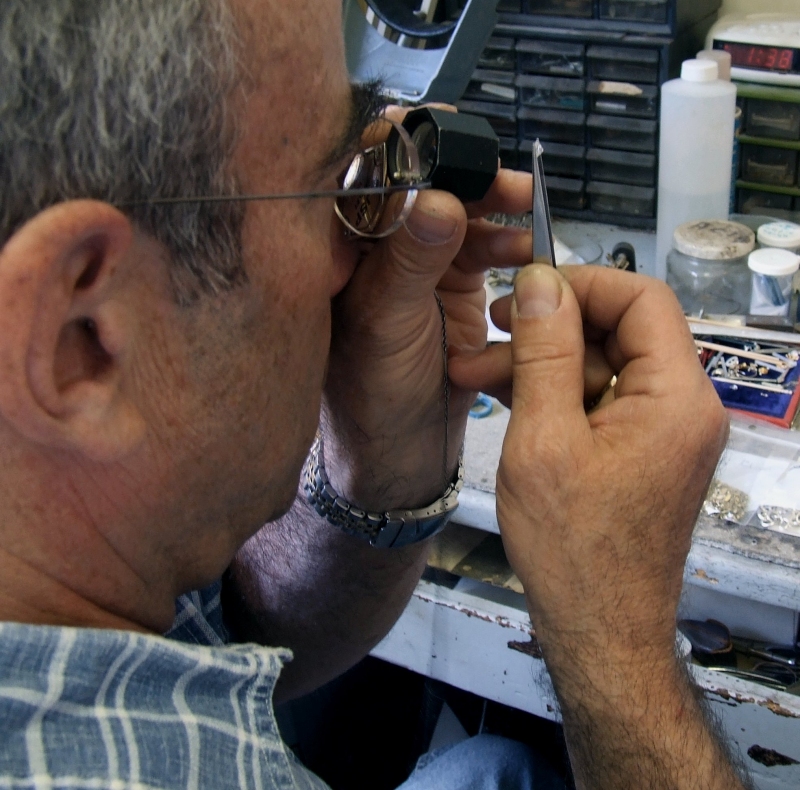 Well, I got to the clearing and what I saw was truly enchanting. By Niagara Falls standard it wasn't much of a giant water fall but what it lacked in grandeur it more that made up for in sheer beauty. Oleander and Bougainvillea like blooms abounded everywhere around the clearing edge. It was about the size of half a football field and brightly colored birds squawked and flitted about in surprising numbers. At one end of the clearing, cascading off a thirty foot cliff was the giant waterfall, a full twenty feet wide, beautiful and happy and full of white foam. At the base of the falls was a huge, deep, cold pool. The jungle reflections made the water look emerald green but it was actually crystal clear.
I shampooed and washed by the edge of a cascade and held my face in my hands while the water pounded on my head to rinse my body squeaky clean. That day I read, swam in the pool and daydreamed. I ate sticky rice and the fruit I had brought. At one point I was joined by six young girls who came to sit and soak their feet in the pool, their skirts tucked demurely and lady-like around their legs. They talked and giggled a lot and you can be sure much of their happy banter was teasing me. We all waved goodbye and called to each other when they left.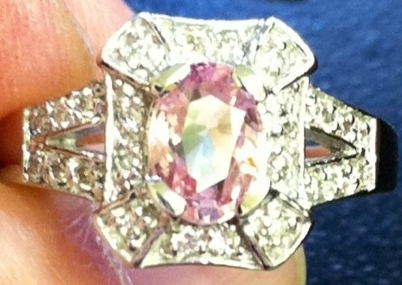 At six o'clock the truck/bus pulled up for me. There was a cheer and a lot of laughter that I had found my way back. They may have thought they would have to go looking for me. They would have too if I hadn't been there when I was supposed to be. When you live in a small, out of the way community, your survival sometimes depends on your neighbors. Hospitality is everything. People share. As long as you are not there with bad intention no harm will come to you. You can safely follow a jungle path and enter a clearing to rival the Garden of Eden.
Don't like to read on the computer screen? You're not alone.
Pick up an issue at Pure Art Boutique in Hudson and at many other Hudson outlets.